By the time its fourth season dropped, BoJack Horseman—Netflix's critically-acclaimed animated dramedy set in an alternate world where humans and anthropomorphic animals live together—had already covered abortion, depression, addiction, and marriage with nuance and emotional depth. With its latest season, the show took on a new challenge: adoption.
Throughout the series, BoJack's life plays against the one he portrayed on television as an adoptive father to three rambunctious orphans. In front of the cameras, adoption made an instant family possible. A brief snippet of the fictional show's opening credits is revealing: "Now we've got a new family," the theme song jingles, "every day is a dream." But in BoJack's offscreen life, adoption is a complex and evolving identity that forges relationships both familiar and uncanny.
When BoJack's possible biological daughter, Hollyhock, arrives in season four, she has a simple goal: to obtain a DNA test that can clear up her genetic heritage. Hollyhock, who awkwardly refers to BoJack as her "anonymous sperm guy," doesn't expect meeting her birth parents to fundamentally change her life, and instead only seeks answers her adoptive parents can't provide. An inversion of "mysterious orphan" tropes, Hollyhock isn't an unstable runaway with obvious emotional problems resulting from her adoption—she's a level-headed, kind teenager whose curiosity about her origins feels refreshingly uncomplicated. Hollyhock's happy upbringing is hilariously underscored by her eight polyamorous adoptive dads: an intentionally maximalist family of interracial, interspecies, interethnic, LGBT-friendly, loving, supportive, and encouraging characters.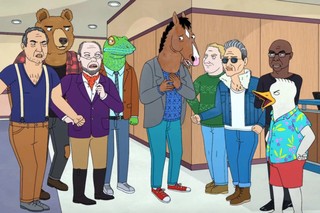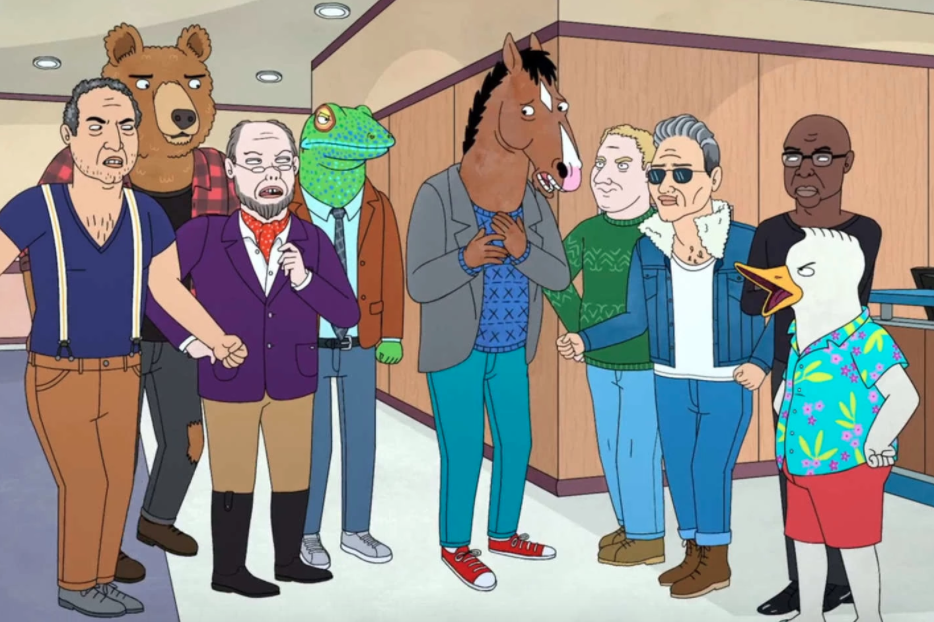 In contrast, BoJack's life builds a provocative case for the way we inherit familial trauma. The episode "Stupid Piece of Shit" implements an abrupt break in animation style to illustrate BoJack's stream of self-defeating thoughts as he tries and fails to help Hollyhock. His thoughts explode across the screen in skittering animation and garish colors, revealing the ways his fleeting impulses and fears overwhelm his best intentions. In one scene, in which a quick trip to the store turns into a day spent avoiding his potential daughter and abusive mother, BoJack finds himself paralyzed in his car on Mulholland Drive. He feverishly wills himself to be better: "What are you doing? Go home. You are parked on the side of Mulholland doing nothing when you could be eating breakfast with your long-lost daughter and your dying mother. You are a terrible person."
Instead of playing as a cheap sympathy grab, this peek into BoJack's psyche provides insight into the way his internal monologue echoes the criticisms his mother, Beatrice, casually lobbed his way for years. As BoJack searches for ways to overcome his limitations, it becomes clear that he is stuck in behaviors modeled by his own parents. In one particularly devastating moment, Hollyhock asks BoJack if he thinks she is attractive. When he hesitates, it speaks as loudly as Beatrice's earlier warning that "no one loves a fatty patty."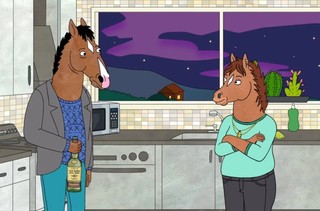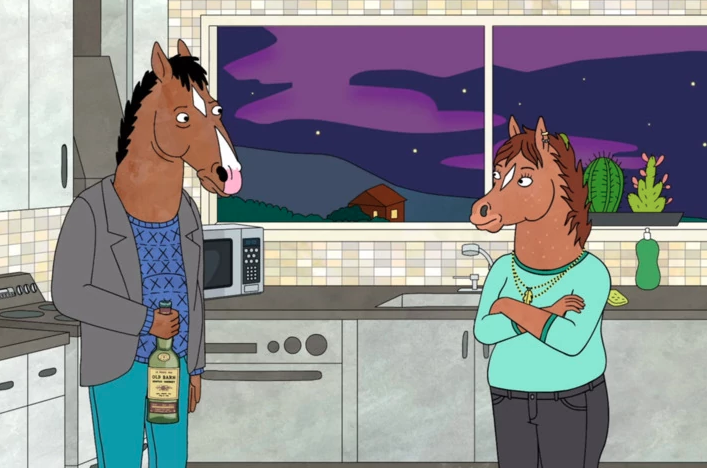 In "Time's Arrow," the stylistically masterful episode that serves as a bookend to "Stupid Piece of Shit," Beatrice's dementia-ravaged mind yields her entire life story. As the episode presents the crushing experiences that explain how Beatrice became the cruel and abusive mother we know today, the traumas transmitted through the Horseman lineage also become obvious. Beatrice's heartbreak spans decades, from her mother's depression and eventual lobotomy to her unhappy marriage to BoJack's father. The emotional abuse Beatrice inflicted upon BoJack during his childhood is a toxic cocktail of behaviors she learned from her own parents and an outpouring of her own unhappiness.
Hollyhock's presence triggers a cascade of memories that lead to an important and unsettling revelation: Hollyhock isn't BoJack's daughter at all, but instead his half sister. "Henrietta," which Beatrice oddly used to refer to BoJack all season, turns out to be the name of the maid BoJack's father impregnated.
Here, BoJack Horseman falls victim to a key problem with stories about adoption—but does so with self-awareness and hopefully, a larger purpose. Henrietta, Hollyhock's biological mother, is reduced to a blur in Beatrice's memory. With her face scratched out in a disturbing black scribble, Henrietta is an intentionally forgotten vessel whose importance lies in the fact that she gave birth to Hollyhock.
For More Stories Like This, Sign Up for Our Newsletter
One of the most heartbreaking scenes comes when Beatrice takes Hollyhock from Henrietta moments after she is born. Beatrice swiftly shifts from gripping Henrietta's hand in support to refusing her pleas to hold her baby before she is taken away. Beatrice's attempt to do the right thing by saving Henrietta from the complicated, resentful life she knew as a mother and wife ultimately begets a different kind of pain. As Beatrice mimics the cold detachment she knew as a child, she begins a cycle of dysfunction anew.
Although it's unfortunate that we aren't able to see Henrietta as a complete character outside of Beatrice's memory, the scene perfectly captures the pain and loss that are so often overlooked in stories of closed adoptions. Even cases like Hollyhock's that work out beautifully and yield a lovingly providing adoptive family come at the expense of a relationship with biological family. By allowing characters like Henrietta and Hollyhock to linger in ambiguity, BoJack Horseman proves that instead of merely horsing around, it's doing valuable work in expanding portrayals of adoptees on TV.