This article originally appeared on Noisey UK.

Mike Skinner didn't consider himself a rapper at first. Bars, he thought, were solely in the hands of east coast Americans. But as a producer, a fan of UK garage as much as he was Raekwon, Original Pirate Material was born from both those worlds. "I wanted to hear about all the weed that gets smoked and all the little adventures that you go on," he wrote in his autobiography The Story of the Streets, of his decision to begin rapping over his own beats. "I didn't want to hear someone from Reading pretending to be Biggie or Q-Tip." The result: one of those rare, once-in-a-generation records that captured a specific era yet also a timeless experience.
To gain a sense of Original Pirate Material's importance however, its unique approach and the way it became an iconic and immovable notch in British music history, you need to rewind back further than its release (15 years ago, last weekend) and into the sensory habitats that bred the album's beginnings. It's the late 1990s. British rap is defined by two things: Rodney P (and the lesser impactful wave of men in Brighton with dirty, unwashed bedsheets who would later morph into the crust-ridden UK hip hop scene of today); and UK garage, a new kind of British rap, except initially the MCs never really rapped—they were more like hyper-speed holiday reps coaxing punters toward collective euphoria but in a dank Sunday Scene club rather than a First Choice Holidays resort in the Costa Del Sol. Think sped-up, repeated ad-libs rather than bars.
Of the two scenes—British rap and UK garage—the latter took on the most cultural importance (which, given the damp bed linen, was fortunate). Like all the best music scenes it was defined by a coming together of music and fashion: all-over Moschino prints, Patrick Coax loafers coupled with ostentatious belts, immaculate hair and nails attached to a body doing the Butterfly dance. The early UK garage scene was sexy in a way electronic music isn't anymore—and especially in a way The Streets never were. It was also expensive—the Bond Street brand clothing often ended the evening having been scented with splashings of some top-tier champagne or brandy. The drugs of choice: spliff, lavishly cut lines of cocaine, some Mitsubishi pills.
"We tried to do the flash thing on our own home turf a few times, but it didn't quite take. That's why my experience of garage, which was huge, was in other people's cars and houses, not in clubs," Skinner writes. As a result, Original Pirate Material resides somewhere near UK garage but away from its glitz; in a car on a circular road somewhere, windows open, cold air hitting a stoned face. From the offset—at least in terms of fashion, anyway—Skinner pushed back against the opulence of the crowd at a UK garage club like Twice as Nice. Early videos and press shots came to define The Streets by an assemblage of Reebok Classics, polo shirts with popped collars, plain sweatshirts, flimsy windbreakers. The eager taste for gobbling narcotics remained though, as did some of the atmosphere and tone of UK garage. Within that combination, Skinner molded his street-level contact with the scene into a separate narrative.
As all all short-lived but impactful scenes do, UK garage ended with a bang—although in this case it was quite literal, as the scene's defining group So Solid Crew became embroiled in a mess of gun charges and an assault conviction. As UK garage night clubs lost their licenses and a scene became a scapegoat, a chasm formed: on one side, dubstep; on the other, grime; and somewhere in the middle, preparing a plot of land that would blossom into a five-album career, The Streets. At least that's the basic story anyway; in reality, these two new influential scenes would later mutate, moving toward and away from each other, the former eventually splintering into sub-genres like bassline and UK funky, the latter becoming fiercely independent or acquiescing to chart success. But throughout, Skinner's voice and presence remained. Which isn't to say he was ever a structural component of those scenes (collaboration with Kano notwithstanding), more so that Skinner was as culturally prominent in them throughout the early-mid 2000s while working within his auteured sound.

It's often been said that Skinner can be credited with bringing back British enunciation but to do erases the UK garage hits preceding Original Pirate Material—So Solid Crew's number one single "21 Seconds," Ms Dynamite's underground break-out "Booo!," the debut album from Craig David, then the fastest-selling debut studio album ever by a British male solo act. These were all released years before Skinner's cadence could be heard on UK airwaves. But what he did achieve with those pronounced vowels was a new-found celebration of British culture, a weird and different twist from the scenes that had come before him. Where grime represented the rougher, "edgier" side of the country with its sparse production and clash-ready lyrics, Skinner gave detail to the minutiae of another side to being British. As it does for most people who've rarely left the country in which they were born, that realization of Britain's culture nuance came from a trip abroad. In Skinner's case, to Australia.
After two years taking a BTEC in engineering—during which he only completed half his final exam—Skinner's original plan was to gain a £1,500 grant from the Princes Trust and start up a house label. But after a string of low-paid jobs, he vacated to Australia for a year, chasing and soul-searching. "If anything", Skinner wrote of the psychological impact of going abroad, "being away for a year had given me a deeper understanding of what being British meant. Maybe it's easier to make sense of your own experiences once you've seen them from an outside perspective." It was there, in an apartment in Sydney, that he demoed "Stay Positive," one of the first tracks he wrote for The Streets. In the clubs and bars outside he met Calvin, a British traveller who arrived in Australia from Thailand—and a man with a voice and name fans will recognise from his phone-grabbing appearance on "Don't Mug Yourself".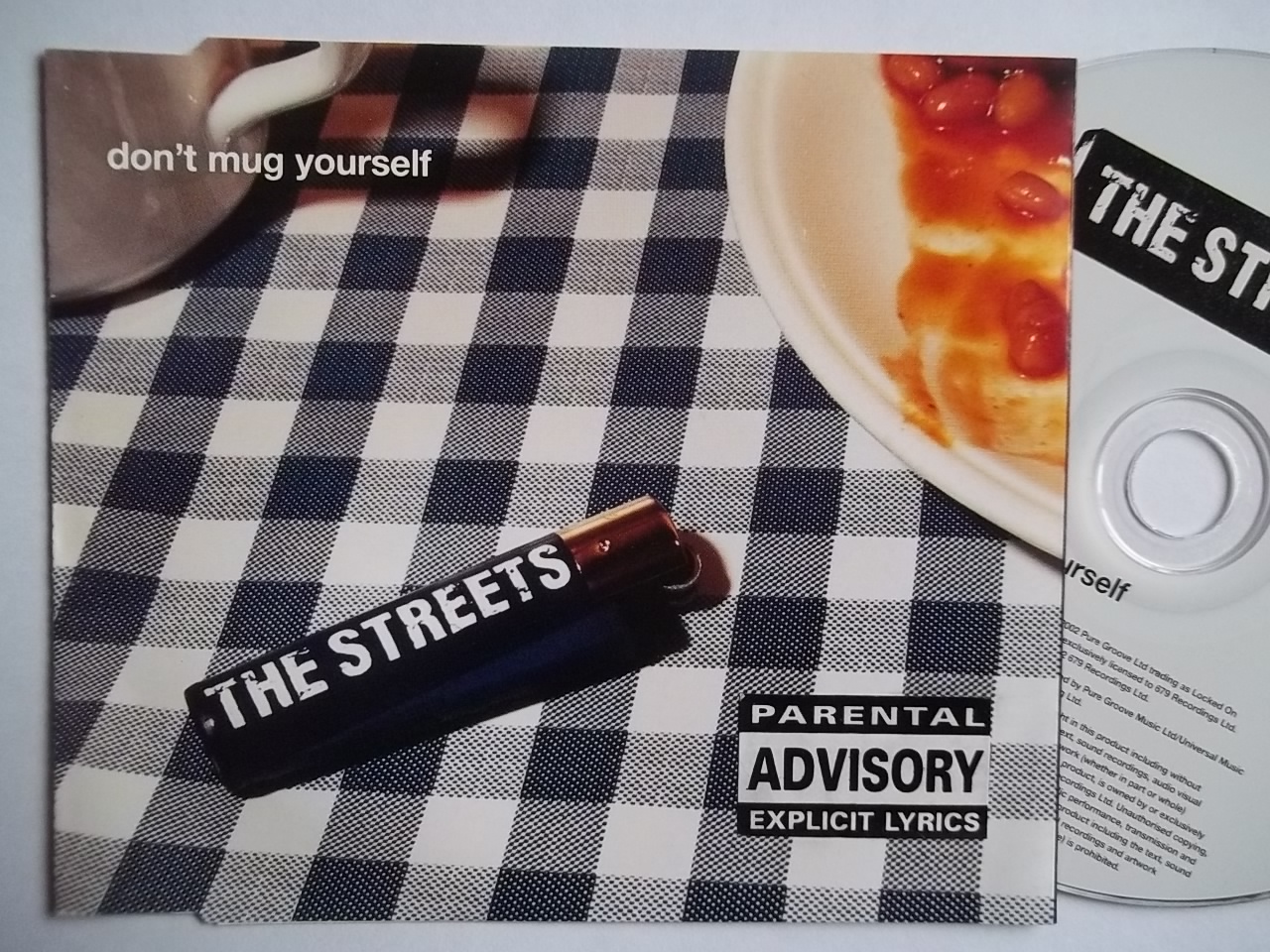 Prior to Skinner working on The Streets, a gangster rap EP sampling dialogue from Lock, Stock And Two Smoking Barrells was sent to Wu-Tang Clan's A&R man. His response? "Why would I want to sign an English guy when I've got rappers queuing all up the block." UK garage tracks were sent to labels like Ice Cream and Public Demand but were never picked up. In the end, Skinner came up with a theory that ultimately formed the structural vision of The Streets. It was simple, really. Merge the two and create something new. "People really like garage, but no one's really saying anything worth listening to on the records—it's just a load of words; American rappers are saying stuff that people care about, and everyone listens to them. So my plan was to say stuff that people cared about, but over garage beats."

In 2001 he released "Has It Come To This," the debut single from The Streets. Pure UK garage in texture, the track begins as an ode to the rooftop radio stations of that scene (" Original Pirate Material / You're listening to the streets / Lock down your aerial") before moving into a narration of Skinner's domestic experience within it. "Make yourself at home / We got diesel or some of that homegrown" he says, evoking memories of weed-reek living rooms stretching from "Mile End to Ealing / From Brixton to Bounds Green"—or indeed any suburban neighborhood where the amorphous tagliatelle of roads, drives, ways, and crescents are potted with red-eyed meetings between people on settees. The track was a slow-burning success reaching number 18 on the UK chart.
By this time Skinner was back in the UK and living in London. "Has It Come To This" had been released on Locked On, a label co-owned by Nick Worthington, who'd recently left XL Recordings. When Worthington created 679, a new label that went through Warner Music, he made Original Pirate Material their first release. But that's all small-print facts in the face of the album's content. There's an idea Original Pirate Material gave a voice to "a day in the life of the geezer", the lower-income classes—predominantly, white British men. This holds some weight. Alongside the dank sitting room of "Has It Come To This," the topography of the record takes in loud and beery pubs, the sticky table tops of an all-day-breakfast cafeteria, junk food, and tower blocks. At a glance Skinner, a white man, is telling stories about other white men. But this is Britain, a country so multi-cultural it would be impossible for such a doleful experience to solely involve people who are white and male. With eyes and ears open, the record takes in a lot more.
Instead, Original Pirate Material detailed a strand of Britain united by a love of music, hedonism, late-nights, and shit conversations, both the promise and absence of romance—and a financial inability to achieve these things through access to an expensive nightclub and its bottle service tunes. "Whether you're white or black / Smoke weed, chase brown / Or toot rock / We're on a mission, support the cause / Sign a petition", Skinner raps on "Has It Come To This." In conclusion, the record works its way through a shared belief that an early morning conversation in a living room, a "few herbs, a bit of Benson" and some UK garage could change the world. Or at the very least, bring different groups of people together.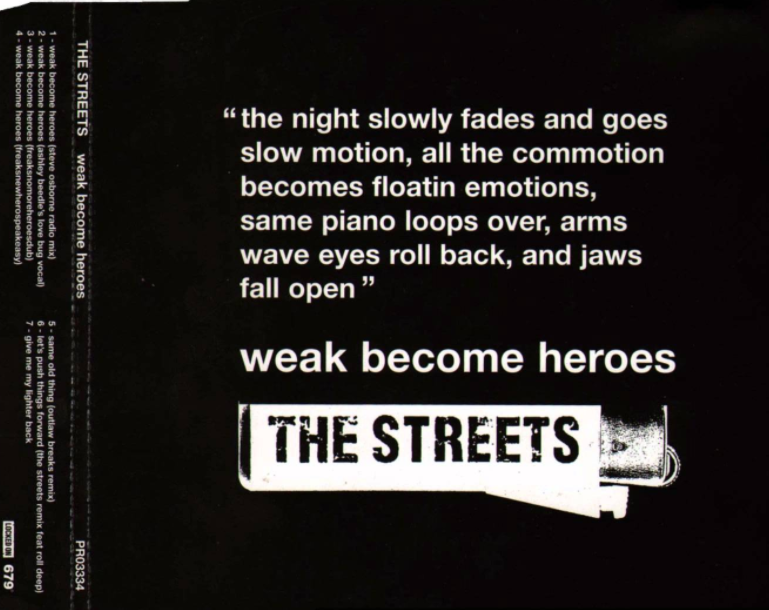 You can give credence to viewing Original Pirate Material through this lens when you remember its foundations lay in the rave scene—a place where cultures, ethnicities, and drugs swirl together like water in a rushing plughole. Though the record's roots in houses and pubs reject club culture, part of its core lies in that one night when everyone does get to the club. "Weak Become Heroes," a track toward the end of the album, is an exemplar presentation of the wholesome dream of the British night out at its most free and loved-up. "Geezers on E and first timers / Kids on wiz, darlings on charlie / All come together for this party / All races many faces from places you never heard of / Where ya from, what's ya name and what ya on? / Sing to the words flex to the fat ones / The tribal drums the sun's rising / We All Smile / We All Sing."

In a country renowned for smashing its way through drugs and drink, Original Pirate Material captures the snippets of life that happen between the two. Even the most hermit-like of the British population can understand part of this experience—if it's not the club, the pub, or the house, it's the eventual comedown (or permanently grey and drizzled state of being) that ends the album with "Stay Positive". Ultimately the song chronicles how one casual cannabis user stumbled into dabbling with heroin. Part around that and into the song's core message though and it details a rain-soaked environment of broken dreams, an encroaching idea of being alone and dying alone, a complete lack of self worth—in other words, the dark soul and strife of the British experience.
When Dizzee Rascal released his debut album Boy In Da Corner one year later, that same frustration was documented in a harsher, nuanced way, directly relating to his upbringing in east London. Whereas Original Pirate Material feels more universal, Dizzee's album spoke directly to kids like him. The legacy of both albums is perhaps where the race question sits: history looks back on Dizzee's record as paving the way for today's grime artists, whereas Original Pirate Material gave an in-road to a depleting quality of musician that starts with the Arctic Monkeys and ends with Just Jack. What connects Dizzee and Skinner, though, is their narrative: both artists experienced garage from outside of the club, were inspired by it and when the scene ended they incorporated elements of its sound into their music to give British rap a new voice, beyond the boom-bap aesthetic it had been stuck in since the release of "How's Life In London" in the 1980s.
With Original Pirate Material, Skinner made good on his promise of dispensing those "little adventures" that take place in Britain without sounding like Q-Tip. Alongside Dizzee, he proved it's possible to be critically and commercially successful without submitting to an audience expectation of American-sounding rap. Yet while Dizzee may have opened up his world to a whole new genre, Skinner remained the sole artistic force in his own microcosm. Despite being less good than its follow up A Grand Don't Come For Free, Original Pirate Material is Skinner's landmark work, an album that made its stamp on British musical history.
One final mark of Original Pirate Material's brilliance is its longevity. As time passes and the experience located within the record remains static, it's hard to see its cultural relevance changing. The club that inspired "Weak Become Heroes"—The Steering Wheel, in Birmingham—is now a Chinese restaurant. But the conversations stay the same. That same piano loops over and over. The road shines and the rain washes away. Same Chinese take-away selling sugar and salt in a tray.
Then the tape replays…
That's the one, that's the one, oi.
You can find Ryan on Twitter.
All images from album and single artwork.