A mix-up at a Catholic Festival in the Sri Lankan capital of Colombo earlier this month left thousands of people reading the words to Tupac Shakur's "Hail Mary" instead of a 15th Century Catholic prayer of the same name. The Independent reports that the mistake occurred earlier this at the Joy to the World Festival at the Nelum Pokuna Theatre during "one of Sri Lanka's largest Christmas celebrations."
Tupac's track, which deviates from the piety of its namesake, is significantly longer than the original prayer. Here is what organizers had apparently intended to print:
Hail Mary full of Grace, the Lord is with thee. Blessed are thou among women and blessed is the fruit of thy womb Jesus. Holy Mary Mother of God, pray for us sinners now and at the hour of our death Amen.
And here, via Ravindu Thimantha G. on Twitter, is what actually appeared in the program in Colombo: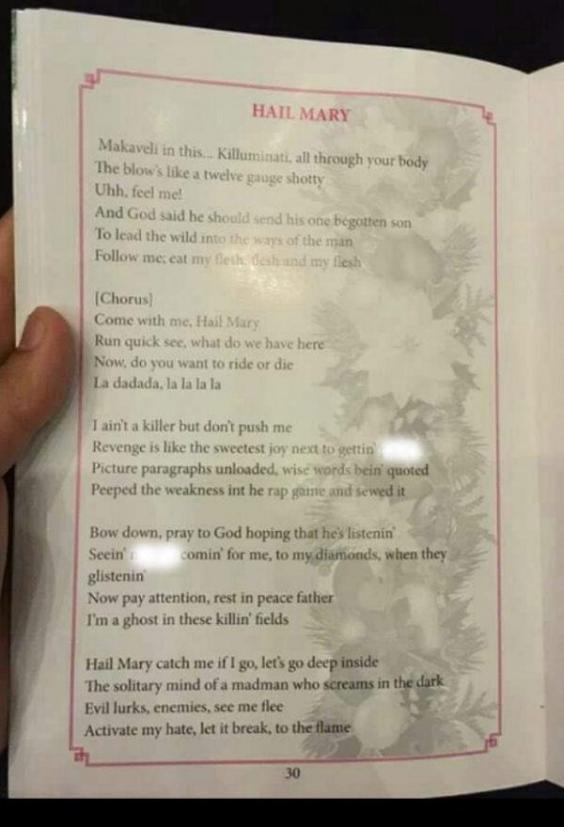 If you're sitting around the Christmas dinner table, angrily trying to convince your parents that great rappers can be prophetic, consider this an opening gambit.
Lead image via Flickr.
Follow Noisey on Twitter.