This article originally appeared on Noisey UK.

Here is the sum total of my personal knowledge of Galway:

1) You can't drink the tap water there as it smells of mold;

2) Everyone cycles everywhere;

3) They have a diving board a few metres off the coast that you can swim out to, climb up on and use to hurl yourself into the Atlantic;

4) The women of Galway have been eulogized by everyone from Shayne Ward (winner of series two of The X Factor) to Gerard Butler in cover versions of Steve Earls' "Galway Girl,"
As a proud (Northern) Irishman, that last point is what we'll be exploring today, on the one and only St Patrick's Day—namely because Ed Sheeran recently added to the canon of Galway ballads with the unfortunately unavoidable "Galway Girl." His song's lyrics are a mishmash of Irish stereotypes, preposterous drink orders and geographically inaccurate name checks. As someone who cringes at the very thought of a fiddle or bodhran being shoehorned into mainstream pop, the whole song smacks of when drunk Americans tell me they're an "O Malley from County Cork."
But maybe I'm missing the point. Maybe I'm neglecting the allure of the Galway girls. After all, it is they who have inspired so many songwriters to sing their tributes. Maybe Ed did have a life-changing experience with one of these black-haired beauties and maybe that experience spurred him to put pen to paper and write a glowing, gloweringly inaccurate eulogy to Irish women.
To try to make sense of it all, I tracked down as many Galway girls as I could and asked them what they thought of Ed and his night with Arthur, Jack, Jamie and Johnny. How do they feel about being the subject of so many songs?
Grace O Fegan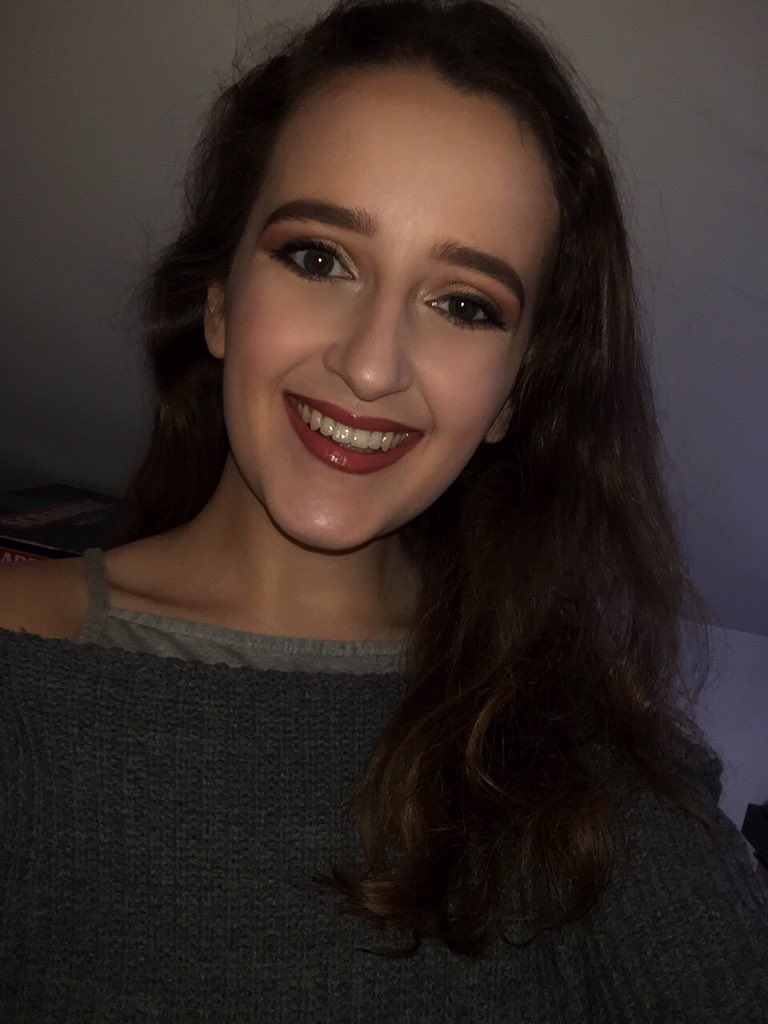 Noisey: Hi Grace, given your experience of Galway, how accurate is Ed's picture of a night out in the town?
Grace: I don't know a single girl who would be able to mix Jameson, Jack, Guinness, and Powers and be able to speak at the end of the night, never mind stand on a stool and play darts! But I guess it'd be a pretty accurate description of going to one of the older pubs in Galway, with Van playing as well as the trad (traditional Irish music). Having Doritos after a sesh in Galway is definitely 100 percent accurate though, funnily enough.
I'm glad you brought up the Doritos. Surely Tayto would be the most obvious brand to namedrop? Is having Doritos after a night out a specifically Galway thing?
Taytos would've probably been too cliché in an already grossly clichéd song! My friends and I would definitely be partial to Doritos after a few drinks and they're a house party staple, so maybe—but I guess I can't speak for the entire town.
Do you think he might've chosen Doritos because they're orange?
That was probably it! Ed's a proud ginger, so it wouldn't surprise me if he just wanted to put his ginger stamp on Ireland.
Grace Kieran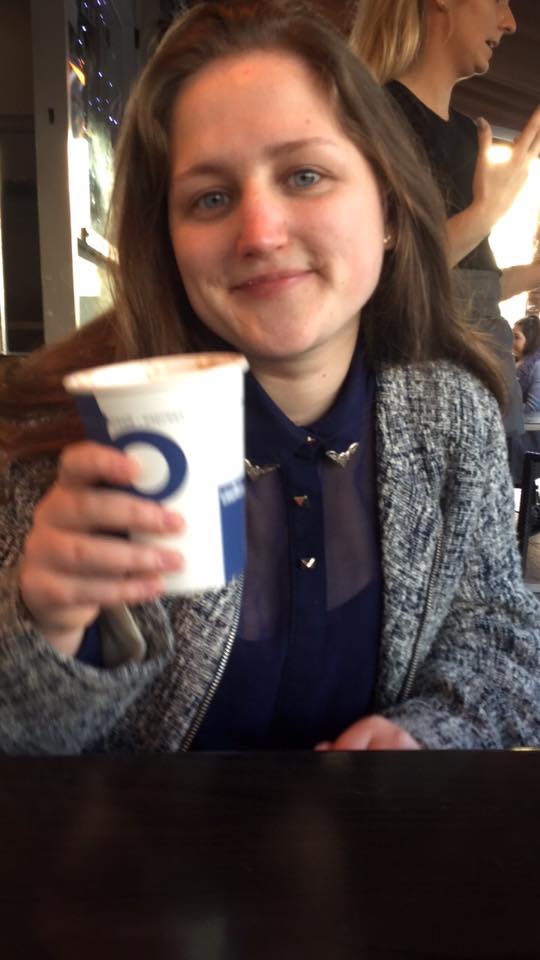 Noisey: Does Ed accurately sum up the experience of an English person in Galway?
Grace: There are lots of references to drinks, which is very accurate. There's an awful lot of trad talk that goes on and I have actually been to pubs where everybody breaks into singing, so it's not far off to be honest. That said, isn't Grafton Street in Dublin? Plenty of people smoking and snacking on Doritos after nights out is accurate too though.
What's the deal with the Doritos thing?
I don't know. Maybe it's just my circle of friends? Taytos are a winner too.
Is the notion of the "Galway girl" a real thing?
I wouldn't say a Galway girl is profoundly different from say, a Clare girl, but alliteration always helps when writing lyrics, I guess. I'd say that a Galway girl isn't afraid to get stuck in and is "bold as brass," as my mother would say. I think there's also something about being so far west, a city far away from everything. It's exotic or something.
Do you think people come to Galway specifically to meet a Galway girl?
Yes! That and the drink! There's something romantic about meeting a traditional country girl and whisking her away to wherever. My dad met my mum in Galway when he was on a cycling trip around Ireland and did exactly that. I think he was inspired by a different "Galway Girl" song though…

Ella Murphy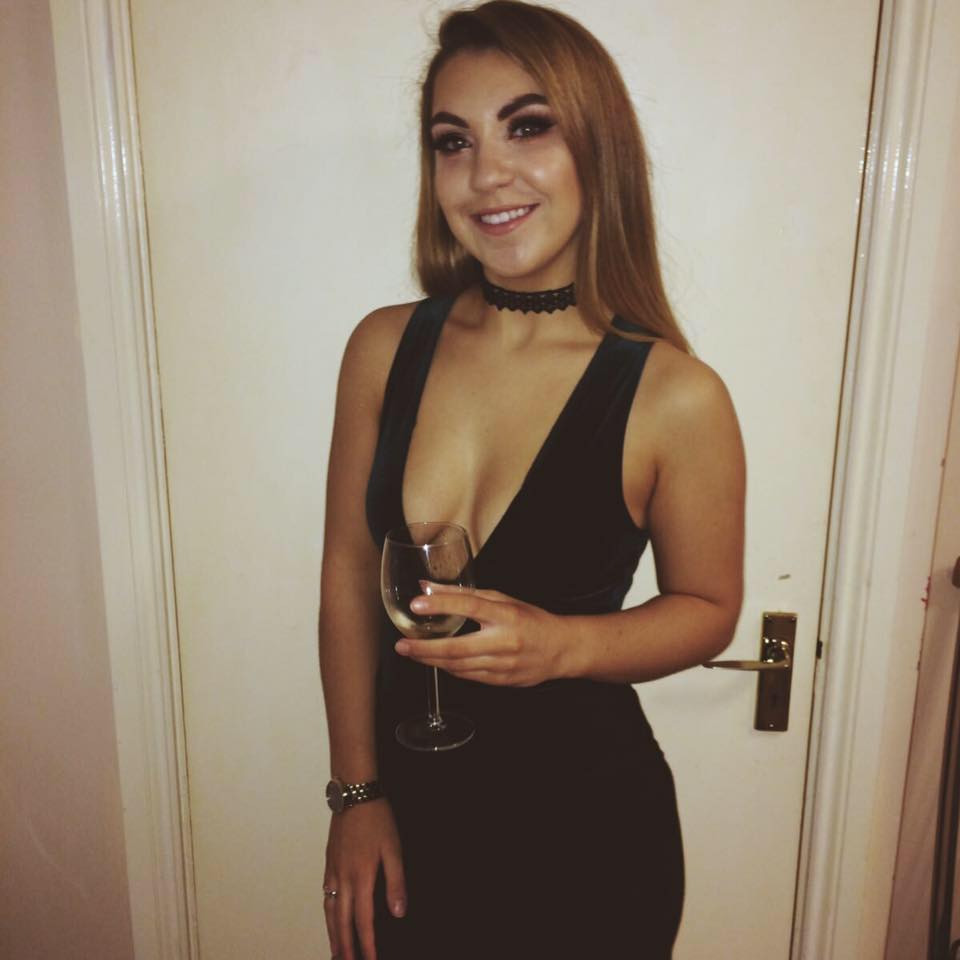 Noisey: What do you think of Ed Sheeran writing a song celebrating Galway girls?
Ella: I like how it puts Galway on the map. It's such a great city and it's nice to have an international star give it a mention. Saying that, I do think the song is cheesy. The lyrics are a bit stereotypical of an encounter with an Irish girl. It's as if he's an American, not from across the pond. I play fiddle myself and really enjoy traditional music so I do really enjoy the trad riff throughout the song. It's something I think we should hear more of in chart music.
So you're having a few drinks on a night out and you get chatting to a pale Englishman. After a while you notice he has a tattoo in Gaelic—would you ask him what it meant? Or would you be able to read it?
More than likely I'd be able to understand what it meant. I might ask him why he chose to get something in Irish tattooed on his arm or what it meant to him.
Do you think it's a bit rich of him to write a song celebrating Irish women wherein he, an Englishman, is teaching an Irish woman her country's language?
No I don't think it's rich at all, it is great he's celebrating Irish women!
What is it about Galway girls that is so attractive to the songwriter?
We're very genuine. We are true to our roots. Even when we travel or emigrate you still get a good sense of where we're from through our vibrant personalities. We're definitely up for the craic and enjoy a bit of friendly banter.
Would you say Galway girls are the town's biggest tourist attraction?
I think it's a bonus for tourists if they meet and get chatting to a Galway girl, maybe strike something off their bucket list!
Neasa Nic Eiteagain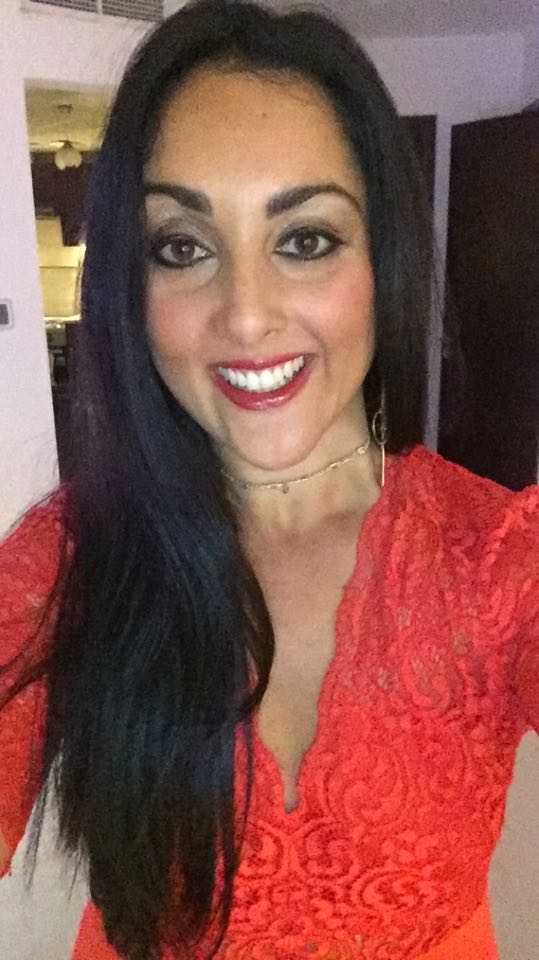 Noisey: Hi Neasa, as a Galway girl, are you getting sick and tired of floppy-haired singer songwriters trying to woo you with half-baked folk pop?
Neasa: Not at all. I think it's great, and Galway is a special little city so it's nice it's recognized.
What do you think it is about the women of Galway specifically that attracts so many musicians?
I think we are open to just having a good time, we're friendly and we're down-to-earth!
Do you find that a lot of men come to Galway specifically to get with the girls?
A lot of stags come to Galway, but more because of the city's nightlife rather than the women. I think men like Irish girls in general, not just Galway girls.
If you were on a night out in Galway, what would you typically be drinking?
Gin and tonic! I love a Hendricks gin with elderflower!
So not a Guinness with a chaser each of Jack, Jamesons, and Powers?
Definitely not! I never drink Guinness, I leave that up to the lads. I'd be up for some whiskey the odd time, but usually stick to the gin.
Lisa Kiely (on the left)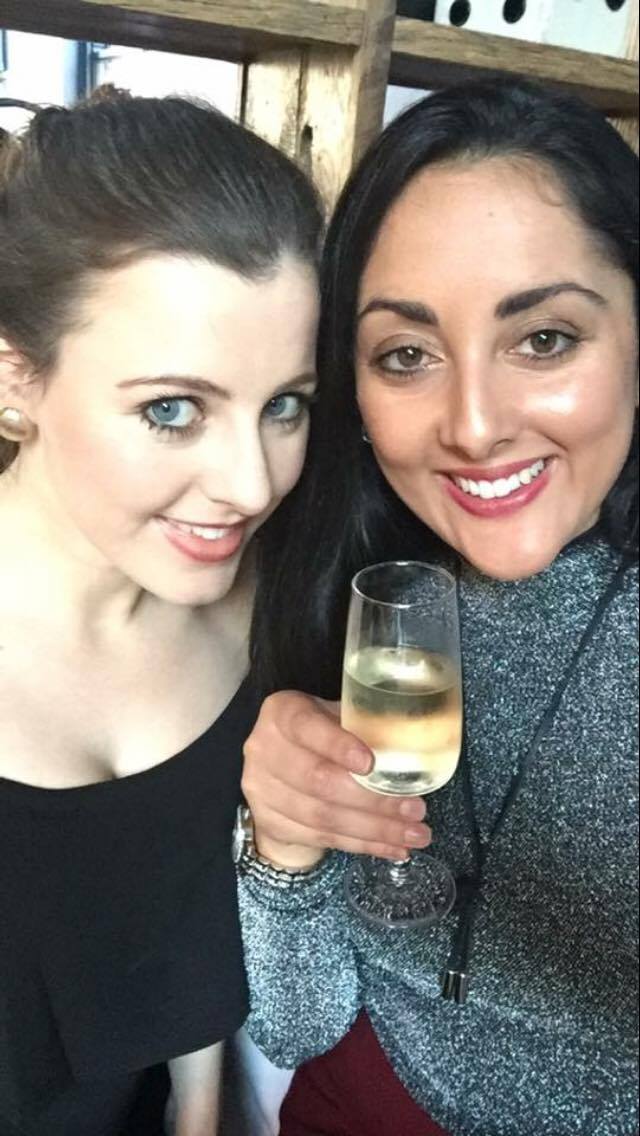 Noisey: Given all the misplaced references in "Galway Girl" how likely would you say it is that Ed Sheeran has never been to Galway?
Lisa: Judging by the song alone, pretty likely, considering he makes no reference to Galway—but mentions Grafton Street in Dublin.
Is the drinking he describes indicative of a night out in Galway?
It depends. Galway can be a bit of a party place, but he definitely overdoes it on the stereotypes. A chaser of Jamie? Gross.
What do you think about portrayals of Irish drinking culture in general – is it played up in popular culture?
The stereotype is definitely played up for sure. Having travelled around a good bit, you do hear the "Irish drunk" thing a lot. It's obviously not fantastic, but I think it's fair to say that most stereotypes have some level of truth. I know going out a lot isn't something we want to be known for, but there's no such thing as bad publicity! We're seen around the world as friendly and good craic, so it's good for tourism, but it can make getting a job abroad more difficult because they think you'll call in sick and be hungover all the time.
Do you feel any pressure to live up to the idealised version of 'the Galway girl'?
Compared to most girls we don't take ourselves too seriously, but there is definitely some pressure to live up to that depiction of getting plastered with a guy you've just met and pretending you're wild and totally carefree. And it definitely takes a brave woman to eat Doritos in front of a guy you fancy kissing!
Laney Lenox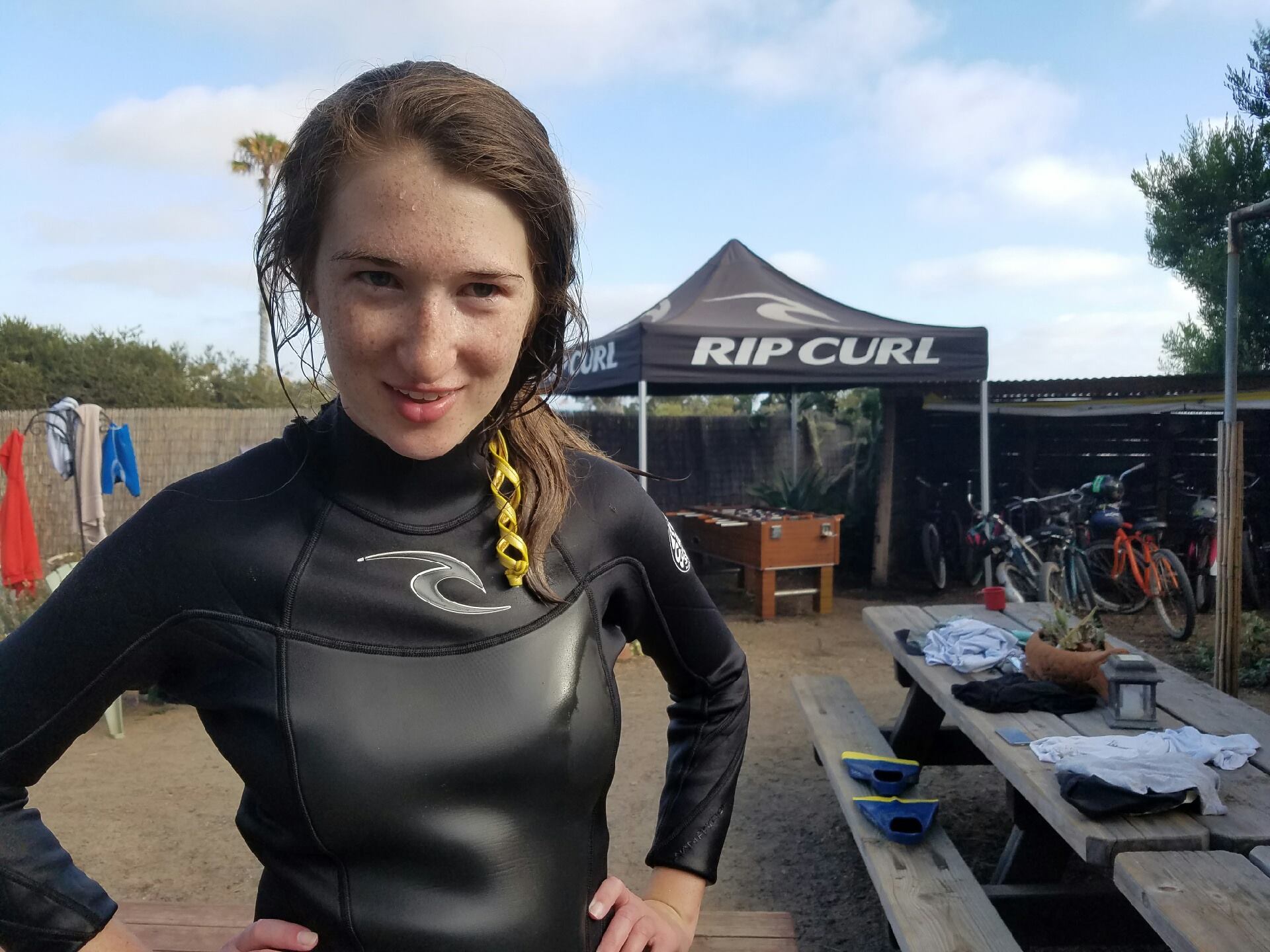 Noisey: Hey Laney, you're American but you lived in Galway. How well does "Galway Girl" sum up a night on the piss in Galway?
Laney: The most accurate part is the lyric: "she kissed like there was no one else in the room."
Would you say that there is such a thing as "a Galway girl"? Are women from Galway any different than anywhere else?
Well no, there's nothing inherent about any specific identity. I think people often perceive that there's something different about people from a particular place.
So why does a small town like Galway conjure up certain feelings and inspire songs more than other places—like London?
You could write an entire book on that question, but, I guess if you live in an urban area sometimes you fantasize about charming small towns and imagine that things would be easier or more laid-back there. And of course there's already been a lot of famous songs written about Galway, so I think that just kind of gets it caught in people's imagination.
What do you think of non-Irish pop stars using trad music in their songs?
I think it's annoying, but to be honest I just find a lot of pop annoying. Really, I would have never listened to that Ed Sheeran song if it weren't for this.
You can find Matthew on Twitter.
(Lead image via Flickr userEva Rinaldi)