I joined the Labour Party last year after being discriminated against for being transgender at school in the UK. Without Labour's Equality Act, I would have been unable to overcome the discrimination I faced. My first Labour event was London Pride 2017, which marked 50 years since the partial decriminalization of homosexuality. It was a time for celebration, but what struck me most was talking to a trans man who was too scared to come out. Many other closeted trans members have reached out to me since then, with most agreeing the overt transphobia makes it difficult to exist and be out in political spaces. Given this, it's not surprising to see so few trans people in politics, and near none standing for selection.
2017 was the year Labour pledged to reform the Gender Recognition Act to make life easier for trans people. It was also the year of the surprise General Election, where we saw an increase in the numbers of openly gay, lesbian and bisexual MPs—but not a single transgender person elected to the House of Commons.
While homophobia and biphobia certainly haven't gone away, it seems less of a consideration to the public. Transphobia, on the other hand, seems to have got demonstrably worse. Whenever the party declares support for trans rights, a swath of transmisogyny seems to follow, usually taking the form of social media harassment but often elevating to threats and defamation. This has the effect of turning many trans people I know off speaking up or running for roles. Our lives are hard enough already—and with studies suggesting near half of trans youth will attempt suicide and that we overwhelmingly self-harm, I honestly don't blame them for staying away.
Upon my election as women's officer of my CLP [constituency Labour Party], I was attacked relentlessly by the press. The Times managed to print several articles about me in a week, and this started the transphobic online bullying I still face daily months later. People hound me across the internet, creating lies about me and suggesting that trans rights are dangerous.
---
Watch: Gavin Grimm: The Student at the Heart of the Trans Civil Rights Movement

---
Every single day I will receive threatening messages and see people misgendering me and referring to me by my old name online. When I inevitably need to take a break, I'm told I'm too weak skinned to be in politics. I've had MPs and others say the kind of abuse I've been subjected to is usually only seen by those at the top of the parties. I've been scared for my safety because of people "looking to confront me" at women's events, and this has inevitably damaged my confidence.
These people will justify their bullying as them seeking to protect women's spaces. Many go further, suggesting trans women are men's right
activists working purposely to erode women's hard-won protections, commonly belittling our experiences to score social media points. They claim they just want a debate, but their actions suggest differently. They propose motions and fundraisers seeking to de-legitimize our status as women in the party, all the while ignoring trans and LGBT groups in their so-called debate. And of course, when shown that most women disagree with them, they claim those women are "handmaidens," or are trying to protect themselves.
I've always felt very supported by a strong network of Labour activists and politicians, but I'm an exception. Most trans people won't move beyond local politics. They see the vitriol that people like me face and choose not to engage from the outset. There was a time where I was surprised to learn I was the first trans person elected as a women's officer in the Labour Party—now I realize how lucky I was to be part of a CLP that fully recognized my identity and right to run for women's positions. I've recognized how fortunate I was, and am, to have a roof over my head and enough food to eat, to not have struggled with racism, or many other forms of oppression that act against other trans people.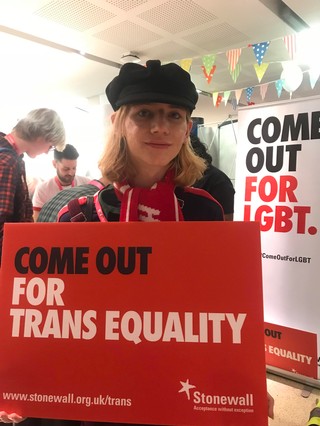 It's great we've seen so many people joining up to political parties in the last year, but it is a movement that seems to largely exclude trans people. I think part of the reason lies in the fact that its difficult to see yourself in a movement that doesn't feature people like you. It's dreadful looking at the Labour Party and not seeing any trans women, and consequently I will always feel slightly out of place in most political spaces. This is something the main parties desperately need to address. We can't adequately reform legislation to be more trans-inclusive when we have no trans people at the table helping with these decisions and debates.
We are all poorer when trans people are unable to fulfill their potential and contribute to society. This is true in politics and it's something that all of us need to step up and take responsibility for. There will be a trans MP, sooner or later, and we will live in a more inclusive society, but history doesn't write itself. If we want to escape the weight of past prejudice—if we want to reach a better future—we must work for it in the here and now.
Let this be the year trans people get the representatives we deserve in politics and let us lead the resistance against our oppression. Let's demonstrate that politics is a welcoming place for trans people. Only by collectively standing up and speaking out for equal rights will we make this country a place where we can all thrive without fear or resentment.