Classic Spaghetti Carbonara
A classic and simple pasta best eaten after a long night of drinking.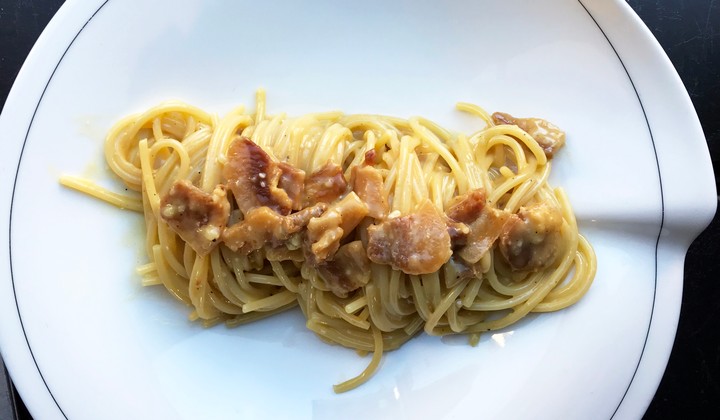 Photo by Paola Buzzini
Servings: 4
Prep: 10 minutes
Total: 25 minutes
Ingredients
1 tablespoon unsalted butter
1/2 pound|225 grams thick cut guanciale
6 egg yolks, lightly beaten
1 cup|40 grams grated pecorino cheese (no parmesan please!)
1 pound|450 grams Felicetti Selezione Monograno Spaghettoni pasta
kosher salt and freshly ground black pepper, to taste
Directions
1. Heat a large skillet over medium. Add the guanciale and cook until crispy, 8 to 9 minutes. Add the butter and remove from the heat. Transfer everything, and the oil, to a large bowl.
2. Bring a large pot of generously salted water to a boil. Add the pasta and cook until al dente, about 12 minutes. Transfer the pasta to the bowl with the guanciale and toss well to combine (make sure to save about a cup of pasta water!). Add the eggs and toss again. Add in some reserved pasta water until creamy. Season with salt and pepper and serve immediately.