For those unaware, the 105th Grey Cup took place last night, which, in a nutshell, is like a Canadian version of the Super Bowl with significantly less viewers. Something like sports happened between the two football teams and somebody won, great. Now, let's get to the good part, which was our lord and savior Shania Twain, who appeared during the show's half time set. And wow, was it ever something to witness.

From her entrance to her performance, it was a real lesson on a) how to be a fucking icon and b) that Shania Twain will forever be legendary. Twain arrived to the stage via a dog sled. A goddamn dog sled. She regally glided across the snowy field and then had a Mountie escort up to the stage once those dogs had done their duty, carrying such precious cargo. It was then that we could see, in its full glory, her entire outfit: red fur coat, red leather gloves, a sequin and see-through bodysuit, and thick wedge red fur boots.

Twain did a crisp three song set ("That Don't Impress Me Much," "Life's About to Get Good," and "Man! I Feel Like a Woman!") and shimmied, slowly albeit, across the stage as the snow continued to fall. Did any of us know what we were signing up for with this performance? It was legendary! Look, the Grey Cup isn't the Super Bowl, and while I am sure some people gave a lot of fucks about the actual game, Twain was its joyous centerpiece. At the end of her performance, she changed the lyrics of "Man! I Feel Like A Woman!" to "I feel like a Canadian, oh yeah" and I swear I felt that in the depths of my chest.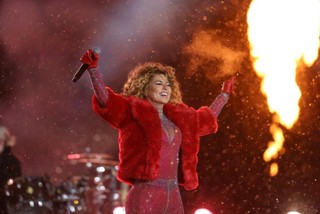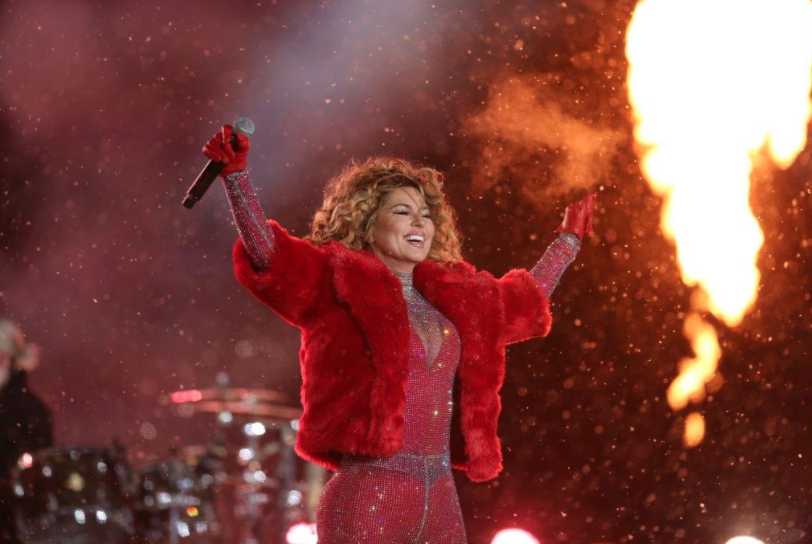 The Toronto Argonauts would go on to win the game, proving that, yes, Toronto is still the center of the universe. Drake Instagram storied that he was watching the game, back home in Toronto from tour, but neglected to pay homage to our queen Shania, whom he, only a year and a bit ago, praised at his show in Nashville. We're still waiting for that meeting to become an official Heritage Moment. All of this is to say, Shania is a legend—double certified and proven by this performance—and she should continue to be hired to overshadow major sporting events