Roasted Spring Chicken Recipe
Turmeric and tahini and fresh herbs, oh my!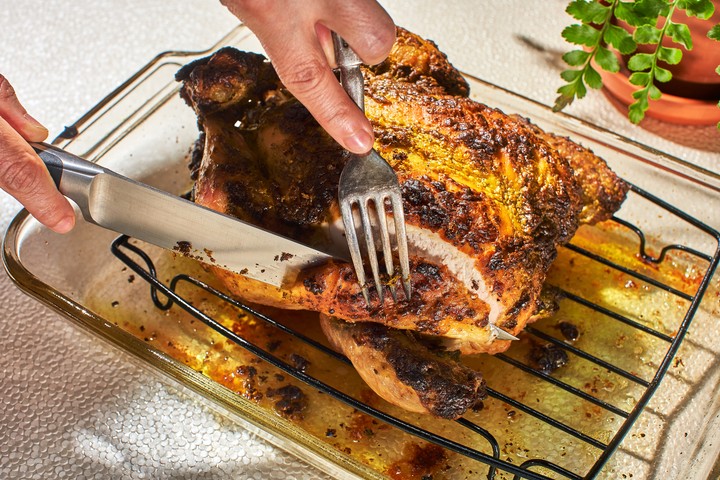 Photo by Heami Lee
Servings: 4
Prep time: 15 minutes
Total time: 30 minutes
Ingredients
1 (3-4 pound) chicken
kosher salt, to taste
1/4 cup|1/2 ounce cilantro leaves
1/4 cup|1/2ounce parsley leaves
2 tablespoons tahini
1/4 cup|60 ml fresh lemon juice
¼ cup olive oil
1/2 teaspoon ground turmeric
1 garlic clove
Directions
1. Season the chicken all over and inside the cavity generously with salt. Place on a baking sheet, breast side-up, and refrigerate overnight.
2. The next day, heat the oven to 425°F. Take the chicken out of the refrigerator and onto a roasting rack for 1 hour.
3. Place the herbs, tahini, lemon juice, olive oil, turmeric, and garlic in the bowl of a food processor and purée into a paste. Rub all over the chicken and tie the legs together. Roast the chicken until the skin is golden and a thermometer inserted into the thickest part of the chicken reads 165°F, about 1 hour. Remove from the oven and transfer to a cutting board to rest 10 minutes before carving and serving.