Know a startup we should feature on Startup of the Week? Email us at editors@motherboard.tv

The Pitch:
Swimply, an admittedly slick combination of the words "swimming" and "simply," is "Airbnb for pools." As such a platform, there are two populations being addressed:
Those without a pool, who want to use a pool.
Pool owners who realize the folly of their purchase and want to recoup some of the cost by charging strangers to swim in it.
The 22-year-old co founder and CEO of Swimply, Bunim Laskin, came up with the idea for Swimply (originally Pool4U) when asking his neighbor in Lakewood, New Jersey, if he could use their pool in exchange for 25 percent of the operating costs. According to Laskin, the startup is now operating in 30 states.
"Just upload a couple of pictures and details of your pool and how you want it run. We'll take care of the rest," Swimply tells pool owners. Pools cost about $40 to $200 an hour on the platform.

Pool listings will note the privacy of the property, bathroom privileges (more on that later), and specific rules for the listing (e.g. no loud music, no kids, etc.)
But Swimply is not just an Airbnb for pools. It's a data play. As the Philadelphia Business Journal explained, "Swimply's long-term plan is to use data to help the aquatics industry get a better understanding of how people use pools."
Who is funding it?
The founder of Swimply raised $30,000 from family and friends, before raising another $1.2 million in a seed round, according to Crain's New York. The Swimply Crunchbase page does not offer any further information, but the phrase "Swimply Crunchbase" is a free sample of whatever the opposite of ASMR is.
What are The Experts saying?
"...it's an Airbnb for pools, and we've been waiting for something just like it for a long, long time."
"With online booking and payments, digital marketplaces like Swimply are aiming to connect pool owners near and far with those looking to go for a swim by leveraging the sharing economy business model."
"These days, you can rent by the hour, from those who have pools in their backyard and like the idea of the sharing economy for swimming pools. Say hello to Swimply."
-Los Angeles Times
"How about going for a swim in a random stranger's back-yard pool—but without getting arrested or shot at or developing a weird skin disease?"
"In Rockland County this is illegal."
Should you swim?
That depends. How long can you hold your pee?
As a Times of Israel story explains, "60 percent of hosts offer bathrooms or access to the house." The other 40 percent of the time, "it's assumed that swimmers will come, hang out for a bit, and leave, without ever talking to the pool owner."
One commenter on the Swimply Facebook page concisely identified the issue here, for both the pool owner and guest:


If you're a pool owner trying to make some money of that dumb hole in the ground, there are additional considerations besides guests making unwanted pH adjustments. And don't worry, if you want your guests to pee outside your pool but not inside your house, you can let Swimply know, and they'll "get a portable restroom brought to your location and maintained once a week with some of our pretty cool partnerships."
If there's one thing worse than a stranger coming to your house to pee in your pool or the new port-a-potty next to your azaleas, it's a stranger beefing it on the diving board and suing you. You'll have to give them back the $50 they gave you, plus a few additional hundred thousand of dollars. And in Swimply's terms and conditions, it is sure to note it will be you, not them, who does so.
"As a Host, you understand and agree that Swimply does not act as an insurer. If a Guest requests a Booking of your Accommodation and stays at your Accommodation, any agreement you enter into with such Guest is between you and the Guest, and Swimply is not a party to it.
"[W]e have a situation where no insurance company is going to indemnify you or support you should there be an injury at your home, so your insurance policy is wasted," Rockland County, New York executive Ed Day told CBS New York.
Swimply also "assumes no responsibility for a Host's compliance with any agreements with or duties to third parties, applicable laws, rules and regulations." The company contracts Poolwerx and Aqua Masters to inspect pools, according to the Los Angeles Times, but they've already run into a scale issue.
"Eventually, all pools will be vetted and inspected, though the company is still expanding its customer care team and doesn't yet have the resources to vet all the pools," explains the Times of Israel.
Another very serious problem is evident upon inspection of Swimply's website.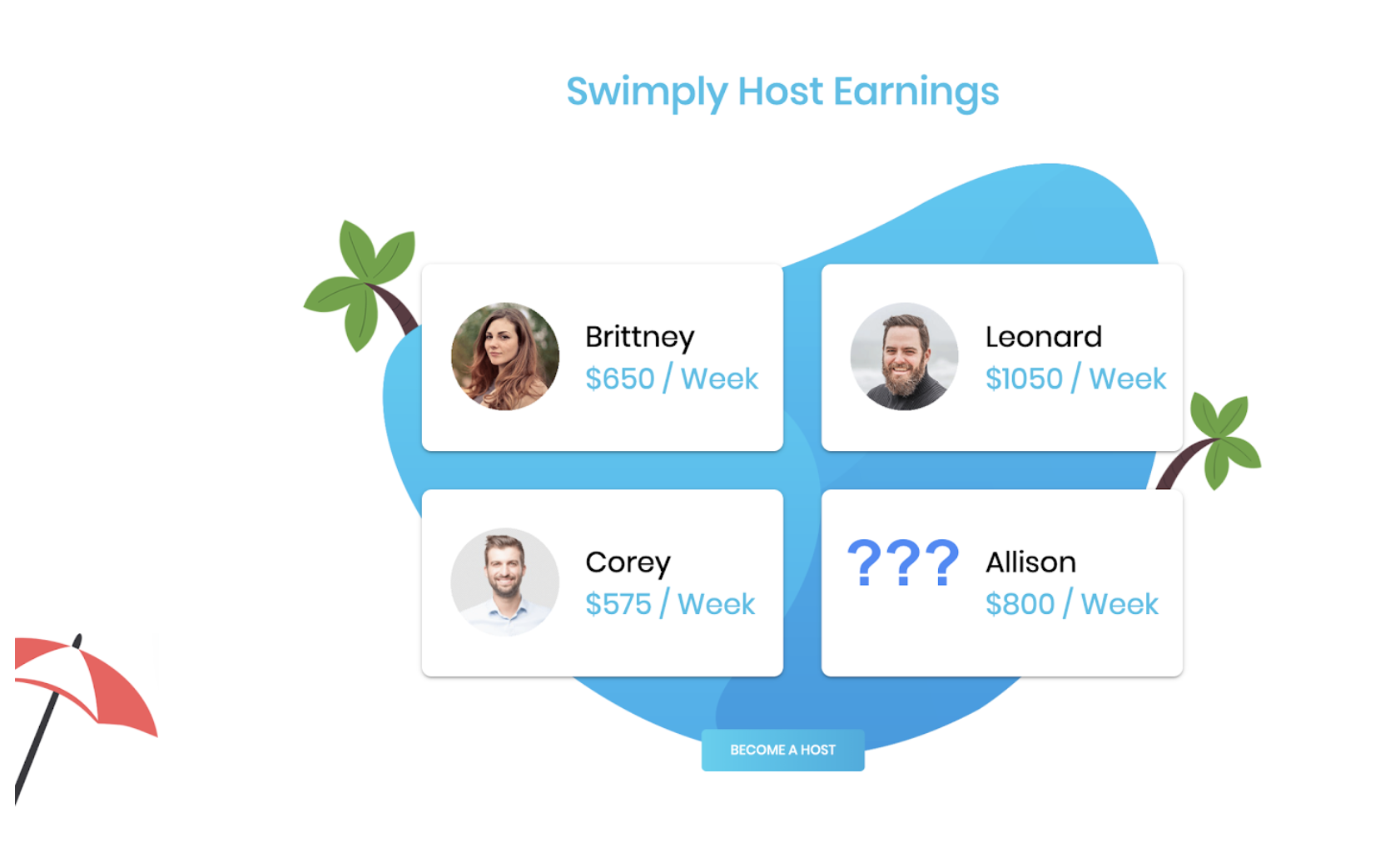 It's difficult to find any brown or black faces. Luckily, there is a simple fix, since it seems the "hosts" on the page aren't actually real. Reverse image searches show that the List Your Pool page uses stock images (and stolen images) to show the earning potential of its hosts. That means Swimply can simply(!) switch in a photo of, say, me, instead of Corey up there, who Adobe Stock Images describes in part as a "young handsome man smiling, blue t shirt, proud and satisfied expression." One Swimply Pool Host "Allison" actually belongs to a Latinx woman not named Allison who happens to be a diversity and inclusion expert at a major software company. When I contacted her, Not Allison said she'd heard of Swimply, but had no idea her photo was being used by the company.
When she reached out to Swimply via DM; the company took down the host section, claiming it was an accidental push of a placeholder. Swimply did not respond to a request for comment from VICE. The company has now deleted the hosts from the "list your pool" page altogether.
Startups are often tasked with doing a lot with a little, Not Allison said, which is "often a heroic thing." But cutting corners by using an unlicensed photo "point out a fundamental issue." To her, it suggests a "much more deep and intractable problem" like discrimination and lack of diversity might also be left neglected.
Motherboard is not naming Not Allison because her image was used without consent, she is not associated with the startup, and she did not want to speak on behalf of her company. But because she is a diversity officer in Silicon Valley, she seemed like a good person to talk about how pools have been historically used as a tool of segregation.
"The fact is, swimming pools and swimming are a very specifically, heavily racialized thing in American culture," the D&I expert explained. "And what we know of the ability marketplace platforms [have] to exacerbate or continue the discrimination, the social bias that we see in the world is really high without very intentional design and planning around how you build both the business model as well as how you think about and design and deploy the products and then how you hold users accountable for not discriminating on your platform."
Not Allison said she wouldn't use Swimply, mostly because she prefers lakes over pools.
Pools are more than expensive (and finicky!) vinyl-lined water containers; they are often signs of wealth, investments made to increase the value and/or aesthetic appeal of a house. They're also an important setting for the country's history of racism. After the Civil Rights Act of 1964 ended segregation in public places such as public pools, new methods were developed to keep black people out: membership fees, simply filling up old pools with concrete, and building pools in majority white neighborhoods. Much of this history was recently revisited after a much more recent incident. In 2015, McKinney police officer Eric Casebolt responded to a neighborhood complaint in part by assaulting a black 15 year old girl, where he "repeatedly slammed her face on the ground, forcefully straddled her while thrusting his knees into her back and neck."
Combining pool with an Airbnb-like platform, Swimply should look at the issues Airbnb has already faced, specifically discrimination. There is no doubt that discrimination based on names and faces will occur, and there is nothing Swimply has said publicly to suggest they're aware of it. It's a glaring oversight, especially when Swimply claims to be "democratizing swimming."
If Swimply can figure out racism, insurance liability, and where customers can go pee, it could be a worthwhile app. In the meantime, swim at your own risk.