As DeVos Rolls Back Protections, Dems Introduce Bill to Help Campus Rape Victims
Rep. Jackie Speier says The Title IX Protection Act is needed to prevent discrimination against sexual assault survivors on campus, whose rights are threatened under Betsy DeVos' new interim guidelines.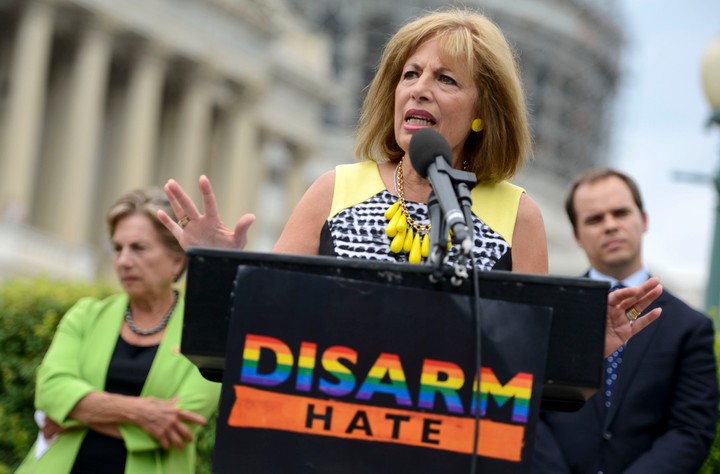 Photo by Leigh Vogel/Getty Images for MoveOn.org
When Alyssa Peterson was a sophomore in college, she was raped. After the incident, she tried to contact an administrator at the school, but it was the weekend, and no one answered her call.

"I didn't feel comfortable reaching back out for several years," she told Broadly. She did, however, read the 2011 Dear Colleague letter, issued by the Obama administration just six months earlier. "I learned through the Dear Colleague letter that I didn't have to live in a dorm with my rapist; I could get extensions for classwork. It just really educated me about my rights."
In September, when Education Secretary Betsy DeVos rescinded that document and the accompanying guidelines that mandated how colleges and universities should respond to campus sexual violence under federal Title IX law, Peterson, now a Yale Law School student and policy and advocacy coordinator at Know Your IX, took it as "a huge personal blow."
The 2011 guidance "just meant so much to all of us," she said. "It was really a signal that the government had our back, that our suffering would be taken seriously. And seeing it rescinded is a huge signal that the government is no longer concerned with protecting survivors' access to education."
Yesterday, in an effort to protect sexual assault survivors' civil rights, a group of Democrats introduced a new bill that would codify Title IX guidelines introduced under the Obama, George W. Bush, and Clinton administrations into law. According to a press release from the office of Rep. Jackie Speier, who spearheaded this legislation, The Title IX Protection Act "is needed because Secretary DeVos' recent actions allow schools to discriminate against survivors, contradict long-standing Department precedent, and have already caused confusion for schools and students."
Read more: The Sexual Assault Survivor Fighting to Protect Victims' Identities
DeVos has argued that the 2011 and 2014 guidance documents were "well-intentioned" but "led to the deprivation of rights for many students—both accused students denied fair process and victims denied an adequate resolution of their complaints." She issued her own set of interim rules, which sexual assault advocates say will likely deter victims from reporting assault while giving more credence to accused perpetrators.
Among the policy changes outlined in this new guidance that Peterson finds particularly alarming is its permission for individual schools to decide what standard of evidence they will use in a disciplinary process. Peterson explains that previously, schools have used a "preponderance of the evidence" standard, which helps to put the alleged victim and the accused on level footing. Under the new interim guidelines, schools can choose if they want to use a higher standard of evidence, which could make the process more difficult for the alleged victim.
DeVos is taking cues from the criminal justice system, Peterson said, and that's not what Title IX was designed to model. In a criminal proceeding, she explained, a perpetrator potentially faces incarceration; therefore, higher protections for the accused are warranted. But under Title IX, which is civil rights-focused, she said, "the maximum punishment is expulsion, so it doesn't make sense to use a higher standard, especially one that would devalue the victims' access to education."
From a practical standpoint, Peterson said, this new guidance will likely deter victims from reporting abuse. "It reaffirms the message that women lie about sexual assault, because why else would we have to prove a higher standard of proof than other types of civil rights violations, like on the basis of race and disability?"
---
Watch: Marilyn Minter on Depicting Female Sexuality
---
In short, she said, this interim guidance from DeVos doesn't center survivors. "I see nothing for me in that document or for the thousands of people who are sexually assaulted on their campuses every year."

Know Your IX project manager Sage Carson stood with Speier and other lawmakers during yesterday's press conference announcing the new bill. Carson shared the written statement of a survivor who'd navigated a Title IX investigation. "It was an incredibly overwhelming and lonely experience to discuss disturbing details about a night I wish never happened," Carson read, "but I felt like I could trust my school's reporting process. On the other hand, Education Secretary Betsy DeVos' new interim guidance on Title IX is extremely frightening."
Stories