Warning: Graphic image and video.
The Mesa Police Department in Arizona is under fire once again after a video surfaced that appears to show officers viciously beating an unarmed man and nearly tearing off his ear, and then later taunting him while he's lying in a pool of blood on the floor of a hospital.
The video stems from an incident on Jan. 28, when officers pulled over a vehicle on suspicion of drunk driving.
When the officers ran everyone's IDs, they discovered that a 23-year-old Jose Luis Conde, a landscape worker riding as a passenger, had a criminal record, including previous gun and drug charges. Upon searching Conde, they discovered packages of cocaine in his socks, but did not find any weapon. The encounter quickly escalated.
Body camera video footage, released to the media by Conde's lawyer Bret Royle, shows him struggling with the police officers. Even when he appears to be in handcuffs, the officers appear to punch him.

"I can't breathe," Conde tells the officers at one point.
When they arrived at the hospital, where he would be treated for injuries incurred during the scuffle, Conde tried to escape but was apprehended by officers, according to Mesa Police Department.
Conde, speaking at a press conference with his attorney, said that the officers shoved him against the wall roughly, poked him in the eye and beat him with their flashlight. Part of his ear was severely torn; doctors had to sew part of it back on.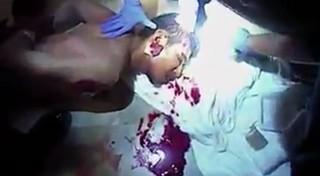 Body camera footage shows Conde lying in a pool of his own blood on the floor of the hospital. "Bless his little heart," one officer says, looking down at Conde. "Awwww."
Another tells Conde to "man up."
"They laughed at me while I laid in a pool of my own blood, barely conscious," Conde told reporters.
Read: Arizona police chief says cops "weren't at their best" when they violently beat unarmed black man
In a statement posted on Facebook, Mesa Police Department Chief Ramon Batista said that officials are currently reviewing the incident, but argues that the video "does not tell the full story concerning this arrest." Batista said he will release additional video and the report once the review is complete.
The release of the video footage comes just weeks after another video showed a group of Mesa cops punching and
beating a Robert Johnson
, an unarmed man, to the ground. Three officers and a sergeant, who were seen in the video, were since put on leave.
Charges against Johnson – suspicion of disorderly conduct and hindering police activity – have since been dropped.

Read: Horrific video shows cops killing a man who begged for his life
Another violent encounter between a suspect and Mesa police officers made national headlines last December, when the department released body camera footage from the Jan. 2016 fatal shooting of Daniel Shave, a 26-year-old unarmed man, in a hotel hallway.
Officer Philip Brailsford orders Shaver to lie on his stomach, and then kneel and crawl towards him. Shaver is heard begging for his life, and then Brailsford shoots him, point blank, with his AR-15 service weapon. Brailsford was acquitted of murder charges, but the incident is currently under investigation by the Department of Justice.
Cover image: Screen shot of Mesa Police body camera footage.