The first-ever container holding several tons of camel to arrive in Minnesota was going to cost $150,000.
Jamal Hashi said OK. He'd commit to it. He put up $14,000 of his own funds; he'd have to raise the rest from the neighboring Somali community.
Now, two containers are arriving a week, and Hashi is having a difficult time keeping the bison-like red meat in stock at his new East African-inspired restaurant Jambo, on Minneapolis' bustling West Bank.
"People try it because they want something new. But they come back for it because they can't get enough." When Hashi speaks of his trajectory to frigid Minnesota in 1995, his cool posture and freewheeling chef's demeanor grow halting.
"When I think back to all of this, it's like I have to remember whether I saw it in a movie or whether it really happened to me."
The civil war that broke out in Somalia in 1991 scattered Hashi's family from their hometown of Mogadishu. He and his older brother walked to the border of Kenya, and spent the next two years in a refugee camp. Hashi was nine years old. His brother was 12.
Gone forever were the spoils of his well-off upbringing, surrounded by his engineer, pilot, and military-ranking family members. Gone was his father, who inspired Hashi to become a chef after plucking lobsters from the ocean ("We called him a marina man") and showing the young Hashi how to boil the creatures until they went bright red and succulent.
By the time the brothers were reunited with their family, their father had died. Along with their mother, they made their way to Fairfax, Virginia, where some older siblings had emigrated years prior.
"It felt very foreign," Hashi remembers, of the schools where only English was spoken, but it was nothing compared to what he was in store for in 1995, after his mother heard of 35 Somali families that had relocated to Minnesota and decided to follow, drawn in by the affordable rent.
---
WATCH: The Life of a Refugee Chef Living in Oakland

---
"When we arrived in November, we found out why it was so cheap," he says. "It was devastating," he remembers of the cold. And the tough neighborhood they moved into resulted in a robbery on their very first night. "My mother was jumped."

Twenty-two years later, Hashi is sitting in Jambo, the fourth restaurant he's opened in the U.S. (the other three are Safari, Safari Express, and Safari Harlem—the only Somali restaurant in New York that he's aware of—which is now under new ownership). Jambo is located on the city's West Bank, a major East African enclave that is also a bustling crossroads of many cultures thanks to the proximity of two college campuses, many live music venues, and the Mississippi River, always a hub of commerce and activity.
"So many cultures expect other cultures to meet them where they're at. But we want to meet people where they are."
Somali dining establishments are not anomalous in the Twin Cities. With over 25,000 Somali immigrants calling Minnesota home as of 2013, Somali restaurants number in the dozens. But Jambo, and a few others of its ilk, including the nearby Afro Deli and St. Paul's Alimama's, are anomalous.
"So many cultures expect other cultures to meet them where they're at. But we want to meet people where they are." Mahad Ibrahim, Hashi's partner at Jambo, does not have a typical Somali-Minnesotan story.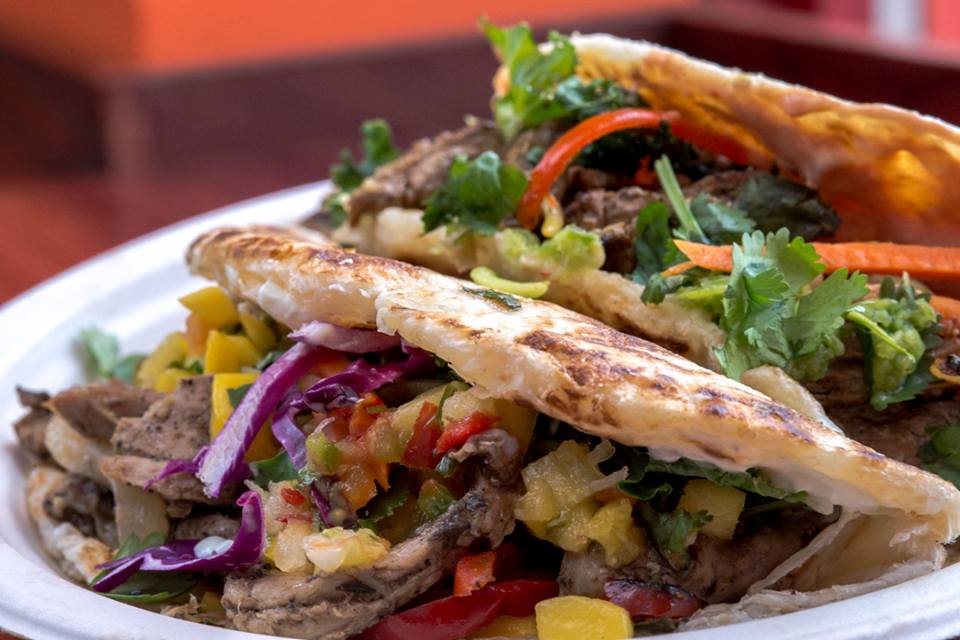 Born and raised in California, Ibrahim has worked in the tech industry, and thanks to his businesses and entrepreneurial spirit, has lived and worked all over the world. The two men met at a house party when they were both living in New York City. Ibrahim agreed to put his business sense behind Hashi's culinary mind, and settle in Minnesota, where, in Hashi's estimation, "life is easy."
In Ibrahim's, the Twin Cities are "comfortable, beautiful, and welcoming," though he's experiencing a bit of culture shock, being immersed in Somali culture in a way he's never before been.
But for them both, this is home now.
Some customers come into Jambo twice daily. The bowls, with rice, veg, and choice of protein and sauces à la Chipotle, are by far their biggest sellers. But Ibrahim calls these the gateway to more challenging dishes.
But here's a secret: Somali food isn't really all that challenging to the Western palate in the first place.
READ MORE: Minneapolis Is a Paradise of Somali Food
"I like Somali food because it's comfortable," says Ibrahim. "There is rice, pasta, nice good breads."

Influenced by both the Middle East and India, as well as the easternmost African country's longtime colonizer Italy, Somalia's is a crossroads cuisine with melting pot traditions. And while Ibrahim embraces Jambo's comparison to Chipotle, Hashi cringes a little at the reference. He prefers to think of it as a coming together of world influence, much like Somali cooking itself.
At Jambo, there are tacos, wrapped in paratha bread instead of tortillas, influenced by Ibrahim's Indian grandfather. Sambusas, quickly becoming a Minnesotan staple, are as delectable as any in the city. The Haji, with chopped grilled sirloin, pickled peppers and onions, is a Somali take the New York City bodega cult fave chopped cheese (which Hashi learned about during his time in Harlem), enlivened with the ubiquitous Somali condiment bisbaas, a fiery cilantro-chile sauce—think chimichurri with more heat.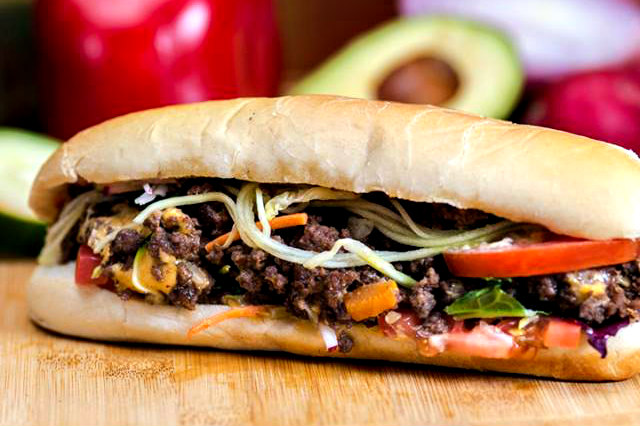 But about that camel. Camel meat isn't actually widely eaten in Somalia. The nomadic people rely on the beast for transportation ("Taking a man's camel would be like taking a northern Minnesota man's truck") says Hashi. But it is a special-occasion meat that brings happiness to many who perhaps haven't had a taste of that sort of celebratory joy in too many years. Cooked simply and served on a slider bun at Jambo, the joyful bite helps East Africa and America find communion.
"People are putting up more walls today than ever," says Hashi. "Muslim. African. Black. And it affects me.... But the hand to mouth gesture is the most common gesture among all people, everywhere in the world."