There's a joke among Jews in Berlin that pretty much writes its own punchline: How come there are no good bagels here? It was this premise that led Berlin-born Jewish food writer Liv Fleischhacker to pen an article for MUNCHIES about the differences between Jewish food culture in New York City and Berlin. It was also what led the American-Jewish Laurel Kratochvila to open Fine Bagels, now happily serving the real thing (not the dreaded roll-with-a-hole peddled by other Berlin cafés) with or without schmear, to grateful international fans.

So maybe it was kismet—or perhaps we should use the Yiddish beshert—that the two would join forces for Nosh Berlin, the city's first-ever Jewish food festival. Drawing together well-known Jewish food bloggers and enthusiasts like Molly Yeh of My Name is Yeh, Luisa Weiss of the Wednesday Chef, Amy Kritzler of What Jew Wanna Eat, and Jeffrey Yoskowitz of the Gefilteria, plus historians, JCC representatives, and a whole lot of enthusiastic Jewish chefs, the two have conjured a celebration of global Jewish cuisine that could not have happened anywhere—or anytime—else. The event lineup kicked off with a four-course Moroccan Jewish dinner, followed by a massive Breakfast Market at Kreuzberg's Markthalle Neun, and a slew of more intimate workshops, talks, and dinners over the next seven days.
As the week drew to a close, I caught up with Liv and Laurel to ask them how it all came together, to talk about what it means to be Jewish in Berlin today, and to wish them mazel tov.
MUNCHIES: Let's start with the obvious: What took you so long?
Liv Fleischhacker: I don't think you necessarily could've done this five or ten years ago. It very much goes hand-in-hand with the development of the Berlin food scene as a whole. Berlin has been international for a while now, so the time and place seems to be now and here. Plus, with the growing Israeli community and more and more expats moving here, we finally felt like we could do this.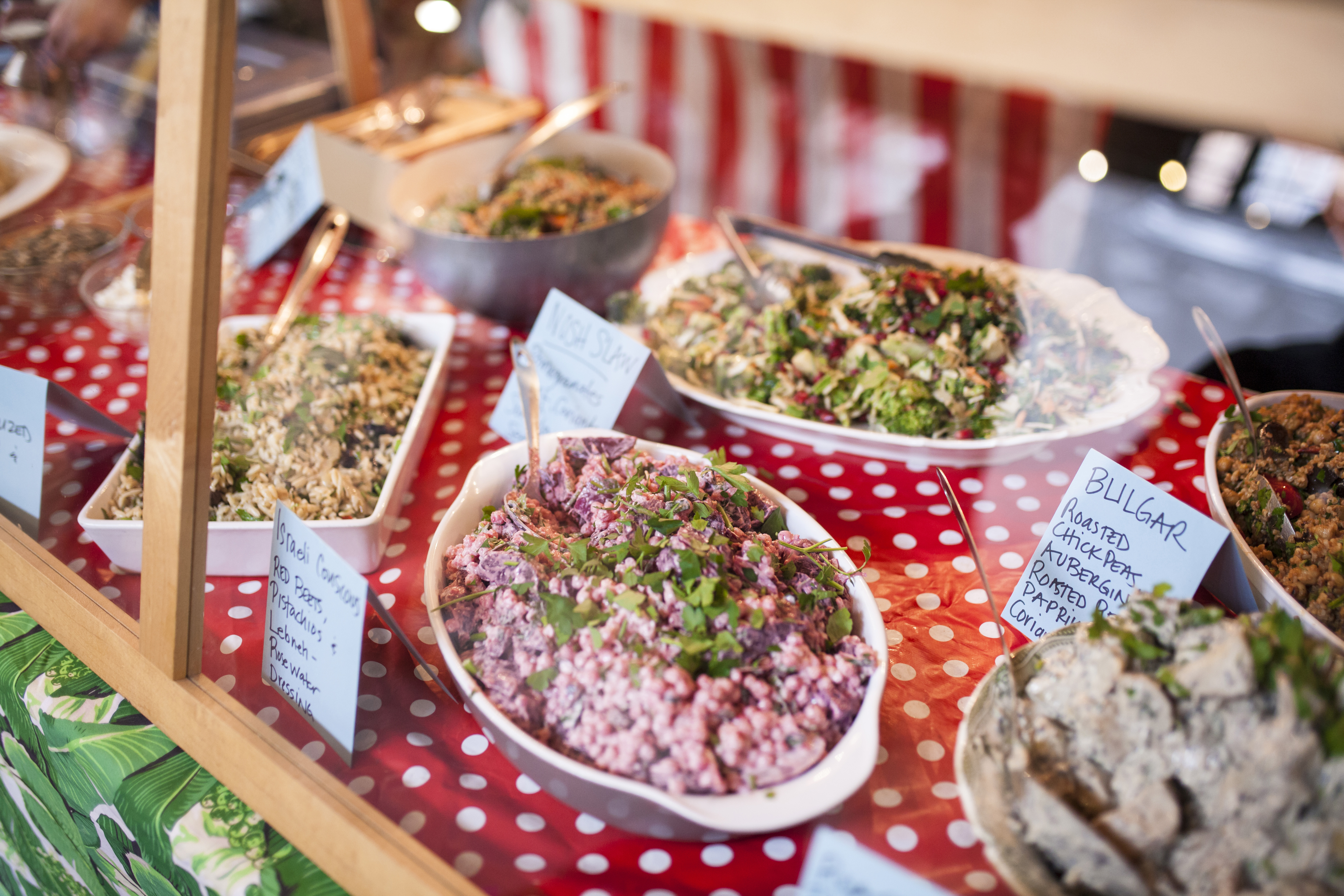 How did you hit upon the idea? As a food writer, I'm sure there's a yearning to get in on the action instead of sticking to the sidelines. Do you think this comes from a place of criticism (not seeing what you want represented in the food scene) or simply enthusiasm to get out there and participate?
Liv Fleischhacker: I think it's a mixture of both. Last year I spent a couple of months cooking once a week at Agora [a café and co-working space in the Neukölln district]. I think there's a certain type of person who would become a cook or a bartender or a farmer, and that's not me. I'd rather stay behind my computer. But every once in awhile it's nice to get your hands dirty. It was only when I started cooking at Agora that I thought, This beer has never tasted better. It would never taste as good after a day writing as it does after a day in the kitchen. It's the physical exhaustion, so I think it's a really good experience to get out there and do something yourself.
Tell me a bit about how long it took and what it took to organize. How did you go about deciding who should participate?
Liv Fleischhacker: I met Laurel through writing that MUNCHIES article three years ago. I popped by the store one day to sort of fangirl over her, and we kept in touch. Then last summer Jeffrey Yoskowitz [of The Gefilteria] was here and he and Laurel were talking about his book. She said, "Hey, you should come to Berlin and do a reading," and he was like, "Yeah that's great, but do you have a food week or is there some framework you could do this with?" So that was kind of the spark. In September of last year we sat and talked for an hour, and then all of a sudden we were doing this together.

In terms of organizing, Laurel's been doing Fine Bagels for four years and I've been writing about food for three now, so between the two of us we have a pretty solid network. I met Cathrin Brandes, who did our pickling class through the Craft Spirits Awards last year, where I was a member of a jury. She also did this project up in the Baltic Sea with fishermen who are trying to rebrand canned fish in Germany, because it such a big part of the culture in Spain and Portugal. I knew I wanted [Berlin specialty food shop] Goldhahn & Sampson to be a part of it, and I've been a longtime reader of Luisa Weiss and Molly Yeh, so it got put together pretty easily.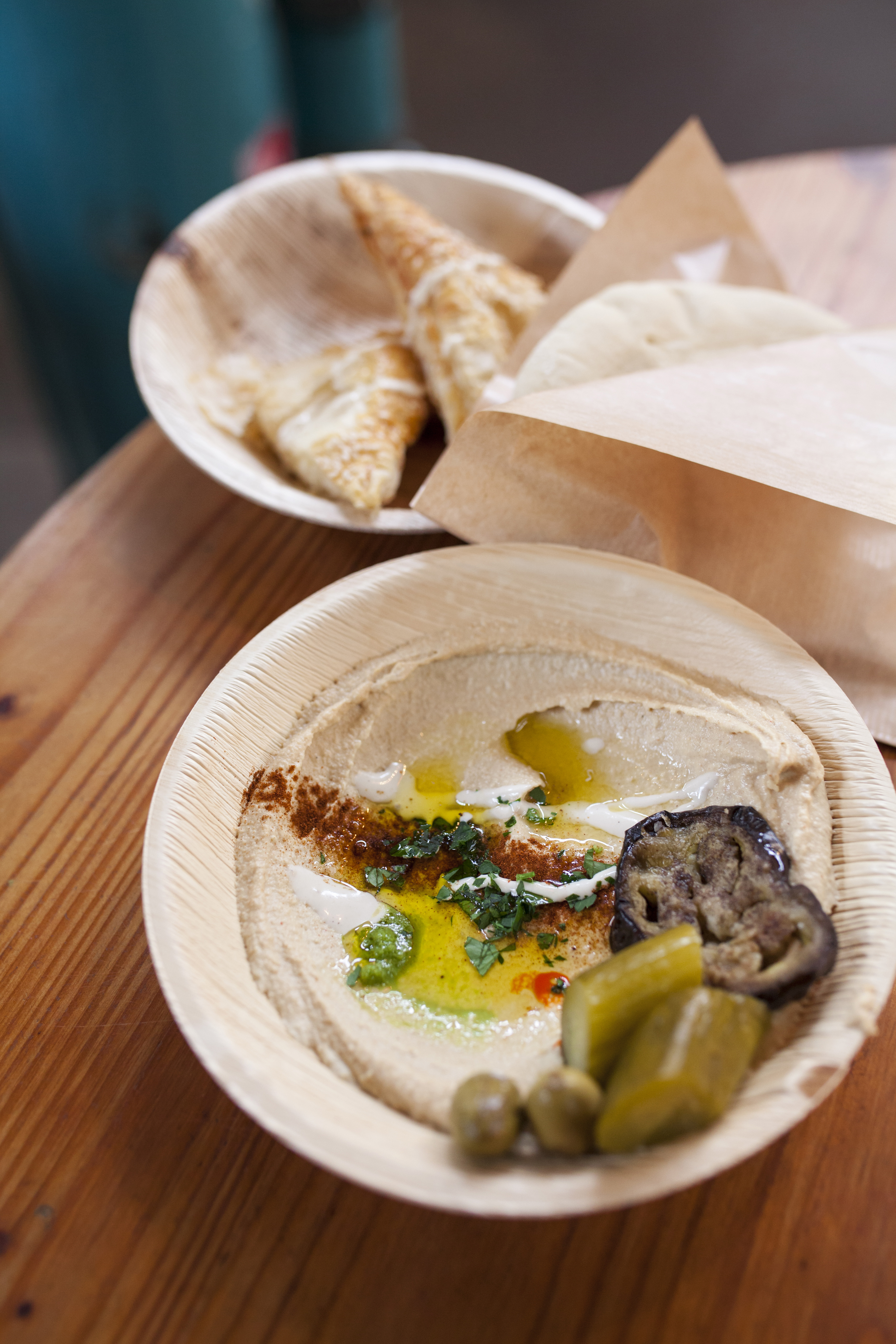 Clearly Berlin's Jewish population is growing again these days. When the Wall fell it was mostly Jews from the former USSR, who were offered the chance to gain citizenship here. In the last decade they've been joined by a great many secular Israelis and American Jews. I gather that the these three groups rarely mix, as the former is more based on Orthodox traditions and culture, and centers on the various synagogues, and the other two are essentially young expat populations. Nosh bridges these gaps somewhat by having synagogues host some events, while others are hosted by restaurants and cafés. What is your goal with the festival? Are you hoping to reach out to all these groups, to teach something to the non-Jews among them, or both?
Liv Fleischhacker: I try to steer clear of calling it "educational" because I don't feel like I'm in the position to teach anyone anything. We're trying not to make this political or religious but really a cultural thing and a celebration for everyone, be they Jewish or not. My family does have people who work in the Jewish community, friends of my grandparents, so I obviously reached out to them and told them about my project. But we have no official ties to the synagogues. They are hosting some events, which is really a blessing, but they aren't sponsoring us. Then there's also obviously the expats and the Israelis…I'd hope there's a little bit of something there for everyone.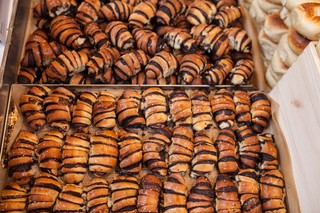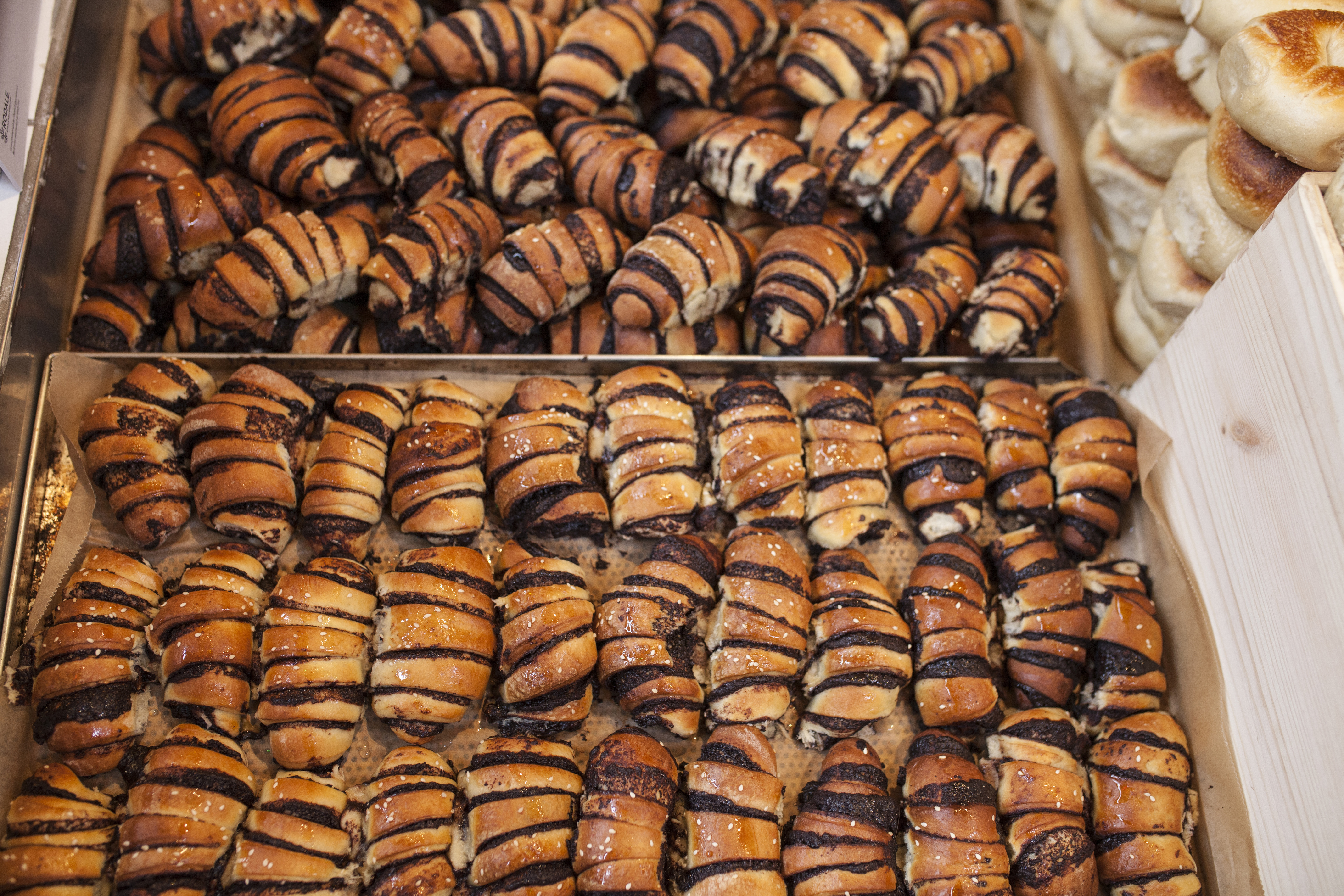 The festival blends active participation with watching and listening, past with present. Some events are all about history, while many are about living culture. Do you think this is reflected in Jewish culture in Berlin today?
Liv Fleischhacker: I think we have the luxury of approaching this topic from a bit of a lighter perspective. I'm the grandchild of survivors, so I'm the second generation. I grew up in Berlin, so I can't really imagine what it must be like to come to Berlin as someone with a Jewish background and see all of this for the first time. I mean, you have the [monuments], the Stolpersteine ["stumbling blocks"—bronze plaques in the ground in front of buildings with information about each Jew who lived there]. Then the Kindertransport memorial—there's so much. For us, it's just normal. It's just what I grew up with, and it's there.
I don't think we ever sat down and said "no history"—obviously you can't ignore it. But I think a lot of people within Berlin, and within the German school system, had World War II literature kind of…shoved down their throats. And I say that in the most loving terms. I think it took me a while to circle back and want to deal with this topic again. With Germans I think it's just so there, they don't need a reminder. We can have the past and we can have the future and just kind of celebrate that.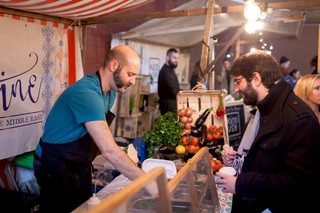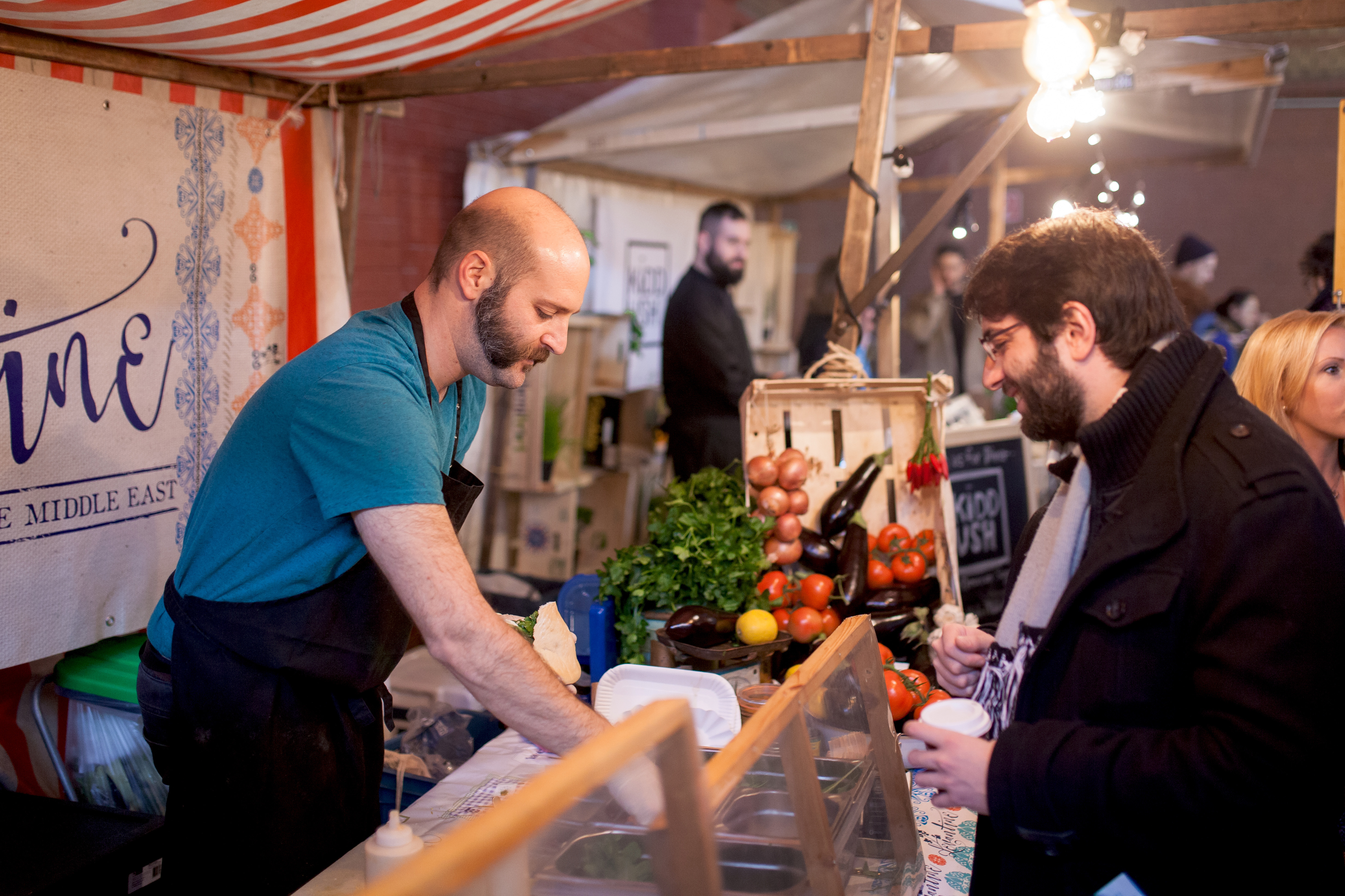 Growing up in Berlin, how did it feel to be Jewish then vs. how it feels now? I'm sure my experience has been different from yours, but while I never felt like it was something I had to hide, I felt that I might as well not bring it up because the responses were so, frankly, absurd and laughable. (Most had to do with Klezmer music.) Did you at one time feel like it was something you couldn't quite explain or didn't want to talk about? Or did you grow up feeling completely normal and just like any other German?
Liv Fleischhacker: Even up until a couple of years ago there were still friends of mine who didn't know I was Jewish, because it's not something I openly talk about. There's been this quote floating around from the MUNCHIES article that a couple of outlets have picked up on and which I still stand behind. Basically I said I think the reason for why Jewish food [in Berlin] is kind of kept private is that the Jewish community kind of keeps to itself. I didn't hide the fact that I was Jewish, but I didn't really scream it from the rooftops either, because Germany is my home but also this country that did these horrible things.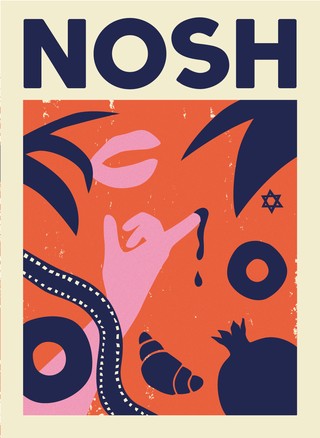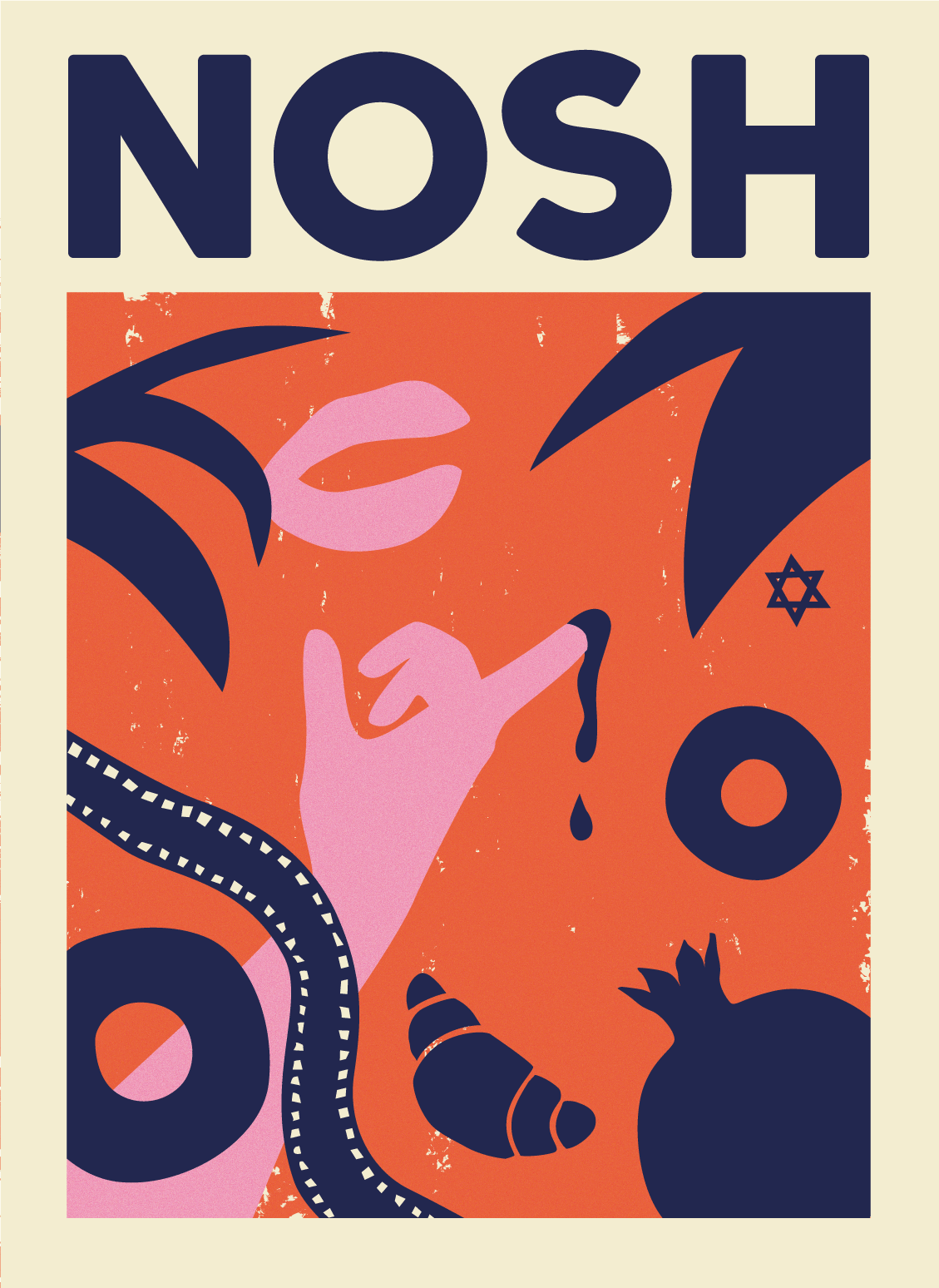 You have a pretty great festival poster. Can you tell about how you developed the festival's branding and what you wanted to convey with this image?
Laurel Kratochvila: I felt that branding was important for this festival and I always like commercial art that is, well, art. Something you can hang on the wall when it's all over. Also, since this was a first-time festival and, frankly, a shoestring situation, I wanted to have a strong and well-designed representation to offset all that. Have people take it seriously.
Kristina Wedel is a wonderful designer, probably the easiest person to work with that I can think of, and I knew from previous experience that she would patiently wade through my murky yet extremely picky aesthetic sense. We used old Polish film posters as a jumping off point and went from there. She sat with me for ages to get a sense of color palette, font choices, and image style, and then went to work creating our design. We only had to make a few little tweaks and it was done. She does great work.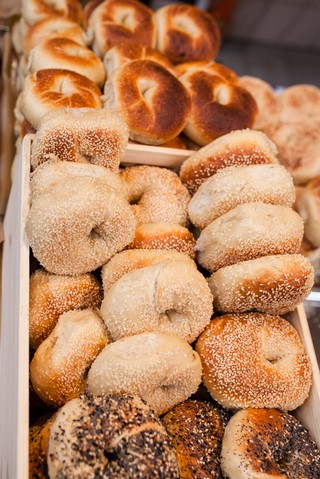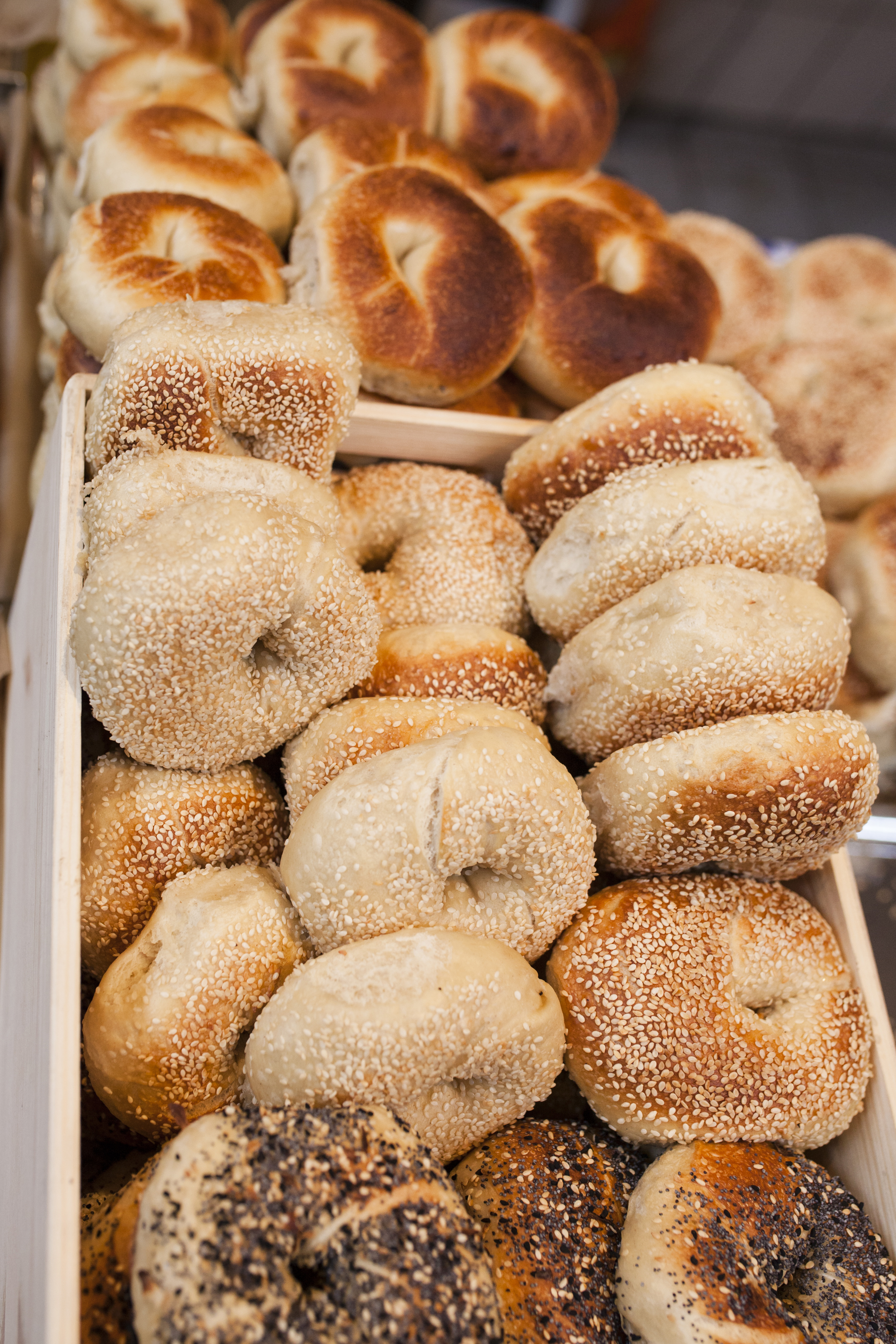 Your two main sponsors are Fine Bagels and a mysterious Helen K. Fine of Boston. Who is she and why was it important for her to support your efforts here?
Laurel Kratochvila: Helen K. Fine is my nana. When I told her what I wanted to do she said, as she does with almost everything I do, "Oh, isn't that wonderful!" And then she gave me enough to get the poster made and start the ball rolling. Fine Bagels is named after her. We adore each other.
I feel like I've spent nearly a decade complaining about how there are no good bagels here in Berlin. I think every non-German Berliner probably feels the same about some food item. What Jewish foods do you find yourself missing?
Liv Fleischhacker: Because I grew up partially American and partially in the States, a lot of the food that I do miss is American, which also happens to be Jewish. But really the biggest thing is American cream cheese. It just doesn't taste the same here! I really miss salt beef bagels from Brick Lane, where I lived the first two years I was [studying] in London. I don't think it's even about the bagel quality for me; it's more about the salt beef, because that's something you can't get here.
Speaking of which—sandwiches! Like, deli sandwiches! Germany has such a shitty, shitty sandwich culture and they just cannot do a good sandwich and it drives me insane. I can make a sandwich at home but it's not the same and doesn't taste as good as when somebody else does it for you.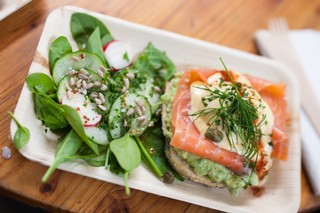 Finally, will there be a second annual Nosh Berlin?
Liv Fleischhacker: Yes, there will be a second annual Nosh Berlin! We're looking for funding and we're definitely looking to make this an annual thing.
Thanks for speaking with me.