There's a Polish Punk Scene in London and It's Thriving
Bands such as Perma War, Low Rollers, and Radioactive Rats are thrashing out a scene in the face of growing anti-immigrant sentiments in the UK.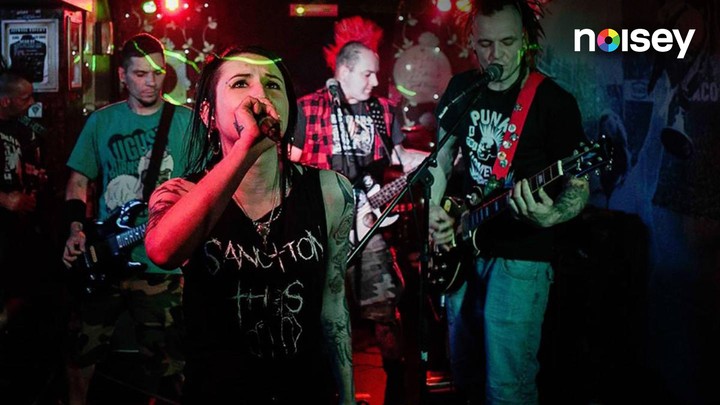 This article originally appeared on Noisey UK.
One summer three years ago, I found myself in a dark, cavernous music hall in Tottenham, north London called T Chances. Several bands performed that night, throwing out everything from upbeat reggae and ska to frenetic thrash and punk, each song punctuated by a wall of roaring cheers. Those in the crowd stood arm-in-arm, dancing and shouting along to the music, dripping in sweat while swilling booze from cans. But something about this gig was different: I didn't recognize the bands on the bill, or the beers at the bar, and I couldn't understand the words anyone was singing. It was a Polish punk night—and one of many that have cropped up in the UK recently.
Punk first erupted in Poland in the 80s, soundtracking the country's crescendo towards political change. These days, though, much of its legacy lives on in the Polish ex-pat community in the UK, as bands such as Perma War, Low Rollers, Radioactive Rats, and Pro Publico Bono make a similar—albeit marginally less urgent—scene of their own. The sound of this new wave of Polish punk mixes a raw, relentless energy that borrows as much from 80s DC and New York hardcore as from the brash British sound many of us know and love. And with its penchant for shouting back in the face of fascism, it's become a locus of community at a time when anti-immigrant sentiment has swept through the country like a particularly nasty bout of the clap, pushing communities even further away from each other.
Continue reading on Noisey