Michael DeForge is one of the artists at the forefront of the growing Canadian comics scene born out of the efforts of publishers like Drawn and Quarterly, Koyama Press, and Conundrum Press. The 29-year-old Ottawa native (and occasional VICE contributor) covers subjects that are often neglected in comics, like identity, sexuality, politics, and race. He renders these issues in his ever-evolving style, which stretches from the delicate cartooning of 2013's Very Casual to the abstract and untethered art of 2015's Dressing. In addition to his books, zines, and gig posters for punk bands like Speedy Ortiz, Bully, and Creep Highway, the prolific DeForge has worked as a writer and designer on the beloved TV series Adventure Time.
This month, Drawn and Quarterly releases a hardcover collection of one of DeForge's longest ongoing stories, Sticks Angelica, Folk Hero. Initially self-published online in 2013, the strip follows erstwhile Olympian, newspaper columnist, and libertarian Sticks and her trails and tribulations in the Canadian wild, where she's fled after a scandal involving her politician father. There, our survivalist hero becomes embroiled in the emotionally dramatic lives of an eccentric woodland crew: a pair of anxious, PDA-obsessed geese; a lovelorn grain rabbit; and a lonely moose named after real-life cartoonist (and DeForge's friend) Lisa Hanawalt, who wants nothing more than to assume Sticks's identity as a sweater-wearing woman. I recently caught up with DeForge before his seven-city book tour to talk about his enigmatic new release, Canadian mythology, and Adventure Time.
VICE: Sticks Angelika was the first long-form weekly comic you did after Any Colony. What did you want to do differently with this one?
Michael DeForge: I kind of just wanted to do everything differently. Ant Colony was originally done as 11x17 pages, so I thought with this one I want to make it look more like a traditional strip. I didn't want to do full color anymore. I always knew I wanted it to be like Mark Trail—like those ongoing adventure-y strips that had like facts about nature. It was also influenced by Shrimpy and Paul. I liked how it had that gentle, goofy, Canadian vibe to it.
A lot of the way I conceived Sticks Angelica changed from how it started out to be. I started it thinking I didn't want to expressly do a young-adult comic, but I thought in my head, This could be my funny YA comic. But then as I kept going it transformed into something else, and I was like, "Yeah, no regular 15-year-old actually wants to read this." I think it was all age appropriate, so it could be a young adult book in that respect. But at some point there's like an eel talking about his brother committing suicide… The whole premiss is about a 50-year-old woman retreating to the woods. That's not necessarily teen-friendly material.
How does what you're going though in your own life affect the intentions of the comic when you're writing it on a weekly basis?
Because I don't plot anything out in advance, I try to just go with it. It's a reason why I like the weekly thing. Doing things in small chunks, you're sort of forced to be more open to changes in your life, than if you just had a super-strict script. If I just had like one project that I'd be working on in secret for like a year or two—which I've never really done—I think I'd get bored of it really quickly. Hosting it publicly in small portions—it feels more freeing to me because it can just be whatever it needs to be at any given moment. It also feels like it mimics the rhythms of real life when it's like that.
Were there specific points that you remember feeling a big change in your life and then you saw it appear in the work?
Oh yeah, totally! I feel like when I was starting out there would be more of a delay between something that happened in my life and when I'm clearly sorting that out in my work. It would always be like a year or two after it's published, and I'd realize, "Oh, all right. I see what I was clumsily working through." But now I feel like it's a lot more immediate.
You've written yourself into a lot of your previous comics. But in this one, the character of Michael DeForge plays a much more prominent role. What was the motivation for including yourself, or even referencing your friends like fellow cartoonist (and VICE contributor) Lisa Hanawalt?
Well, I put myself in comics a lot, but I don't really have plans to do a straight autobiographical comic. I like writing fictional versions of myself where I'm exaggerating one aspect of myself. I did it in a comic about being biracial, and then I did it in a comic about joining a littering cult.
Lisa Hanawalt was very generous to let me do that character. I knew I wanted to write this moose character, and as I was designing it—I think if I'm just drawing an anthropomorphized moose, it's hard to do without feeling like I'm doing a worse version of a Lisa Hanawalt drawing. So I asked Lisa, "Hey, would you be cool if I just named this character after you, in tribute to you and the influence your work has had on this?" And she was cool with it. In the comic, there's also a Zacchilli forest that I named after Mickey Zacchilli. It's kind of nice to have little Easter eggs in the book.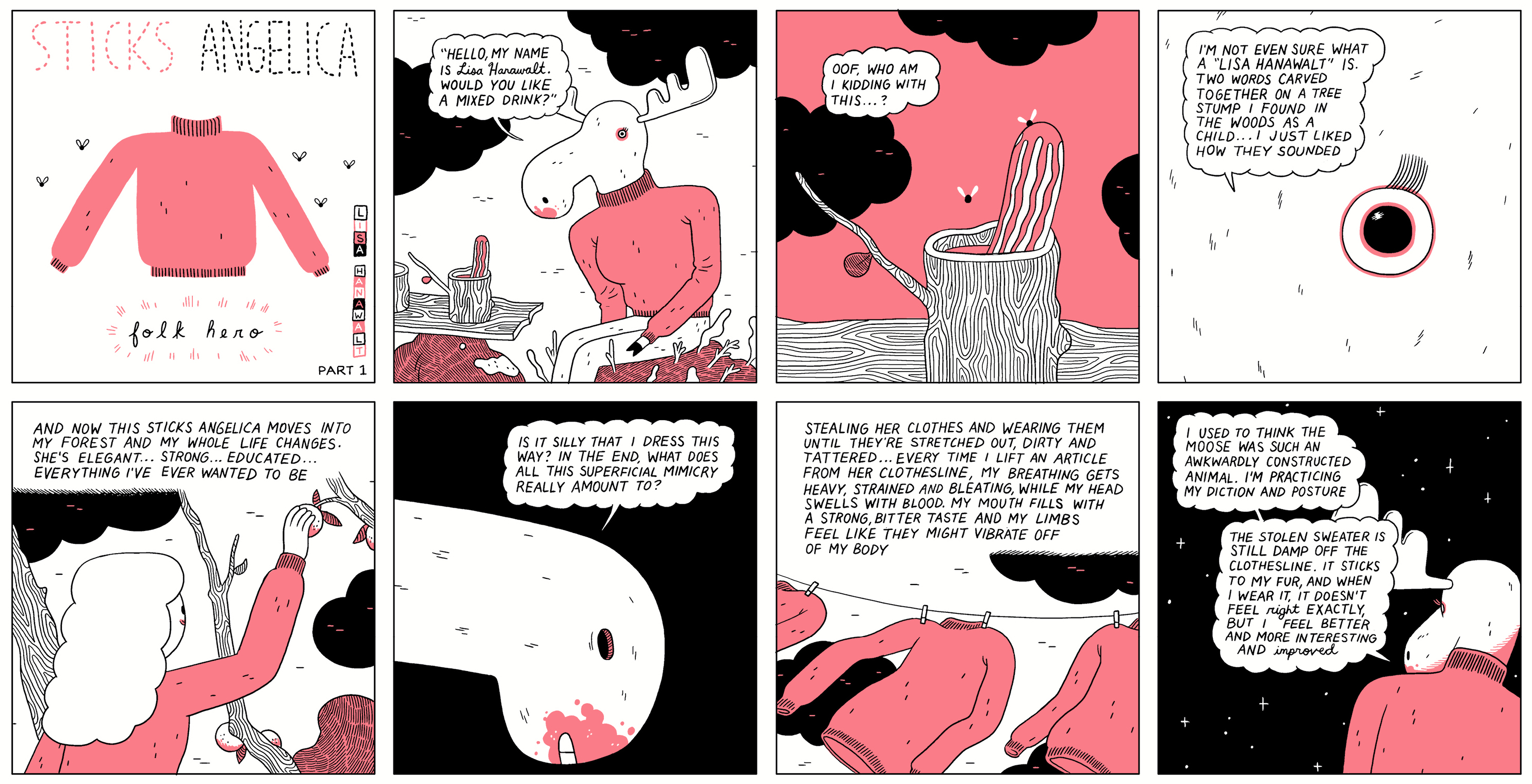 Your depiction of Canada really plays off of this mythologized idea of the country that people who aren't Canadian have. What gave you the inspiration to depict Canada the way that you have in your work?
I think it's always funny the way Canadians try to define themselves. I think we wrongly think our lack of identity is our identity or something. I like to think of it as "alternate-universe Canada" with me just playing up the aspect of the nature stuff. The Spotting Deer and Sticks are both about Canadians and our relationship with landscape and nature. But obviously Canadian Royalty was hitting at something different, and The Prime Minister of Canada was hitting at something different, too. I think because I don't have a clear idea of what being Canadian is, the stories are kind of a way of trying to unpack a few of those ideas.
In a lot of your recent work, there's this repeating theme of political conspiracies. Where has that come from?
I like writing about a lot of these sort of hidden systems that people find themselves in. So that stuff ended up just naturally figuring it's way into things. People bristling up against these very complex structures that they can only ever see the edges of, and I usually finish the stories without them fully understanding.
With the conspiracy theories, I feel like that's just in the air a lot lately. A lot more than I ever anticipated. I used to listen to a lot of Coast to Coast AM and was just awake all of the time growing up. I wouldn't have been able to predict how mainstream a lot of conspiracy stuff has gotten. It's upsetting. It's just worked its way into my comics.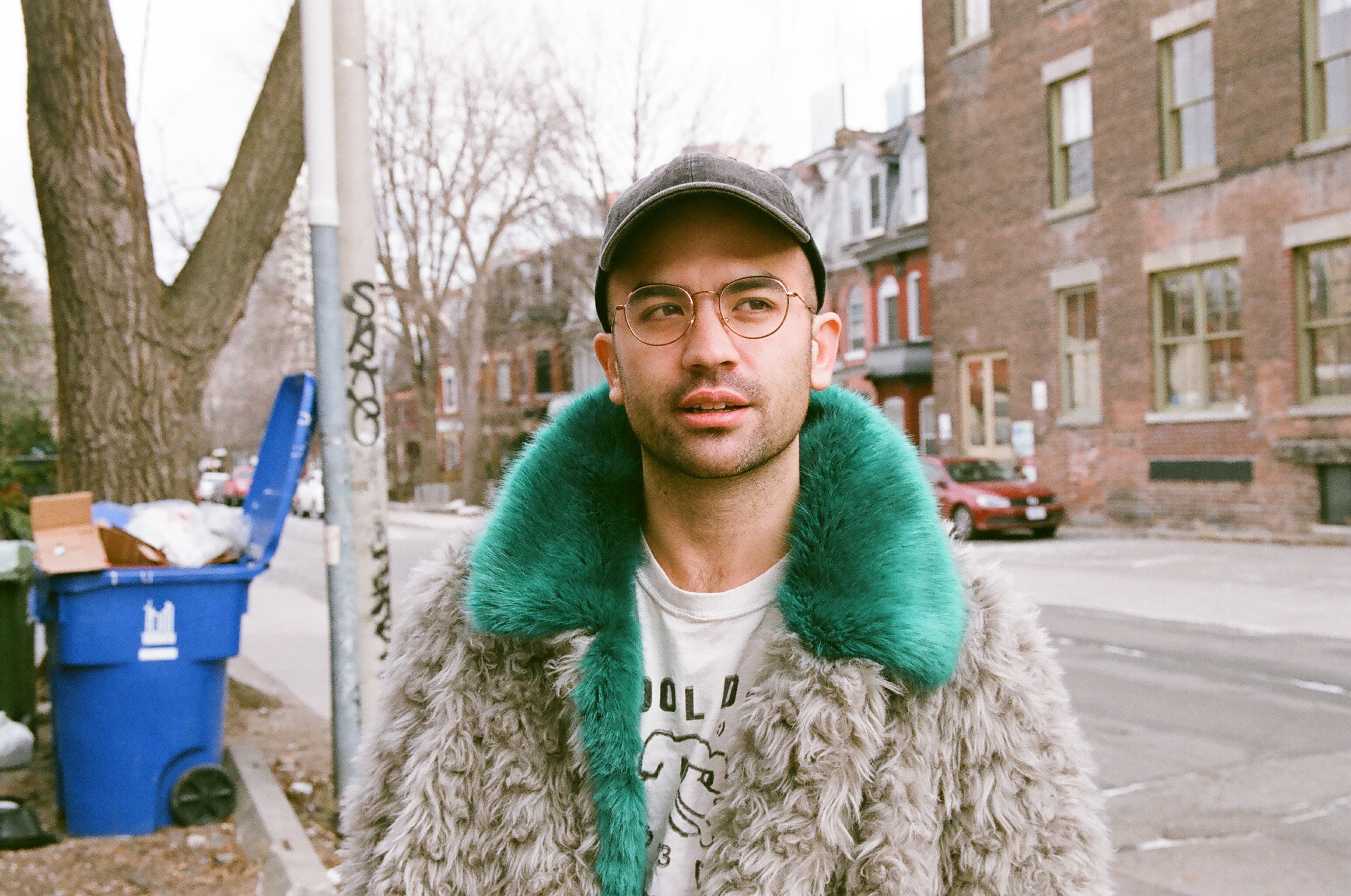 How do you choose which stories you want put up online for free or save for a book?
I'm at a point now where I know everything I do could eventually be a book. Which sort of sucks. I didn't always have that. It was cool to make a weird zine and just think, This will never exist in a different format, or, This will only be a strip online. But I've been collecting stuff for a while now that, even if a project is initially conceived like that, I can't help but in the back of my head think of how it might be formatted in a bigger collection. But I try not to think of that until the end.
You were also working on Adventure Time the whole time you were making this book. Was it difficult to manage both?
It's always really difficult to balance something that pays and something that doesn't. But I do like doing both. I feel like, especially doing design for animation, it's a very different type of drawing than comics. My comics are all so flattened out, and on Adventure Time, with all of the designs I have to think three-dimensionally. It almost felt just like I was using a different part of my brain. Sometimes working on one is a needed break from working on the other.
With Adventure Time coming to an end now, what are you and the other writers and artists feeling right now?
I think we're all just scrambling. There are other shows staffing up. Because there are so many comics people on the show, I am a little curious as to how many people stick with animation. I have no idea what I'm doing. I hope something works out. I think that's the case with everyone. For some people, it's upsetting not to have a plan, and for some people, it's fine. For me, I'm constantly swinging between not worrying about it to being worried about nothing else.
It's really sad that it's ending. I might not ever make a living drawing again. I've always tried to be realistic about that. I'm also incredibly grateful that they gave me a shot to begin with. I didn't have formal animation training, so they took a real chance on me. It's been the best job I've ever had.
What are you working on now?
Well, I started a daily strip called Leaving Richard's Valley. I have two ongoing projects that I've been putting out through my Patreon. One of them is called Meat Locker, which is all about personal trainers, and the other is a graphic novel called Brat, which I think when it's done will be the longest steady narrative I've ever done.
Follow Matthew James-Wilson on Instagram.
Sticks Angelina by Michael DeForge will be published on March 21 by Drawn and Quarterly.