Remember Richard Pryor with This Week's Best Enamel Pin
Featuring new enamel pins from Good Hustle Company, Bottom Feeder, Deja Pins, Punchberry Press, and Pinphomaniac.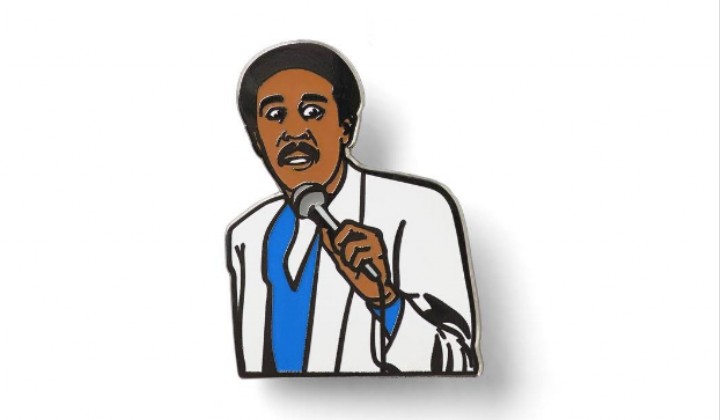 As the founder of Strike Gently Co , I deal in pins and patches daily. The Creators Project asked me to pull together a weekly roundup of the best newly-released pins. Most of these will probably sell out. If you like them, smash that "add to cart" button.
Pinphomaniac
This company just released a whole bunch of pins with an amazing aquatic color scheme. Maybe I'm basic as hell, or maybe amidst the wintry concrete wasteland that is New York I yearn for something warmer and more oceanic. Who knows? Regardless, I'd be grabbing these regardless of what coast I lived on. Pinphomaniac is producing some of the best stuff in the game.
$25.00 for the set.
Punchberry Press
Everybody loves the booty. Everybody loves shoes. Everybody loves the beach. These pins by Punchberry Press have it all. There's a theme developing this week, oops. I really want to be in a place that's warm.
$9.00 each here.
Deja Pins
Deja Pins has been on a roll lately. They find wonderful designers and manage to come up with some true originals. I don't know what this little guy is supposed to be—maybe I'm missing a pop culture reference—but the "good news" is, I'd wear him on my lapel.
$10.00 here.
Bottom Feeder
Another great design from a small brand I hadn't heard of until today. There are a lot of tattoo-aesthetic influenced pins that don't translate very well into 'real life' accessories. Some stuff looks better inked on a fat guy's tricep. Not this one—I'd wear this any day of the week. If you really like it you can always stab it into your arm so it hurts like a tattoo. Actually don't do that.
$8.00 here.
Good Hustle Company
On a different note, Good Hustle makes original designs resembling some of the world's finest celebrities. They have a sick Eric B pin, for example. But this Richard Pryor pin is in another league altogether. I have a Richard Pryor shirt, maybe I'll attach one of these bad boys to it, and walk around repping the greatest stand-up comics of all time.
$10.00 here.
For more pins, visit my shop, Strike Gently Co.
Related:
Pour One Out for Our Favorite Enamel Pin of the Week
This Week's Best Pin is 50% Sea, 50% Weed
Stories