'Top of the Lake: China Girl' Will Fill the 'Twin Peaks' Void in Your Heart
'Twin Peaks' is probably gone forever. But 'Top of the Lake: China Girl' is also a surreal whodunnit that exposes the darkness lurking beneath the surface of a picturesque setting.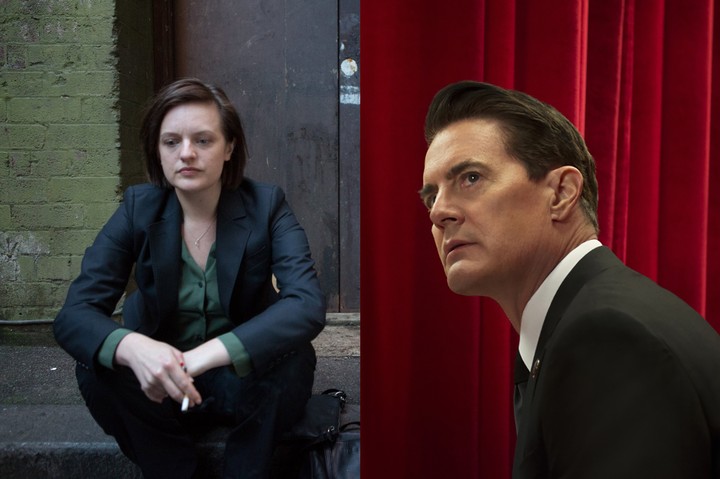 Images via SundanceTV and Showtime
Twin Peaks: The Return has ended with an eternally haunting shriek, almost certainly the final chapter in David Lynch's opus that began two decades prior. At times utterly disturbing, hilarious, confusing, and deeply human, The Return was an assurance that, in its wake, no series could accurately be described as "unlike anything on television" going forward. The original Twin Peaks was incredibly influential to television's thriving Golden Age; you can still see traces of its DNA on shows as disparate as The Leftovers, Atlanta, The Young Pope, and Riverdale. As Elijah Wolfson posits for Quartz, it's likely we'll see The Return's imprint on the medium in the next quarter century as a new style of prestige TV.
That's all well and good, but it doesn't help voracious consumers of all things strange and surreal suffering Twin Peaks withdrawals in the now. Luckily, a series premiered Sunday that is a worthy salve: SundanceTV's Top of the Lake: China Girl.
Of course, it's worth noting that no show can match Twin Peaks' specific brand of weird (it's probably not a spoiler to say China Girl features exactly zero atom bombs birthing unspeakable evil). But the resemblances between Jane Campion's project—which included the original seven-episode 2013 miniseries, Top of the Lake—and Lynch's Twin Peaks are nonetheless uncanny. Both are twisted whodunits that are less interested in the actual crime than the aftermath that spills from it, and both use a picturesque setting to reveal the inherent darkness lurking within even the quaintest hamlets. Ultimately, China Girl is a worthy follow-up, offering a moving and surreal exploration of sexuality, toxic masculinity and domestic abuse—themes familiar to Lynch's work—while adding the complex layer of motherhood.
China Girl returns to the orbit of detective Robin Griffin (Elisabeth Moss, here to take all the awards), who heads back to Sydney after returning from small-town New Zealand, as depicted in the original Top of the Lake. Her new case is the eponymous "China Girl," the body of an Asian sex worker found stuffed in a suitcase, washed ashore on Bondi Beach. The imagery evokes the discovery of Laura Palmer's body in the Twin Peaks pilot: an almost elegant, ethereal portrayal of a grisly death. (Campion takes a few opportunities in the premiere, which she directs, to show the suitcase floating to shore with China Girl's silky black hair peeking out, guided by the current.)
At the same time, Robin tries to reconnect with the daughter she gave up at birth 17 years ago—the product of a gang rape while Robin was in high school—and finds that the teenage Mary (Alice Englert, who's also Campion's daughter) is intrinsically linked to her investigation. As long as you can get past how unlikely this would be somewhere as large as Sydney, it's gripping stuff.
In Mary, China Girl has a fascinating—and crucially, still living—parallel to Laura Palmer, capturing innate teenage innocence that's tragically enveloped by the evils of men. Her decisions, at times confounding to watch as the viewer, are provided greater insight by the end of the series. But it's no less agonizing to see the 17-year-old in a romantic entanglement with a wholly inappropriate man nearly three decades her senior.
That character, a 42-year-old East German expat with the horrible nickname "Puss" (David Dendick), is unsettling merely through appearance and his cadences. He looks, and even sounds, like a twisted version of Tommy Wiseau; an accent that, in China Girl, works both to disarm and terrify you. However, Puss's shambly long hair is not unlike the evil entity BOB—as portrayed by the late Frank Silva—in Twin Peaks. Similarly, Puss acts as an amalgam of the darkest vices of men; it's unsurprising to hear him spew out anti-feminist rhetoric and physically harm women while branding himself a pariah shunned for wanting to help them gain their independence.
These performances—along with Moss, who, between China Girl and The Handmaid's Tale, is currently the best actress on television—are buoyed by evocative and occasionally surreal imagery. One character, an associate of the China Girl, imagines her in his room, naked, guiding his decisions. He dreams of a life she couldn't have, with human silhouettes in the form of shining, transcendental orbs. The beaches and crashing waves in Sydney are as much a character in China Girl as the mountains and eerie forests of Twin Peaks, Washington.
Campion's work isn't Twin Peaks—nor should it strive to be. She's an Oscar-winning screenwriter and gifted director, certainly more interested in narrative cohesion than Lynch at his most mainstream. And Campion adds a level of nuance to her female characters—something that a couple of critics cited as issues with The Return, despite its brilliance. Narrative closure was never on the cards for Twin Peaks (seriously, who expected a normal ending, FROM DAVID LYNCH?), but in China Girl, Campion pays off its enduring pathos with a sendoff that ties up all dangling threads. It's a miniseries in its truest form. I wouldn't oppose a third season with these characters, but I'm not begging for it, either.
In other words, watching China Girl you will not be tormented by questions like "How's Annie?" and "What year is this?" You can fill the Twin Peaks void in your heart with something slightly more grounded. But rest assured, China Girl is still an eccentric, powerful, gorgeous ride.
The first two hours of Top of the Lake: China Girl premiered Sunday on SundanceTV. The miniseries will be available to stream in its entirety on Hulu beginning tomorrow.
Follow Miles Surrey on Twitter.
Stories