"I mean to be honest, this is the first job I've ever done," laughs Arrow de Wilde, over the phone, while cooking rice on a Sunday afternoon. The 18-year-old de Wilde hasn't held down even a part-time job previously. She's been in high school in Echo Park. That's where she met guitarist Henri Cash, 16, who's still in high school (he takes his classes while they tour around the world). Tim Franco—their bassist—has worked a little construction for his dad, and drummer Austin Smith once worked in a store. That aside, however, Starcrawler is their first proper nine-to-five. So when it came to playing life-weary servers in a donut shack for their brand new music video "I Love LA" they weren't drawing on their own experiences chasing a paycheck. "It's the same mentality of being in school though," says Arrow. "You're bored, so it's like, 'Fuck this! What's the point of this?'"
The video, which is directed by Arrow's mother—legendary LA filmmaker and photographer Autumn De Wilde—moves from the band serving up donuts to living out a glamrock fantasy on the streets of Hollywood. It contains all the references of a bunch of punks who are much more engrossed in the rock 'n' roll mythology of the past than they are of any current peers. Starcrawler enter the world being touted by an illustrious checklist of classic rockstars. Firstly, the band signed to London's own historic Rough Trade records earlier this year. Elton John played their lead frenetic quickfire anthem "Ants" on his Beats 1 show. Dave Grohl invited them to play his CalJam festival earlier this Fall and watched their set side of stage ("he was so nice, a very cool person," says Arrow). Ryan Adams made their self-titled debut album with them on analogue at his studios—Pax-Am—in Hollywood. It's out on January 19 next year, and they've been sitting on it for what feels like an eternity.
"He's definitely been a mentor," says Arrow of Adams. The singer-songwriter worked with Arrow's mom back in the day and remained following her on Instagram. He came across some posts about Starcrawler, popped down to a show and wanted to record them immediately. "That was one of the best recording experiences you could have," says Arrow. "He's super spontaneous and it's not some sterile recording studio with framed guitars on the walls. It's rad. It looks like someone's cool house with lava lamps and pinball machines and cheetah skin rugs." The album already looks to be shaping up as a classic debut. "We tried to make it how the old rock records were," says Arrow. "On 'Appetite For Destruction' every song has a hook. I'd rather keep things shorter and simpler and straight to the point than have a double album but I want all the songs to mean something."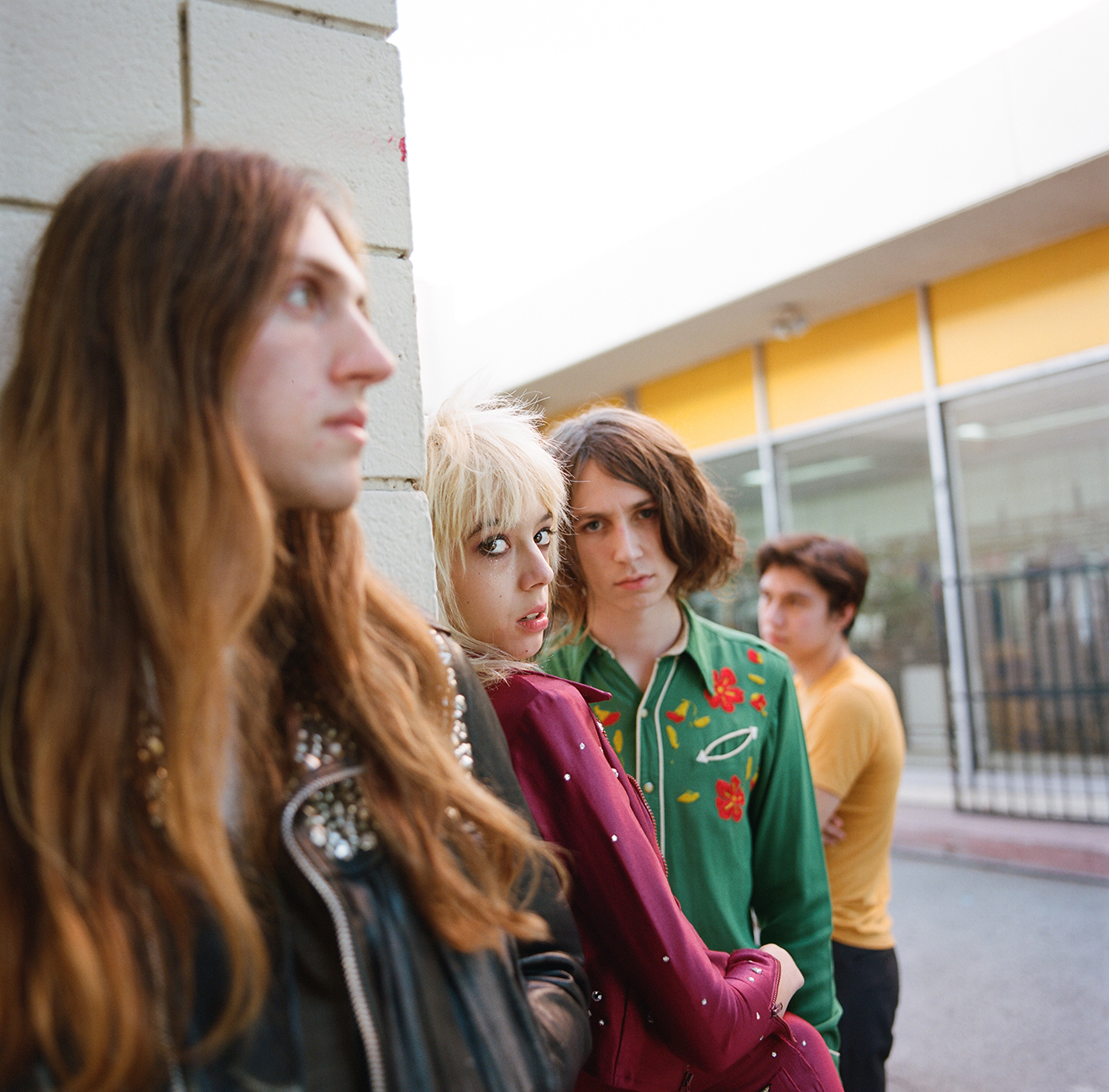 For a bunch of young kids, the connection to the older guard isn't too strange. Arrow's main inspirations are Ozzy Osbourne and The Beatles. There was an awesome photo of her reaching out towards Iggy Pop at a recent headline show of his out at Desert Daze festival in Joshua Tree. That performance was one of the best things she's ever witnessed. "I was on one of my friend's shoulders and it's rare that I see a band and feel the energy where I wanna get rowdy and crowdsurf. The whole thing made you feel like you were on cloud nine." During their own sets, they pride themselves on eccentric and super tight ripping performances, seeking to reinvigorate a love of fantastical, provocative and escapist rock'n'roll. Chances are if you haven't seen a Starcrawler gig, you'll probably have heard rumors about them. The one about how Arrow comes out onstage in a hospital gown and spits blood at the audience is the stone-cold truth.
"The US audience aren't angry but they're definitely more shocked and scared. Americans get offended way more than in the UK and Europe," says Arrow. Starcrawler have already whizzed around the world once, leaving chaos, laughter and fake blood stains in their wake. They're gearing up for another Stateside tour before the year end. At their core though, there'll always be a piece of LA within them. Hence the track "I Love LA," which seems to offer up an idea of a love/hate dynamic with the misunderstood city.
"I don't know if I have any hate for LA," says Arrow. The song started as an idea by Henri when he was homesick in Michigan. "It's about a lot of things. It's about LA but it's also about growing up in a place like LA. It's hard to explain if you don't live here. A lot of people give it so much shit but I feel like there's no other place like it. To me, New York and Philly are almost the same thing but I haven't found another city that's like LA. Not one. Sunset Boulevard is just one street and you can drive down it and there's so many changes of scenery; from homeless tweakers to rich small girls to Mexican cowboys to prostitutes. There's a whole history to old Hollywood and now it's a toxic wasteland. There's something so magical about that."
Nothing else in LA is like Starcrawler, and yet they feel like the perfect fit for the city's seedy underbelly. "Starcrawler is really glamorous and really dark and that's what LA is to me," agrees Arrow. The video features all their friends and locals. Even the donut shack is a place they've frequented throughout their lives. "Their donuts are pretty good," Arrow laughs. After watching Starcrawler play, a donut is probably the last thing you'll wanna stomach.
Eve Barlow is on Twitter.