All the Smaller-But-Still-Cool News From Sony's Paris Event
Between 'Guacamelee 2,' 'The Hong Kong Massacre,' and updates for games like "Monster Hunter World' and Destiny 2,' it was a good lineup.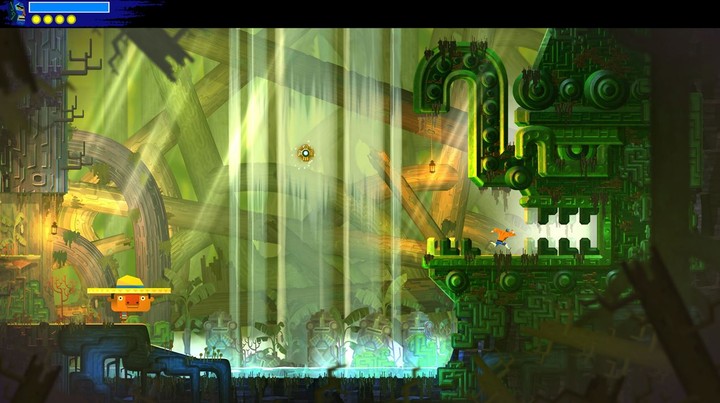 Image courtesy of Drinkbox Studios
As part of Sony's Paris Games Week event, the company announced a slew of games, release dates, and showed all sort of trailers. If you missed the livestream, I've collected the major announcements from the show below.
An updated look at Insomniac's Spider-Man, with a closer look at the actual story:
The upcoming Shadow of the Colossus remake looks legitimately incredible:
The first Destiny 2 expansion, Ghosts of Osiris, hits December 5:
Who knows if Detroit is going to be any good, but this trailer is intense as hell:
Guacamelee 2 is coming "soon-ish." Sometime in 2018.
Final Fantasy XV: Ignis Episode, with music by Yasunori Mitsuda, arrives December 13.
Oure, a beautiful-looking game set in the sky, set to be released later...today!
The Hong Kong Massacre, a John Woo-inspired Hotline Miami-style game.
Erica, a thriller that building on Sony's multiplayer PlayLink strategy:
The Gardens Between, a cute time manipulation puzzle game. 2018!
A remastered version of Loco Roco 2 hits on December 9.
EA has reworked The Sims 4 for consoles and it hits November 14.
Tennis World Tour, the rare appearance of a new tennis simulator, comes in 2018.
PlayStation VR
Blood & Truth, an action and spy-focused game, that looks like some big-budget VR:
Bow to Blood, a space pirates game coming in 2018:
Megalith, a first-person combat game where you take control of a god.
UltraWings VR, a flying stunt game seemingly inspired by PilotWings:
Sprint Vector, a first-person racing game where you're navigating futuristic obstacle courses:
Moss, a lovely adventure game involving a tiny mouse, arrives February 28:
Star Child, a platformer in which a tiny person works alongside a massive robot.
Resident Evil 7 DLC add-on Not a Hero arrives December 12.
Pixeljunk VR: Dead Hungry will hit in time for Halloween, October 31.
Stories