This article originally appeared on VICE Sports Canada.

Andrew Stoeten answers your questions in our Blue Jays Mailbag, which runs weekly at VICE Sports. You can send him questions at stoeten@gmail.com, and follow him on Twitter.
The trade deadline has passed, and the Blue Jays are... looking toward 2018. And, in a lot of cases, beyond.
*Sigh*
But that doesn't mean there isn't a lot to talk about when it comes to this team. Quite the opposite, in fact! So let's just go ahead and open up this week's edition of the mailbag and feast on the goo inside...
If you have a Blue Jays question you'd like me to tackle for next week, be sure to send it to stoeten@gmail.com. As always, I have not read any of Griff's answers.
Out of all the underperforming Jays this year, which can we attribute to injuries/age, and who can we expect a bounce back from next year?
Kate
We'll start with this one because I think it leads best into the discussions that will come next. The key underperforming Blue Jays this year are: Troy Tulowitzki, Jose Bautista, Marco Estrada, Josh Donaldson, Kendrys Morales, and Aaron Sanchez. You could maybe add J.A. Happ to that list as well. And Devon Travis is, obviously, a giant question mark as well. OK, so let's review...
I think Sanchez will be fine, and obviously he's just been derailed this year by a blister problem that will eventually sort itself out. No worries there.
Happ, if you put him on the list, has had a bit of a weird down year, but my sense is that he's fine. He's looked fine, his velocity's been fine, and other than having a bit more trouble than usual at keeping the ball in the yard, it really hasn't been such a bad season. I know he's 34, but I don't see signs of age-related decline or anything yet. He'll be OK.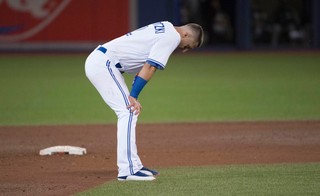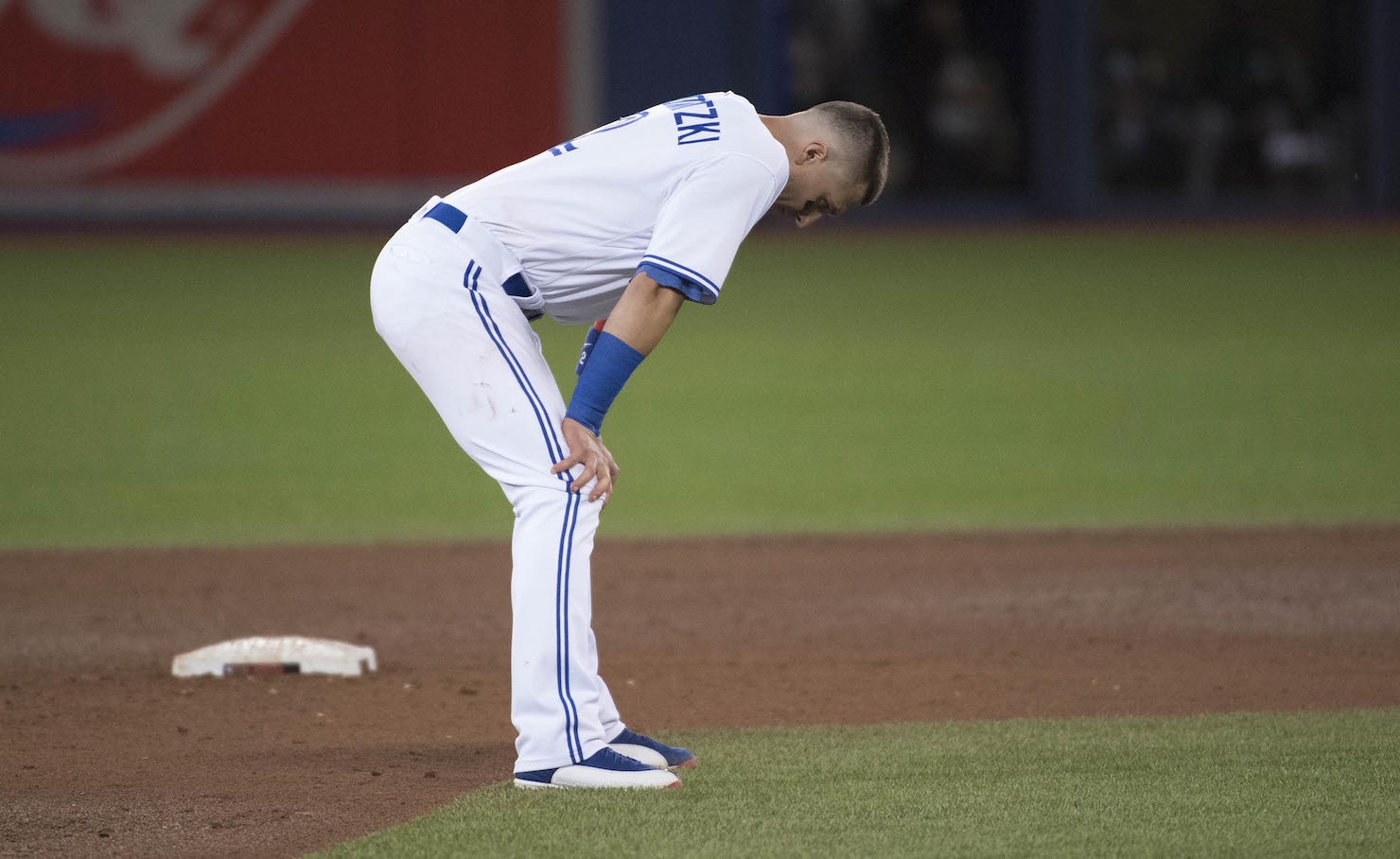 Donaldson has to be hurt, right? I have no inside information on this, but the complete absence of negatively slanted stories in the media about what's wrong with him, or how badly his performance has let his club down (he's gone from 7.6 WAR last year to 1.6 this year), suggests to me that those who are closest to the team either know or have a strong sense that something's up. Of course, it would be unfair to blame a fully healthy Donaldson for all of the woes of this team, but I'd expect someone to do it anyway. I wouldn't be too worried that he won't bounce back—even if it's maybe not quite to the heights of his previous few seasons.
Morales is a little bit confounding to me, because I still think he strikes the ball well, and he certainly get his share of home runs. The strikeouts are up and the walks are down as compared to his career rates, so that's maybe a concern. But it feels like this is what he is. Since the start of May he's put up a 108 wRC+, which is right in line with the 110 mark he posted last year. I still feel like there's got to be something more there, but maybe this is it. It's not great.
Estrada is another one who confounds. I have no idea if he's going to be able to regain the magic of his 2015 and 2016 seasons. But since he's going to be a free agent this winter, and since this year's struggles are going to make him relatively cheap, and since the Jays will have an Estrada-sized hole in their rotation to fill, I certainly don't think it would be a bad idea to give him another chance in 2018.
Bautista's numbers look like the numbers of a once-great slugger at the tail end of his career. That's a sad thing to have to reckon with, but a healthy Bautista has been below replacement level (-0.3 WAR) and slashed .215/.324/.385, which is good for just an 89 wRC+. Maybe there's a chance he bounces back, but with his defensive value so limited, and now a year of emphatic decline (as opposed to last season, when there was hope that his leg injuries were the cause of his off year), I'm not sure how many teams will give him that chance. I'd be surprised if he retired, but there's part of me that would like to see him go out with his head held high, and as a Blue Jay. (So no, I'm not hopeful.)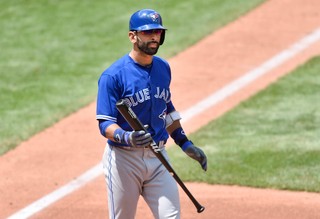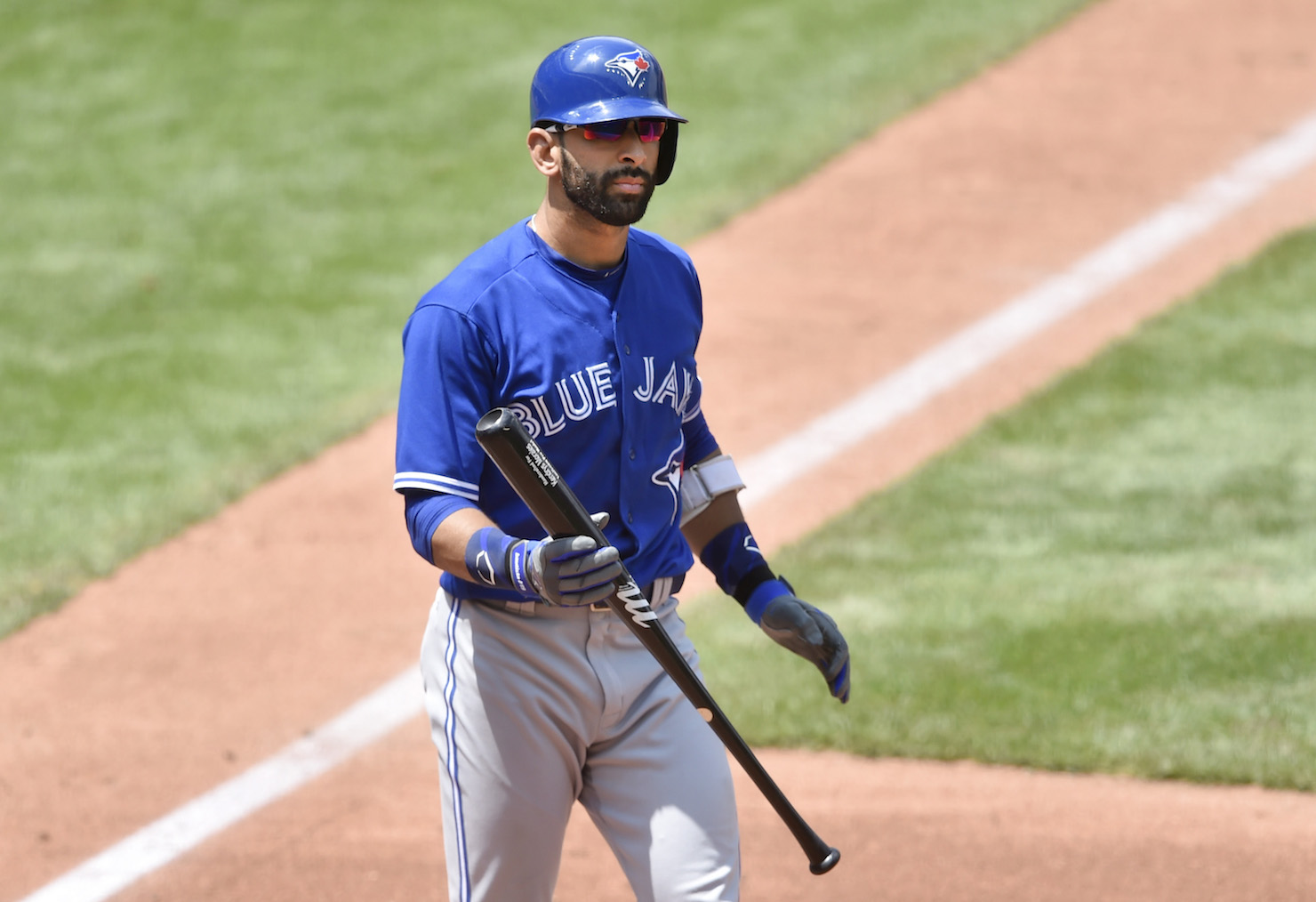 Tulowitzki is... a problem. I wish that weren't the case, and I know that injuries have played a part in why this season has been especially bad, but his decline has been swift and fairly brutal. There's maybe hope in the fact that he was a league average hitter in 2016, and that his defence graded out quite nicely, pushing him to 2.8 WAR for the year. If the Jays can get another couple seasons like that out of him going forward, that would be great—even if it feels a bit too much like trying to force ourselves to enjoy a singer who just can't quite hit the high notes anymore. But year after year after year of injuries has to have some kind of cumulative effect, which means expecting him to bounce back gets harder after each one. With three years and $58 million left on his deal (and a full no-trade clause that kicked in when he was dealt in 2015), this probably isn't going to end well.
---
Assuming Jays follow through on 'going for it in 2018', who would you (realistically) like to see them add?
Terry
Now that we've looked at some of the real weak spots on the roster, I think we can tackle this question. And the thing is, I don't think they need to do a whole hell of a lot to be at least marginal contenders—and, realistically, I think that's just about all they're going to be shooting for.
We can't just take away what happened at the start of this season and act like the club was playing in some kind of inexplicable fog. They earned those losses. But for a really long stretch after that abysmal 1-9 start to the season, this has been a .500 ballclub. It still is. Following Monday's disastrous ninth inning in Chicago, the Jays are 48-48 since they were 1-9. And that's with getting almost nothing out of Sanchez, nothing out of right field, next to nothing out of second base and shortstop, and four or five WAR less than you'd have expected from Donaldson.
A lot of fans are under the impression that this is an awful baseball team, but it's really not. And I think those same fans aren't quite seeing how the Jays get from here to being in any sort of realistic playoff conversation, but it's not that hard. Bounce backs from their 2016 WAR leaders, Sanchez and Donaldson, seem perfectly reasonable, and would go a long way toward pointing the club in the right direction. Those bounce backs may be offset by a dip from, say, Russell Martin, or an injury to a key pitcher, or any number of factors, but if you believe in them—and you should—the Jays have got a pretty good starting point.
They also have a blank slate in right field. They have a blank slate at second base, essentially, and a player (Travis) who will improve the production from that spot dramatically, if he's healthy. But for those positions they now have some legitimate internal options. Lourdes Gurriel, for example, who can play second, maybe short, and likely in the outfield, is already at Double-A. Or a plethora of young outfielders, like the just-acquired Teoscar Hernandez (whom the Jays obtained from the Astros in the Francisco Liriano deal), as well as stalwarts Anthony Alford, Dalton Pompey, and all the ones behind those two.
The Jays have also already started to build up some pitching depth in the upper levels of the minor league system, which should mean fewer appearances from the Mat Latoses and Casey Lawrences of the world.
So what will they do? It's hard to say, and I certainly won't be giving you a specific "who" that they should be going after, because there are just so many moving parts. They'll have a bunch of payroll freed up because of the departures of Bautista, Estrada, and Liriano, but other than the rotation (which I don't think they'd be inclined to spend too heavily on), I'm not sure there is an obvious spot to use it without more trades. They have to give Tulo and Travis a chance, they might be inclined to let a youngster take right field, and as bad as Steve Pearce and Ezequiel Carrera have been defensively, those two may yet have a future in left field here as well.
Taking the trade route first, to clear out some of the pieces that just don't fit very well, I think would make a lot of sense. If there's a market in the winter for Carrera, Pearce, Morales, or Kevin Pillar, I think that would certainly be explored. I'm sure they'd consider something bigger, too. Really, it would seem to make sense to me that the core for 2018 would be Donaldson, Martin, Tulo, Travis, Sanchez, Happ, Marcus Stroman, and Roberto Osuna, and that beyond that, all bets are a little bit off. They have some internal pieces that can fill in, but they certainly could find some upgrades on the trade market or free agency.
What would I like to see them do? Bringing in a couple of starting pitchers is an absolute necessity. Beyond that I think it's just tinkering and hoping for the best as they continue to keep their eyes on the future.
---
What do you make of Shi's report that the Jays had conversations about Randal Grichuk, Jed Lowrie, and Nick Markakis?
Adrian
Not a whole lot. He said that those were guys who the Jays are "believed to have discussed in some form in recent weeks." Anybody can be "discussed" without it meaning much, and I certainly think that there was a time, when they were thinking a little more about 2017, when Lowrie would have made sense for them. He'd have been a fine second baseman the rest of the way, and has an option for next year, which would make him insurance for Travis, and still be useful on the roster if Devo is fine.
---
---
The outfielders are maybe a little more interesting, because they both are controllable through next year, and they're both pretty bad—Grichuk because of his bat (even when he was good he was bad), and Markakis because of his glove (and lack of power). I wouldn't really want to see the Jays go for either of those guys, to be honest.

---
Hey Andrew! Question for the Blue Jays mailbag, what does the future hold for Marco Estrada and the Jays? Were you surprised he wasn't dealt before the deadline?
Jarod
I guess I answered that one above (also here), but I can't say enough that I really do think the Jays should bring Estrada back. They're going to need to find a pitcher on the free agent market anyway, so why not? I still believe!
---
Trade proposal (just for fun):
To Toronto:
RF Stanton
SS/2B Gordon
Mid/low level prospect or 2
*Jays assume all or most of both contracts
To Miami:
SS Tulowitzki
INF Ryan Goins or SS Urena
OF Zeke Carrera
OF Pompey
1B Rowdy Tellez
3 rd prospect that I would just be guessing at
*Stanton and Gordon would combine to make ~$36M in 2018. Tulo and Bautista (if they picked up his option) would be ~$38M.
I'm sure someone who knows the prospect values better would want to change this or upgrade what the Jays include, but it gets the idea across. If it's possible to keep Bichette, Guerrero, Alford, Jansen, Gurriel, and Borucki that would be ideal.
So, maybe it is way too much pie-in-the-sky to be reasonable, but it's the only way I can understand Shaprio/Atkins plan to still contend in 2018.
Thanks,
Steve
Steve wrote a really long and well thought out question that went into a lot more things than just this trade proposal, but I've cut right to the meat of it here. And... yeah... uh... I'm a little bit dumbfounded.
The only way to contend in 2018 is by taking on $350 million, offsetting it minimally with a guy who has a no-trade clause, stirring in a bunch of trash, and getting a prospect from Miami for some reason???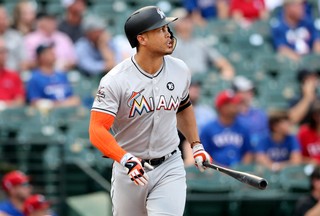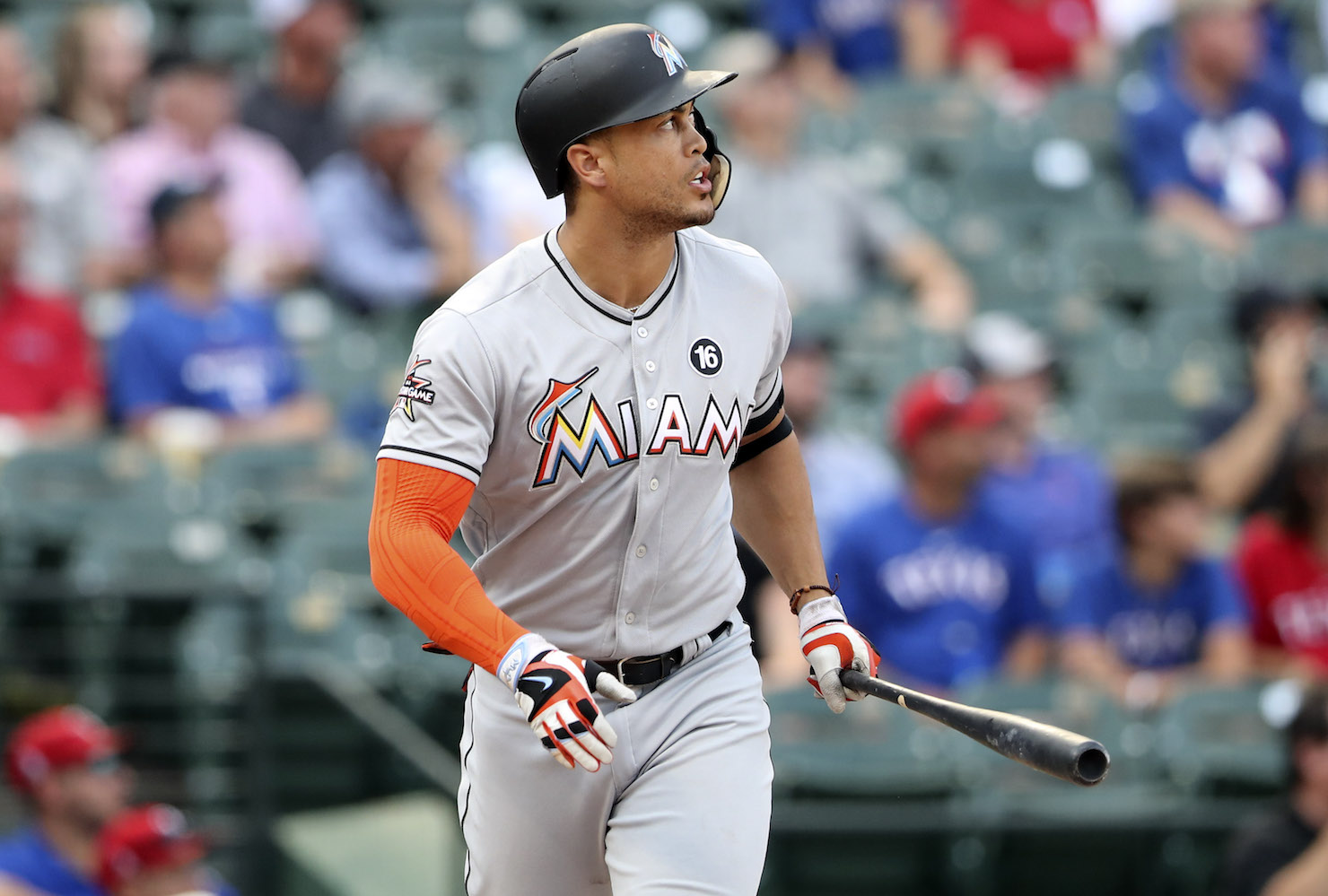 Steve, my man, I wish you were as imaginative about other ways the Jays could contend as you are about this trade. Because there are any number of paths the club can take and still be quite good—and these days that's really all it takes, as we saw with a number of teams that just loaded up for the stretch run at the trade deadline (the Royals, for example). I will grant that "quite good" is maybe not as good as adding seven wins in the form of Stanton and Gordon, but good Lord, the Jays have more than enough solid building blocks to be able to get there without a magical trade or tying an anchor to their payroll all the way to 2026.
If the Marlins want to give these guys away to anyone who will take on the entirety of the contracts—which I don't think they do, and I don't think the Jays would or should do even if they did—why not just do that? No need to jazz it up like this.
---
What does Sanchez's increasingly lost year mean for the IP gains he made in '16? Blister aside, will workload need to be built back up again?
Jayson
Nah, he'll be fine. Same as coming into this year.