Stream of the Crop: 6 New Albums for Heavy Rotation
New projects from Trippie Redd, Liai, and Black Grapefruit top this week's list.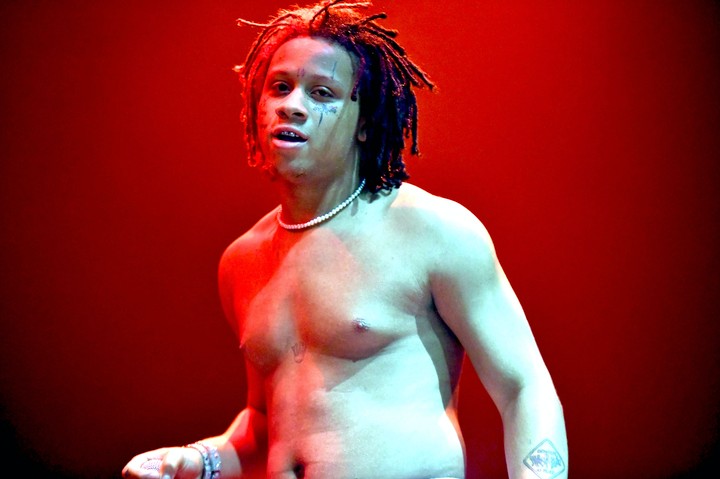 Every week, the Noisey staff puts together a list of the best and most important albums, mixtapes, and EPs from the past seven days. Sometimes it includes projects we've written about on the site already; sometimes it's just made up of great records that we want everyone to hear, but never got the chance to write about. The result is neither comprehensive nor fair. We hope it helps.
Trippie Redd: Life's a Trip
Buddy, just look at that cover. Trippie Redd's debut album is called LIFE'S A TRIP and it's pretty much everything you'd want from a rap artist playing around with psychedelics in 2018: melodic auto-tuned garbles that sound like giving birth to a sunrise on the beach. It's the first proper release from Redd, who's become one of the most exciting new rappers in the game over the last year. If at any point in the last 12 months you found yourself singing "Love Scars" at the top of your lungs while stumbling home fucked up at 4 AM, this is the album for you. We don't really have much to say other than that. Eat some drugs (in a responsible manner) and listen to this as soon as humanly possible. —Eric Sundermann
Liai: Lili
More spine-tingly ambience from one of the most reliable outlets for such things, the Oakland label Constellation Tatsu. This time, there's breathy electronic gasps on OCA's Preset Music, bioluminescent keyboard work on poemme's Moments in Golden Light, and tensile crackly explorations of synthetic space on Mike Nigro and Andrew Osterhoudt's Latitudes. All are more than worth your time and money, but the one I've found myself most drawn to is the complicated bliss of Liai's Lili.
Liai is the recording project of the Chicagoan musician Lo Bise, who's issued a handful of fluttering synth pieces under the moniker. But Lili is something special. Across the five short pieces, there's moments like the surreal vocal warping of "Kyrie," or the chattery found samples that underpin "O" that offer wrinkles to the more placid moments of their labelmates—getting lost in darkness before finding a way back to more glimmering passages. It reminds me, in emotional effect at least, of Boards of Canada's more haunted work or even some of the gnarly compositions that have come out on the experimental label Shelter Press over the past couple of years. The pieces that make up Lili pieces that luxuriate in their twistedness, but then give you rest too. Sometimes you need a little bit of both. —Colin Joyce
Black Grapefruit: All My Relations
Syncopated beats, distorted bursts, pitch-black electronics, clean blues guitars, and implacable glitches jump in and out of the mix constantly, and even Smith—whose voice is rich and versatile but often augmented—doesn't provide a stable center. The quietly expansive "Seat," with its nostalgic melancholy and its pitched-up vocals that float off like ash, holds together; the bright and buoyant "Mind" could be an FM dancehall-pop hit. But mostly, Smith and Dekker seem thrillingly disinterested in songwriting conventions. "Heart" pulses through minor-key yearning for three-and-a-half minutes and then cuts into an entirely new tune, underpinned by a double bass. "Demons" comes off like a trap-adjacent slow-jam, drops into drone-like electronics and field recordings, then returns with Smith almost whispering at the top of her register: "I think I'm haunted by you / But I ain't scared." —Alex Robert Ross, Black Grapefruit Tear Apart Convention on 'All My Relations'
Iglooghost: Clear Tamei / Steel Mogu
After years of explaining, straight-faced, that his music was meant to tell the story of the downfall of a land of vibrant fantasy called Mamu, this week, Iglooghost released two EPs called Clear Tamei and Steel Mogu which expand the pantheon of his strange universe. Per a colorful description he offered via email, it's "ABOUT A GANG OF HOODED BUG GOONS FROM THE FUTURE TRYING TO KILL A BABY GOD" (emphasis his). And the tracks offer fantasias to match, blurring together the neon haze of supersonic trap production, drum programming that hurtles along at paces that leave even junglists with motion sickness, and towering synth work evocative of the unrepentant gleam of mainstream EDM, but you know, off-balance, a little surreal. It's not from this planet, remember?—Colin Joyce, Iglooghost's Noisey Mix Is... Whew
Nef the Pharaoh: The Big Chang Theory
The Big Chang Theory is another entry into his consistently great discography—including the recent (and extremely good) mixtape Porter 2 Grape with 03 Greedo and his previous mixtapes The Chang Project, Fresh Outta Space, and Neffy Got Wings. The record—which is 13 tracks long, including features from Dej Loaf, Cuban Doll, OMB Peezy, and more—offers an exquisitely bubbly vibe that makes you feel like you're rolling around in the California sunshine. Moreover, this project is the most mature Nef's ever sounded, even showcasing his ability to sing on tracks like "Tokyo Driftin," "What We Have," and "That Was God." It's a joyous, melodic project with the old school, timeless feel we've come to expect from Nef the Pharaoh. Do yourself a favor and play this in a car as soon as physically possible. —Eric Sundermann, Stream Nef the Pharaoh's 'The Big Chang Theory,' a West Coast Rap Delight
Moses Sumney: Black In Deep Red, 2014
Aromanticism is not asexuality. It is the absence of that feeling of excitement that we're told we should feel about the prospect of love. A complicated idea to explore through music, or any medium. But it's in this space that Sumney has found something that's both novel and all too familiar. And this is the art of Sumney's songs, asking a question so few brave to touch: How would this feel if I actually let myself feel it? There's true loneliness here, not just the fear of being lonely. And there's also an acknowledgement that because we're told the "prospect of love" should usher in nothing by joy, we feel crazy when it cripples us with anxiety, apathy, and self-doubt. It's brutal. It's something musicians too often choose to ignore. —Maddison Connaughton, Some People Make Music, Moses Sumney Makes Art
Follow Noisey on Twitter.
Stories