Salva Mendez recognized it early. In 2010, Mendez, a European scout based in Barcelona, reached out to a Latvian coach he was friendly with, asking if there were any players worth visiting the country for. The coach said he had a few and sent him a CD with video of a few games and no scouting report. In the second quarter, a tall, skinny teenager grabbed Mendez's attention. After halftime, he got it again. Despite playing just a few minutes and hitting only one shot, Mendez was intrigued.
"Nothing special but I was feeling something," he said. "I don't know what but I was feeling something."
Mendez contacted the coach and asked for another CD. He received it a few weeks later and saw the kid play a few more impressive minutes. The kid can run, he can shoot, he can block shots, Mendez told himself,thought, but wondered why he played so little. Still, he asked the coach if he could see if any Spanish teams were interested. That set Porzingis on his way to Sevilla, and eventually the NBA.
Still, even Mendez cannot believe the player he has become. Porzingis was 6-foot-7 and playing despite undiagnosed anemia when Mendez found him at 15. Now, he is a 7-foot-3 gazelle knocking down threes and serving as a rim protector.
---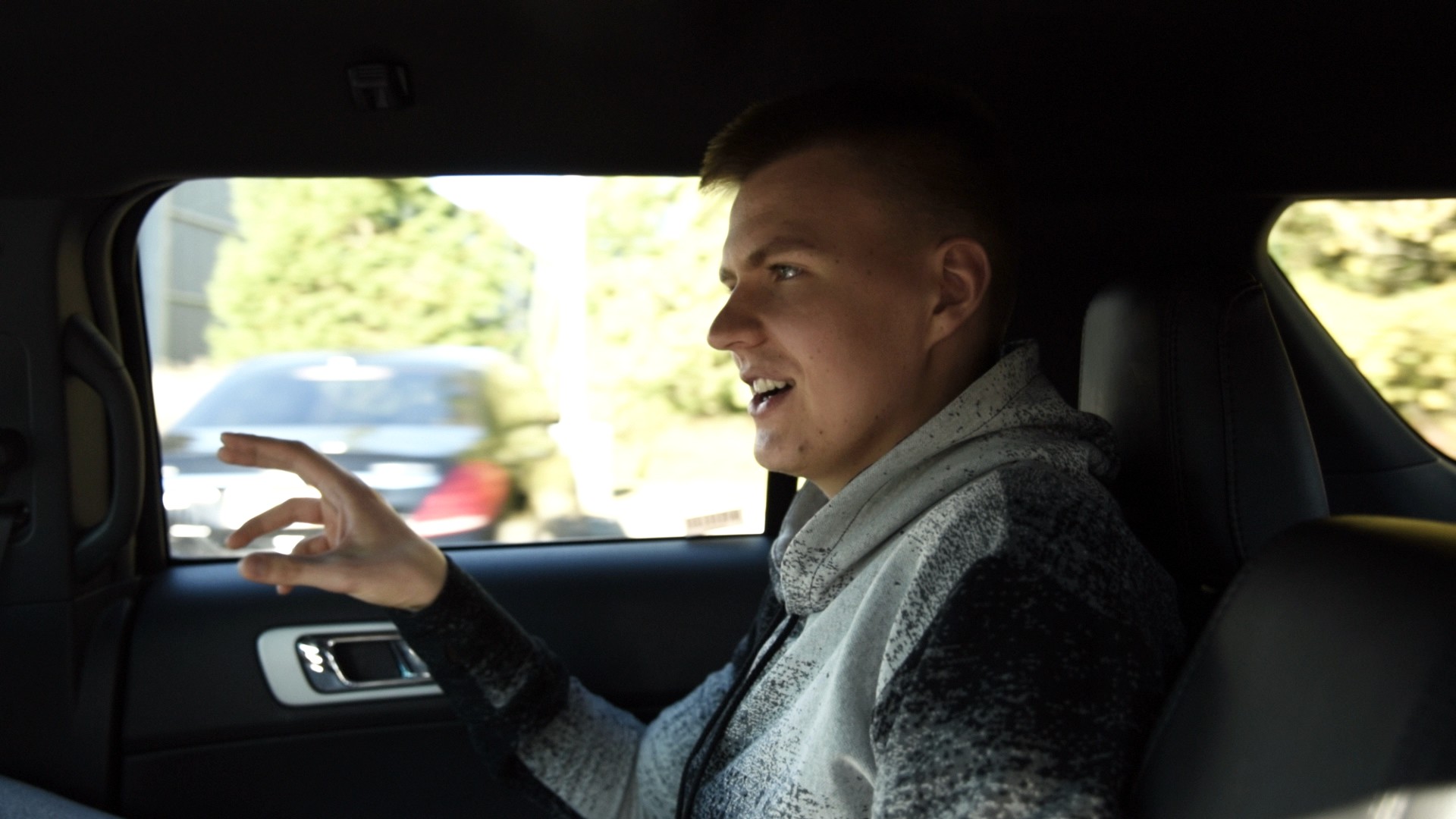 ---
Every September, Latvia's Permanent Mission to the United Nations holds a party to mark the arrival of the country's president for the General Assembly. The joke back home is that the only person nearly as popular in Latvia as the president is Porzingis. It didn't feel like much of a joke at this year's party, as guests lined up to take photos with their favorite son. Even there, among a group of extraordinarily tall people—Latvian men are the fourth tallest in the world, and the women are the tallest, on average—Porzingis towered over all.
Latvia has seen few of its citizens make a splash in the United States. There is Aleksandrs Antonenko, a tenor at the Metropolitan Opera. Mikhail Baryshnikov, the famous ballet dancer, was granted citizenship earlier this year. And then there's Porzingis, the 7-foot-3, 22-year-old New York Knicks player, who may be doing the most of all.
Jānis Mažeiks, the country's ambassador to the UN, hears about him at his barbershop and from his doorman. Samantha Power, the former US ambassador to the UN, once invited him to a Knicks game to cheer on his fellow countryman.
"His presence here in New York has made my work so much easier because three years ago nobody knew where Latvia was and what Latvia was," Mažeiks said. "Now, whenever I mention Latvia, quite often it's the other way around. 'Oh, it's where Kristaps Porzingis comes from.' There's definitely much more country recognition in the past years."
If that is what Porzingis can do for Latvia, a small former Soviet country off the Baltic Sea, it may only be a warm-up act for what he is trying to do in New York. Restoring the Knicks to some semblance of competence and success may be the hardest feat in the league. But 21 games into the season, the Knicks not only have a winning record, they are actually fun to watch.
And they're no longer adrift because of Porzingis, who, in his third season, has shown that he is ready to take on the franchise mantle, flashing the rare combination of scoring prowess—his 25.8 points per game rank fifth in the league—and size—his 2.1 blocks lead the NBA—and skill—40 percent from three.
"He's just a beast," Clippers coach Doc Rivers said. "He's gonna be—or he is—one of the great ones now. He's going to keep getting better. You look at his numbers and you forget his age and what he's doing, it's just the scratch. He's going to keep getting better and better. It's scary for all of us."
The Knicks have been pockmarked by constant dysfunction and ego squabbles for more than a decade, less a team than a tabloid's backpage muse. Over the previous 16 seasons, they've finished over .500 just three times. They've made the playoffs four times, but even those high points were fraught. The Knicks made the playoffs in 2004, a year when they employed three coaches. They made the postseason in 2012 but only after coach Mike D'Antoni lost his job because of a Carmelo Anthony-led putsch. D'Antoni's replacement, Mike Woodson, led the team to 54 wins the next year—their best record since 1996-97—only to be fired the following April.
The 2017-18 season, however, has been different. It has been quiet (so far) off the court, and what's happened on the court has been heartening for those cynical and downtrodden Knicks fans. A year that was supposed to serve as a bridge to June's NBA Draft and the hope of seasons to come has blossomed into something actually worth watching now.
Carmelo Anthony is gone. Frank Ntilikina has shown signs of a becoming a future starting point guard. Enes Kanter, the wrestling heel of a big man, has averaged a double-double and provided the team with a frontman for the soap-opera drama that drives the NBA.
"Porzingis is a great talent and I love his fire and enthusiasm for the game," Patrick Ewing, the Knicks' Hall of Fame center, said. "You have to have thick skin to deal with the pressures in New York. He seems to be handling it well."
But without Porzingis they would be a team of disparate parts still searching for the commodity that matters most: a franchise player. A September trade sent Anthony to Oklahoma City, giving Porzingis a responsibility he spent all summer preparing for. His impact has been immense—his usage rate is higher than all but one of Anthony's seasons in New York. The Knicks play like a 55-win team with him on the floor, according to Cleaning The Glass, and a 22-win team when he sits.
"Knowing that I'm going to have a bigger role this year, I believe I was going to be ready for it," Porzingis said. "When you have to step up when you're the man, I feel I have to keep going."
Porzingis's ascent isn't just a young talent sucking up the shots left over by the vacuum created with the exits of Anthony and Derrick Rose. He has accepted the spotlight of being the Knicks' star player. One team official was impressed by how well he's stepped into that position, not only wanting the role but flourishing in it so far. He has impressed teammates with his even-keeled demeanor. Jarrett Jack, an NBA veteran, calls him a stoic. Even Knicks alums have taken notice.
"Porzingis is a great talent and I love his fire and enthusiasm for the game," Patrick Ewing, the Knicks' Hall of Fame center, said. "You have to have thick skin to deal with the pressures in New York. He seems to be handling it well."
The first month of the season has soothed the lingering anxiety around the team after Porzingis surprised the Knicks by skipping exit meetings last April—a brash move for a 21-year-old who hadn't yet earned first-billing on his own team.
"I think everybody was (surprised) at that time," Rose said. "You didn't know what he was thinking. He kept to himself sometimes but he never showed that he was uninterested in anything the Knicks were doing at that time. That's what was kind of weird. It seemed like he was involved in everything, it seemed like everything was cool, so for him not to go it was kind of weird."
The decision put Porzingis's relationship with the team on rocky ground. Phil Jackson, then the team president, talked openly of trading him. Porzingis stayed in Latvia the whole summer working out. When training camp began it was still uncertain if he and the organization had reached a détente. And that uncertainty may still linger. His brother, Janis, told Latvia's Sportacentrs this month that the team should avoid upsetting him at the risk of pushing Porzingis out of New York.
The power play may have presaged Porzingis's arrival as an NBA superstar. This summer seems to have prepared him for it. He arrived in New York stronger and ready for the rigors of being an offensive pillar. "He worked his ass off," another Knicks official said.
Porzingis hasn't revealed much of his summer workouts, other than through manicured Instagram posts. Porzingis's camp initiated two weeks of training with WBC cruiserweight champion Mairis Briedis in Liepaja. There, he worked out on Briedis's normal routine—boxing, swimming, running, and strength and conditioning. He spent the tail end of his summer leading Latvia to a fifth place finish in the European Championships, where he took reps as the centerpiece of a team.
"He's very talented as an athlete," Briedis said through emailed statements. "All the things I was telling him, he picked up really quickly, plus his work ethics is at the highest level possible. I believe that if he wasn't a basketball player, with his talent and physical abilities, he might have done any other sports and be successful."
He used the summer to hone his midrange game and has impressed the Knicks with enhanced strength and footwork. The beloved unicorn presents a paradox in the new NBA. The big man has been lauded for his futuristic perimeter skills but his improvement this year can be attributed to his focus on a shot left behind by the modern NBA.
The key to Porzingis's success is his work from five feet to 14 feet, where he's taking three more shots per game, on average, than last season. He's become a more efficient shooter despite taking fewer shots at the rim and behind the three-point line. 57 percent of his shot attempts are from mid-range, where he's shooting 47 percent this season after hitting 40 percent last year. Instead of fighting for deep post position, he's no longer bothered by smaller, peskier defenders and drives by bigs, getting to the line nearly twice as often as last season.
"There's certain things about him that you're just playing percentages," Jazz coach Quin Snyder said. "There's some shots that he's able to shoot over you because of his size and because of his skill he's able to make plays."
But it's not the elbow jumpers that have rejuvenated Knicks fans. It's a talent that sometimes seems ineffable.
"If I was a GM I would definitely build a team around a guy like KP," Kanter said.
This year, the Knicks are playing like Porzingis—unburdened and free. The triangle offense is no longer caging them in after Jackson was pushed out in June. Their defense is no longer woeful. Head coach Jeff Hornacek, who seemed to lack control last year, is gaining praise from his players.
There is a solid core of 25-and-under building blocks, from Ntilikina to Tim Hardaway Jr. and Kanter. And they own their own first round pick. Finally, the Knicks seem as if they may have something fun and sustainable, even if their current record isn't.
"We think about it sometimes," Ntilikina said. "We're young. We're growing up. We got a lot of things to do in the future. But we're more focused about what's going on right now."
Porzingis will determine what that future looks like. The Knicks have been fooled by false saviors before, but this time the organization may actually be committed to growing slowly rather than chasing short-term glory. The Knicks might not be good yet, but they're no longer lost—and Porzingis relishes his place as the centerpiece.
"I always want more," he said. "Appetite grows when you're eating. It's one thing to be the guy but you have to be able to win at the end. If I can do this, be a leader and win, that's the ultimate goal."