In one of the more bizarre instances of information becoming harder to access, the website of a former UK watchdog is now dedicated to pushing premature ejaculation treatments, in place of the organization's annual reports scrutinizing the UK's interception and surveillance powers.
The news highlights what can happen once a department is closed, even if its site was still being used to host important information.
"This issue has actually turned into a problem for a lot of guys. Getting the right treatments for early ejaculation could end your problem permanently," the website for the Interception of Communications Commissioner (IOCCO) reads after the switch.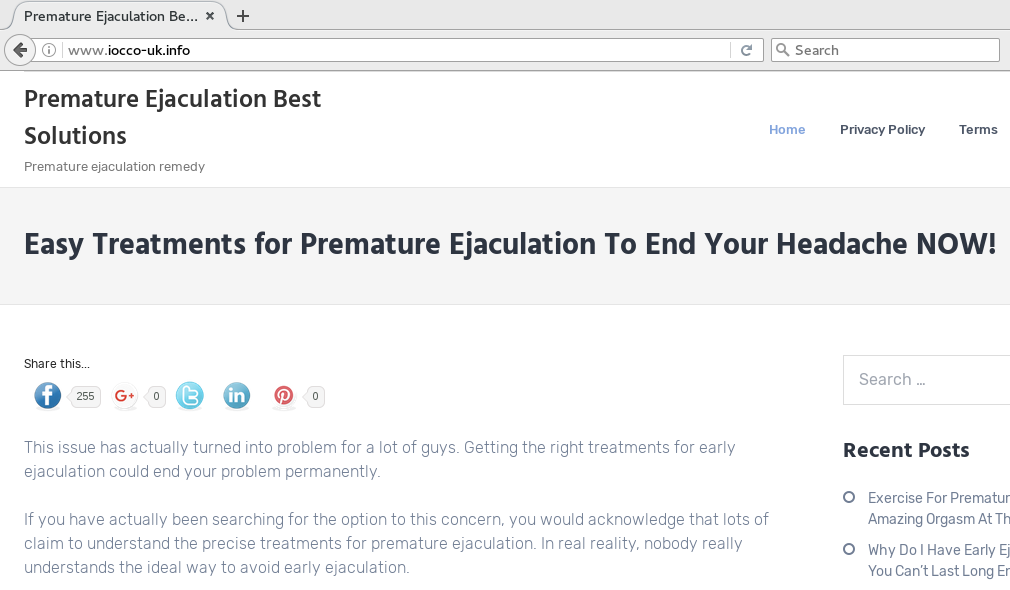 IOCCO was tasked with making sure that authorities operating under the country's surveillance legislation were doing so lawfully, and communicate to the public what that legislation allows. As part of that, IOCCO would publish regular reports detailing statistics on communication data, inquiries into specific areas (such as whether there was significant institutional overuse of certain spying powers), and tracking how many interception warrants authorities had obtained—all crucial information for understanding UK surveillance.
In September 2017, IOCCO gave way to the new Investigatory Powers Commissioner Office (IPCO), as part of the UK's new surveillance legislation the Investigatory Powers Act.
This, presumably, is why IOCCO's website, along with its main report archive, has fallen into disrepair, and someone else appears to have bought the domain. The domain is now registered to a George Swafford from Washington DC, according to WHOIS records. The phone number included in those records is no longer in service.
Got a tip? You can contact this reporter securely on Signal on +44 20 8133 5190, OTR chat on jfcox@jabber.ccc.de, or email joseph.cox@vice.com.
Beyond the embarrassment of having a watchdog website co-opted, there is a more pressing concern about IOCCO's reports becoming less straightforward to obtain. Historical copies of the IOCCO site are available on The Internet Archive, but this requires someone putting in extra effort to try and dig out reports that should be, by design, easily available. The only copy available on another archive site dates from 2013. Copies of some IOCCO reports are scattered on other websites, including campaign organizations Privacy International and Statewatch, as well as an official UK government site and transparency activism group Cryptome, but those archives do not appear to be complete.
However, the reports may soon have a new, more official home. After the publication of this article, an IPCO spokesperson told Motherboard in an email "We have been aware of this issue for some time, and most of our predecessors' reports are now on the IPCO website."
"To end your bad ejaculatory control problem, it is of utmost value for you to look for the right treatments for early ejaculation. Otherwise, all your effort would go squandered," the IOCCO website continues.
Update: This piece has been updated to include comment from the IPCO.