Around 2003, my brother and I went to the discount section of Spencer's Gifts and found an animatronic Henry VIII doll for about $5. It sang a version of Herman's Hermits "I'm Henry VIII, I Am" at the push of a button on its plaque. My brother and I found it weird, bought it, and drove our father crazy with it. We would often drive around town, windows open, with a megaphone to the singing animatronic. We also ripped its latex skin off, revealing its creepy animatronic exoskeleton.
I recently discovered that the animatronic Henry VIII doll and other animatronic animals you see at Walmart, like Big Mouth Billy Bass, are now desired collectables thanks to an emerging subculture of young people who are obsessed with them.
15-year-old collector CJ Webber told me over Facebook chat Henry VIII was a very rare Gemmy animatronic that is now worth around $70. Some items, according to collectors, can be worth as much as $1,800. That's a lot more than the German porcelain figurines my mom left me when she passed away, and that were expected to become valuable over time.
Webber collects early 2000s items from Gemmy Industries, a Texas company that creates toy animatronics. Webber specifically loves Grave Ravers, a series of Halloween characters that ran from 2005 to 2015. They stand on a base with two lights that flash or glow while the character dances to a song.
21-year old Chandler Anderson lives in Tennessee and has over 300 Gemmy products he collected over 12 years. He bought most of his items at Goodwill, which he frequents four times a week.
He loves the Big Mouth Billy Bass collection, one of the most sought-after Gemmy items. Here is a photograph of his singing fish wall.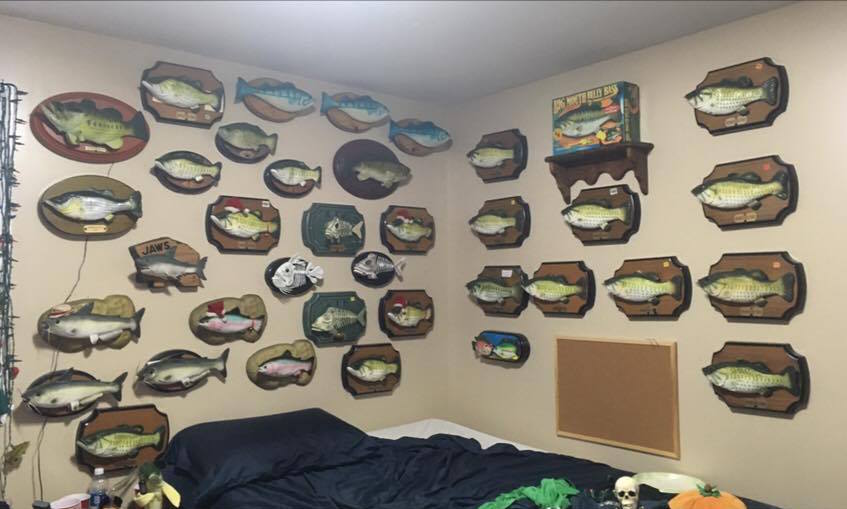 Big Mouth Billy Bass began selling in 1999 and became popular in the early 2000s. It's a mounted game fish that sings, turns its head, wiggles its tail, and sings "Don't Worry, Be Happy" by Bobby McFerrin and "Take Me To The River" by Al Green. The singing Zombie Fish of this collection sings "I Will Survive" by Gloria Gaynor.

"There's just something about [animatronic singing fish] that really stand out to me" Anderson said. "They are what got Gemmy where they are today as the leading novelty and animation company out there. Every single one of them is different. No two fish are alike."
Bailey Kitchings, one of the collectors who runs the Gemmy Master Animatronics YouTube channel, said there are hundreds of people who collect these animatronics. They collect primarily Gemmys but not exclusively. Most are young, teenagers or in their early twenties. Some have the Gemmy Industries logo as their Facebook profile, and some of their favorite animatronics as their cover photo.
Westley Geairn, who is in junior high, told me he has spent thousands of dollars on animatronics. He has two rooms in his house devoted solely to Gemmy animatronics. One is full of life-sized animatronics. The other has smaller pieces, including a wall of 22 singing fish.
Over video chat, Geairn showed me his boxes full of gears, wires, button, and eye and skin pieces to repair his singing fish. He fixes the gears when they break. He even customized certain fish.
He told me that the Gemmy "Pop Culture" series is popular among collectors. These were singing animatronics of popular entertainers like Louis Armstrong, James Brown, and Dean Martin created between 2001 and 2004, and sold by Spencer Gifts. Included in this collection is a Shrek doll that sings Ricky Martin's "Livin' La Vida Loca."
Jordan Heyd, a 20-year-old from North Dakota, has been accumulating Gemmy items since he was three, when he was given a dancing gorilla that sang "The Macarena."
"In 2014, I think I started getting out of Gemmy animatronics a bit mainly because I had a lot of dancing Santas in my room and it's a problem because I didn't wanted to bring friends over. I didn't want them to see [all the Santas] because I didn't know what they'd think," he said.
In 2015, he met Kitchings online.
"He inspired me to start collecting again. his collection was small at the time but as soon as we met our collections were growing so fast and he taught me how to fix them too."
Once he met Kitchings and the other collectors on the internet, he felt a sense of relief that there was a community for collectors. He said he always felt like it was "a thing" and he had a feeling that there were kids around his age that had the same hobby, but they didn't live nearby.
Heyd said he and the others who run the YouTube channel aim to show people how much cooler Gemmy's older stuff was.
"It just blows my mind, the amazing and random ideas [Gemmy] came up with back then," he said. "And now it's like their ideas are really random but without the creativity, and it's like they either try too hard, or they aren't trying at all and they just don't care."