Every week, I've been getting on rental sites to gaze at the array of options available in Toronto during the housing crisis, despite the fact that it triggers me. On April 20, Ontario announced new measures that could help the housing market in the city calm the fuck down so that, with any hope, we can avoid Toronto being overtaken solely by rich people. For now, the market continues to be absurd, so let's take a look at a rental option available in the city this week:

For $1,700 you can rent what, from the photos anyway, appears to be the top half of this two-bedroom apartment that is so far east in the city that you can give up any hope of having a healthy social life if you're a young person.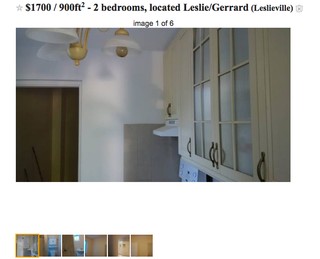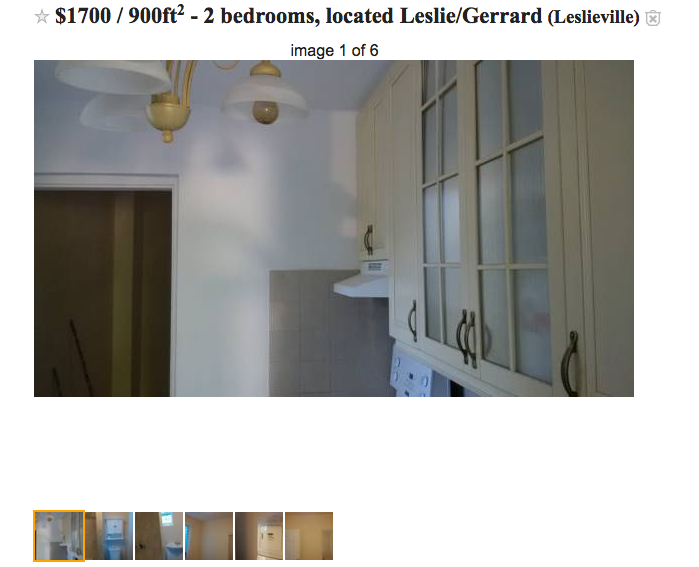 Pros:
Washer and dryer
Utilities included
Close to transit
In an up-and-coming neighbourhood
Cons:
No idea what most of the apartment looks like because the photos are taken by what would seem to be a very tall person who doesn't get why you'd want to see anything in the apartment besides cabinets, ceiling light fixtures, and the toilet
It's so far east it's past the Don Valley Parkway lol
Landlord who spent all of like two minutes taking these shit photos on a potato and is renting an apartment in goddamn Leslieville has the audacity to require a letter of employment, references, a credit check, and a write-up including "a little bit about yourself." How about a little bit of the fucking apartment before you start making demands?
"No pets" (It's illegal in Toronto for landlords to prohibit tenants from having pets unless it's a condo with a building-wide no-pet clause, so there's that.)
In an up-and-coming neighbourhood
READ MORE: There Are Other Places in Canada to Live Besides Toronto
Despite the clear lack of giving a shit, this landlord is probably going to be able to rent this place out by the end of the weekend because this is the city we live in.
Follow Allison Tierney on Twitter .