Pattern Language. Image courtesy of the artist
Video game dungeons, architecture, and flashing pixels all inform artist Peter Burr's new exhibition Pattern Language, named after architect Christopher Alexander's design method which Burr explains as "describing the aliveness of certain human ambitions through an index of structural patterns." The exhibition is on at 3-Legged Dog Art & Technology Center in New York and features a multi-channel video installation which immerses people in an "endlessly mutating death labyrinth."
The piece, a collaboration with game designer and writer Porpentine Charity Heartscape, is part of a continuing project, a video game called Aria End. The game is about a vast underground utopia that underwent a catastrophe called The Mess and now lies abandoned. The main character of Aria End heads down to clean it up.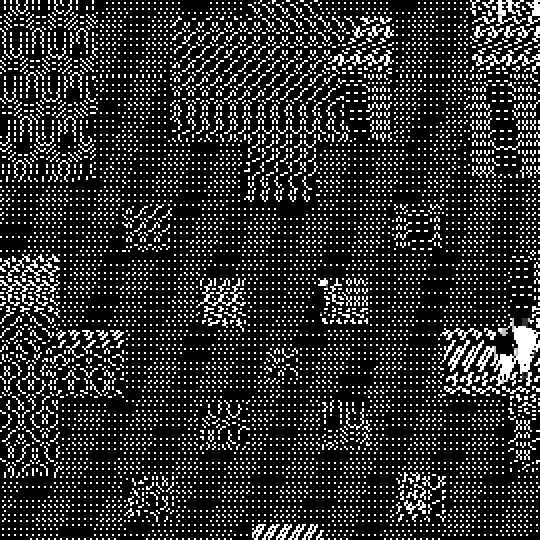 Pattern Language. GIF courtesy of the artist
The preceding installment of the project, a four-channel video installation called Cave Exits, which takes inspiration from the "dungeon crawl" video game genre, was about her descent into this subterranean dwelling. "In video games there is the concept of an infinite dungeon—an endlessly regenerating death labyrinth," explains Heartscape in reference to Aria End. "There's an intimate quality to a structure that remakes itself after each horrible demise and invites you to try again. Dungeons are the study of structures as living things. Their diet is your curiosity, and their luring plumage is gold and gems."
Pattern Language is a product of their R&D into the game, and uses concepts from Christopher Alexander's "Pattern Language" method to construct the self-generating labyrinth, which people experience in the exhibition. In the installation, the experience is structured like a fugue, both musically and psychologically. It goes through five phases before it interludes and then loops back onto itself as a slightly altered version. "One of my goals with the physical installation was to create a space that is both soothing and tense, a narrative strobe spa," notes Burr.

Pattern Language. Image courtesy of the artist
"This work deals with constraints." explains Burr to The Creators Project. "Musically and visually we have a very limited rule-set that manifests the world of this piece. We chose to mirror these impingements in the temporal structure by developing a playback system with a tight phasing algorithm that presents glimpses of life in this subterranean dirtscraper. The five phases oscillate between a heavy somatic experience (through psychoacoustic and stroboscopic gestures) and a diegetic one (telephoto surveillance of life in the arcology)."

Pattern Language. Image courtesy of the artist
Visually the piece is busy with high def pixelated, glitchy black-and-white graphics, an aesthetic born out of the constraints of the system they employed, but one that also acts to disorientate and appease the viewer and engulf them in the architecture of this underground utopia.
In terms of the end video game, Cave Exits served as an entry point into it, looking at what happened following the breakdown of the utopia. Burr explains that Pattern Language goes back in time to explore the utopian ideals that lead to the catastrophe. "From here," says Burr, "I am going back to the future and stripping the arcology of its humans to design the levels and environments of Aria End."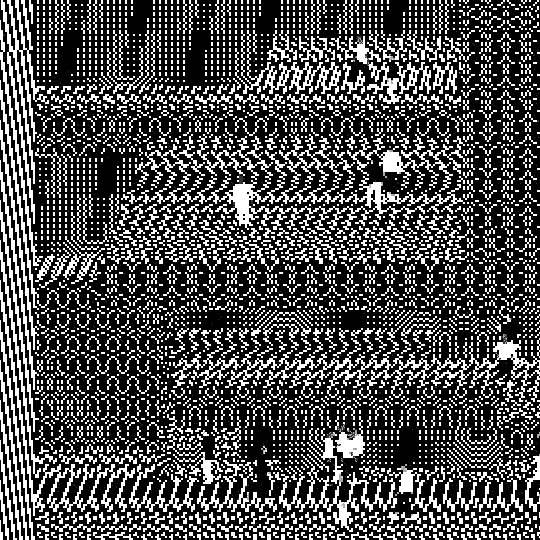 Pattern Language. GIF courtesy of the artist
Pattern Language is on now until September 29, 2016 at 3LD Art & Technology Center. Visit Peter Burr's website here to learn more about his work.
Related
Step Inside a Glitchy Alternate Universe Inspired by Dungeon Crawler Video Games
Video Games Day Is Even Better with Pixel Art
See Peter Burr's Experiment In Live Cinema Based On Tarkovsky's Stalker