Restaurant Ticket Calls Woman 'Crazy Bitch' for Ordering a Burger Without Cheese
"No cheese on this dam burger crazy bitch ordered it"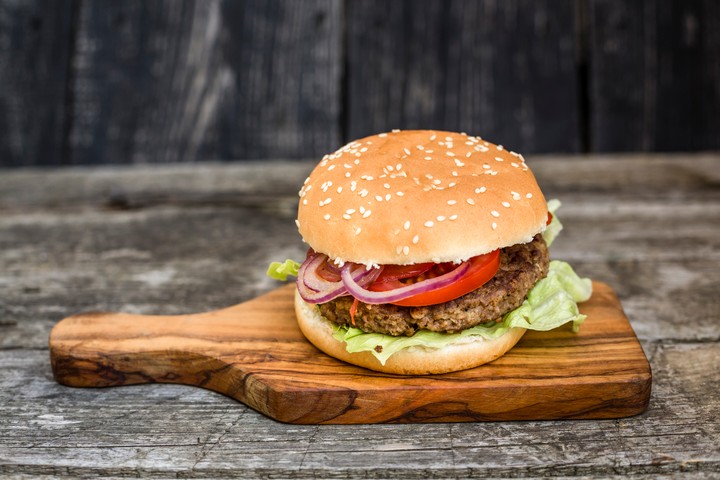 Image via Getty Images.
Henry's Burgers & Cream is the kind of tiny local restaurant in a tiny Alabama town whose Facebook page is usually filled with updates about the daily specials (the fried popcorn shrimp plate seems to be a favorite), with good luck messages for the Brookwood Middle School football team, and frequent reminders to pre-order your party trays for Alabama football game days. Roll Tide, and all that.
On Wednesday, the Hatter family who run Henry's posted an atypical update, ensuring everyone that they had issued a "heartfelt apology" to an irritated customer, and promising that "by God's grace, [they] would to continue to please as many customers as possible." And presumably, by God's grace, none of their employees will call a customer a crazy bitch again, even if she does order a burger without cheese.
An Alabama woman identified only as Jessica told ABC 33/40 that she ordered lunch from Henry's for herself and her coworkers. She said that she told the restaurant staff not to put cheese on one of the burgers because one of her pals was lactose intolerant. When she got back to work, she realized that there was a slice of cheese melted on top of the patty, she called Henry's to order a replacement burger, and returned to the restaurant to pick it up. (Jessica is the kind of coworker we all wish we had).
Jessica looked at the receipt for the second burger, and was less-than-delighted to see what had allegedly been typed on the bottom: "No cheese on this dam [sic] burger crazy bitch ordered it." When Henry's owners were confronted with the receipt, they said that Jessica didn't tell them about her coworker's lactose intolerance. (Because clearly they wouldn't have called her a bitch if they'd known it was a medical issue.)
The owners said that they had "addressed the complaint" with the employee, but have failed to confirm what that meant or whether the he or she would face disciplinary action. (When MUNCHIES contacted Henry's, we were directed back to the restaurant's "official response on Facebook.")
"In response to the 'receipt' events of today, we would like to make all our customers aware of our actions," the post reads. "The food was corrected, both owners spoke with both ladies involved apologizing for the situation profusely, we took care of the employee situation, retrained all staff present, will do the rest tomorrow. As owners of a small business we felt that we have done the best we can do [...] We appreciate each person that comes in our door and we will continue to work harder to make that known!"
Jessica told Fox News that the owners have since accused her of "starting a smear campaign" against the restaurant because she had not removed her own Facebook post about the incident. In a now-deleted comment, Alix Porter Hatter (whose own profile identifies her as the restaurant's business manager), accused Jessica of lying about the incident. "It's frustrating when you have done ALL you can do, then the person contacts every news outlet available and gives partial truths," she wrote. Hatter again repeated that the customer's dairy intolerance was never mentioned, which is a weird-ass way to defend that receipt.
Henry's popcorn shrimp must be some kind of good—or Brookwood, Alabama is some kind of insular—because unlike other situations that involved shoddy behavior by a restaurant employee, the response to this controversy has been largely positive.
"Glad to see you have a loyal following," one commenter wrote. "Facebook mobs can get viscous [sic]." Another added, "No news report will hurt you we are a small town we take care of our own," while a third asked, "Has anyone stopped to think about what the customer's 'Christian' responsibility should have been? Was it to downgrade and smear employees and owners who had nothing to do with it? What happened to 'forgive the sinner, not the sin.'"
Or what happened to not referring to a customer as a 'crazy bitch,' even if—and stay with us here—even if she doesn't mention that she's ordering for her lactose intolerant coworker?
Stories