Oshkosh, Wisconsin duo Cavernlight will release their debut later this month. Originally conceived over a decade ago, Adam Bartlett and Scott Zuwadzhi came together to write music that conveyed the negative energy and inner demons that plague them. Their stirring, noise-driven doom metal blooms from the pair's internal conflicts with ADHD, anxiety, and depression. For Zuwadzhi, he saw his work with Bartlett as the way to channel his feelings. "Personally, I don't know anything else," he admits. "Everyone knows someone who suffers from depression or anxiety or any other thing like that. That's just what I live with every day, so that is kind of all I know. That's why a lot of it comes out through the music."
"A lot of the music we all connect to as listeners is dark, sad music," Bartlett adds. "Stuff that evokes emotion. All of these songs are heavily influenced by miserable, negative stuff in our personal lives. Even just our personal troubles we may have been having at any moment."
Cavernlight soon expanded to include guitarist Pat Crawford, who drove an hour and a half twice a month to write and rehearse with Bartlett and Zuwadzhi. Together, the three of them found solace through their music, and consequently, their sound continued to develop. For the group, deciding to record was the next logical step. "It became a natural evolution of the band," Zuwadzhi says.
Cavernlight has been writing and making music since 2006, occasionally playing their music for friends and filling a desire to play overbearing, poignant doom and post-rock that incorporated significant amounts of noise. Their demo, Corporeal, was released in 2015, the first tangible document of Cavernlight's grief. "We did it to document these songs we have been playing for years." Bartlett explains. "We said, 'Let's have something so these songs are done and we can put it away.'"
The Corporeal sessions also saw Cavernlight's roster shuffle again with the addition of bassist and synth player, Brandon Pleshek. This change in lineup and recording process created some growing pains for the band, who were collectively in uncharted waters when it came to recording and performing for others. The quartet briefly took their music on the road in 2016, culminating in a performance in Olympia, Washington, at the first edition of Migration Fest, an eclectic extreme metal festival organized by Bartlett and Dave Adelson of 20 Buck Spin.
The three-day event featured numerous bands who shared personal and working relationships with Bartlett and his Gilead Media label. The opening night featured a pre-show with local funeral doom band, Ēōs, black metal force, False, who played a set of Emperor covers, and Cavernlight. It was an introduction to band's music for many, as the band's noisy, monolithic doom brought attendees to a standstill. Many people spent the set with their eyes closed, slowly swaying and bobbing their heads to the music. Throughout the set, the quartet was joined by vocalist/cellist, Sarah Green, and vocalist Rachel N. of False. Ultimately, that same power and guest performers from their performance would find its way onto As We Cup Our Hands and Drink from the Stream of Our Ache, as would another vocal cameo by Inter Arma's Mike Paparo. The album is out June 16 via Gilead Media, and preorders are currently available here.
"The Stream of Ache very much represents drawing your life energy and motivation from a toxic place. Even though you know it is not a good thing, through clouded judgement it seems like the only way to survive," Bartlett explains. The full-length album encompasses five tracks that explore some of the members' deepest recesses of mental strife. The final song from the album, "A Shell of One's Former Self," opens with a gorgeous dance between guitars and cello before Sarah Green's operatic voice rings out and sings: "An eternal spring of hopeless grief surges. Floods the surface of my conscious being. In this barren land, it appears the one relief. Although it's from a place where nothing nourishes."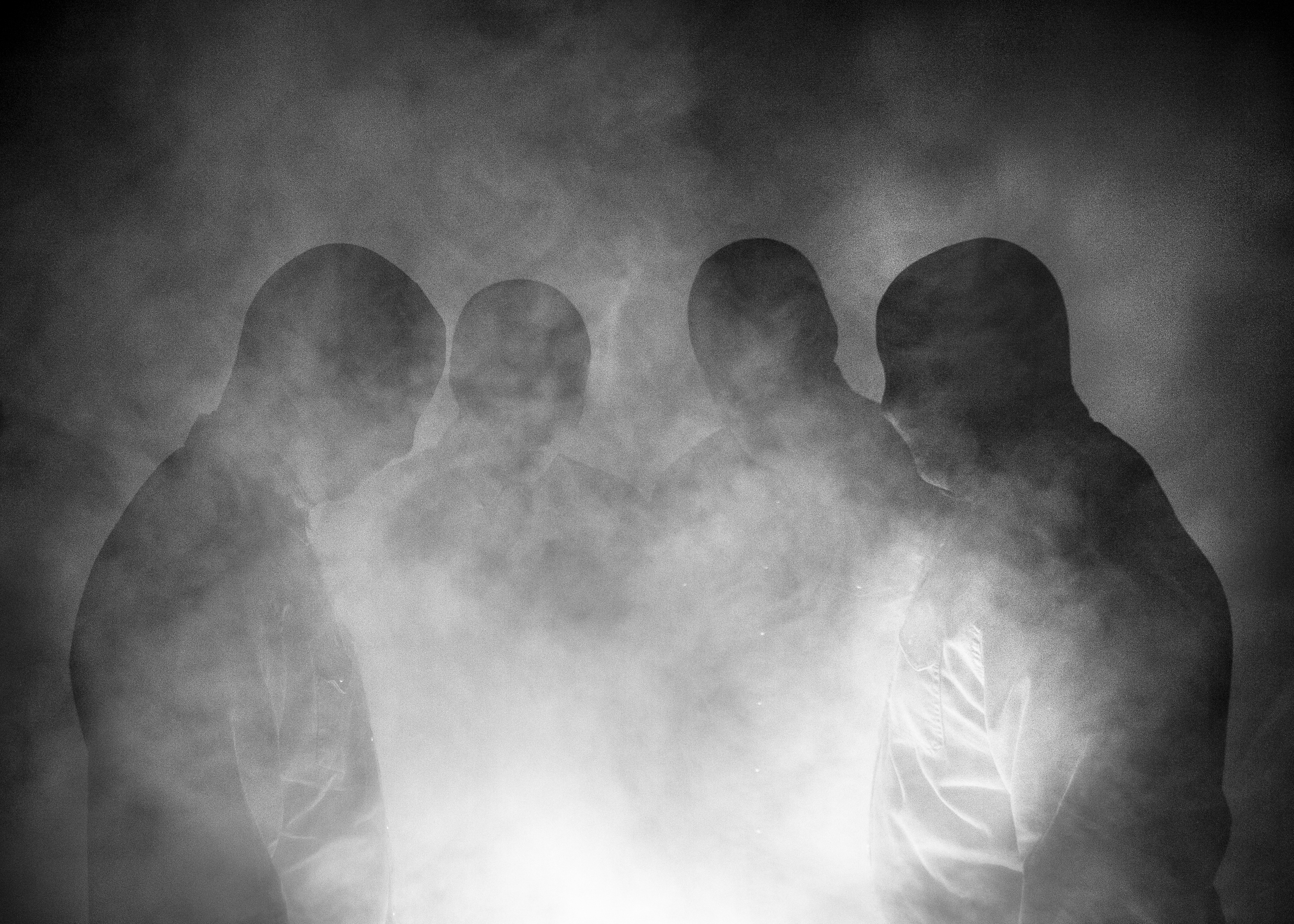 The short excerpt embodies As We Cup Our Hands and Drink from the Stream of Our Ache's artistic sadness. It also reflects the mental toll felt by the members of the band and their ability to translate struggles into art. Writing and recording took a significant amount of effort from each member, not only in terms of concrete musical contributions, but also to what lengths each member went physically, mentally, and emotionally during its genesis. For instance, Bartlett took himself off of his medications to complete the album. "Right around that time when I was going off of things, I felt really emotionally disconnected and withdrawn from the feelings and emotions on the album and I felt like I needed to touch that place again to finish it," Bartlett says of his decision to come off his prescriptions and reconnect with Zuwadzhi's mindset. "Over the past few years, Scott and I have been struggling with the same things. We've been friends since we were teenagers because we are similar in the way our brains work and the things we have trouble with."
The strife associated with the creation of As We Cup Our Hands… almost outweighs the joy of releasing music. Even with Cavernlight's full-length debut being a rousing success, the main feeling radiating out from Bartlett and other members now is one of sheer relief. "I don't want to ever go back to that again." Bartlett says. "The only positive thing about this record is that it is done and we don't need to put in any more energy into it. It is really fucking miserable for me, Scott, and Pat. All of us feel affected when we play the songs because of where we were when we wrote them and what they mean. There is a narrative to the album and there is a flow to the lyrics. Everything on this record is intentional and deliberate and influenced by a lot of negative bullshit that I hope we don't ever have to do a repeat of."
This cautious relief speaks to how invested they are in this music. Their collective statement on the album poetically summarizes the torment suffered and the subsequent escape from it. It reads: "These works exist as the tangible product of our tortured hearts. Our inner turmoil and our strained relationships. With the completion of this project we hope to provide a living vessel in which these negative energies can thrive and exist separately, captured and isolated, before their hooks are set too deeply and we are torn asunder. We hope this creation helps free us from the burdens of our past suffering. Allowing us to continue to breath, and love, and to simply exist."
Cavernlight's music serves as a beautiful edifice to the parallels of art and pain. From Zuwadzhi's dark photography for the album art to the band's personal sacrifices for their riveting craft; As We Cup Our Hands… delivers a much-desired reminder of the emotive properties that excellent doom metal should inherently possess. For what is art if it does not move the artist or its audience to emotion? Here, Cavernlight makes damn sure that that sorrow is deeply felt.
Cody Davis is feeling it on Twitter.
Photos by Scott Zuwadzhi.