When Cody Bellinger is going right, the pitcher has already lost before he even releases the ball. The 6-foot-4 Bellinger stands straight up, with a slightly open stance, his hands held way up high. His eyes stare straight ahead. The bat, big and long and light, twitches in those quick strong hands as he waits for the delivery. His feet do not move.
Then the ball flies towards him, and his front foot raises slightly as he gathers his weight and strength into the back half of his body. The hands drop behind him and recede slightly away from the ball, gathering power as they recoil and then whip around in an instant. And then, suddenly, the ball is gone.
In his rookie season, Bellinger has hit 24 home runs in 240 plate appearances, which is a ridiculous pace. His immediate success with the Dodgers is not surprising to those who've known him long.
Shawn Wooten, 44, has known the 21-year-old Bellinger for nearly Bellinger's entire life—Wooten and Cody's father, Clay Bellinger, were briefly teammates on the World Champion 2002 Angels. But only in the last year, after Bellinger was assigned to finish his 2016 campaign with the Triple-A Oklahoma City Dodgers, did Wooten, now the hitting coach for OKC, get a good look at the kid's swing.
Suffice it to say, he was impressed. "I think his first six at bats with us, he hit three homers, and one of them off a lefty," Wooten said recently. "He was just fun to watch — tons of bat speed, and stayed in his legs really well. That'll generate all the power you want." For those final 12 plate appearances in 2016, Wooten just watched and learned, waiting until Bellinger's fall league campaign, where he put up a cool .314/.424/.557 line in 85 plate appearances, to really offer up any advice.
"One thing I said to him then," Wooten said, "was that with the way pitchers are throwing in the big leagues today—working up in the zone with high spin rate and high velo—he was going to have to make sure he stayed on top of the ball in order to have success." That advice wasn't necessarily about succeeding in the minors, as Bellinger had already proven he could do that in spades. It was about proving he could adjust his long levers to big-league velocities and approaches.
At that point in his career, Bellinger was already doing a fair amount of high-ball drills, wherein he'd practice his ability to stay on top of pitches up in the zone. Wooten encouraged him to keep going, added a few more related drills, and continued to emphasize the importance of loading up fully before every pitch, keeping his hips underneath him, and not getting too narrow in the box.
It worked. Bellinger torched Triple-A pitching to start 2017, and then Adrian González went down with a back injury and LA needed a first baseman.
So far, so good— better than good. As Gonzalez speculates about retirement at the end of his contract, Bellinger, who also plays the outfield, has put his athleticism to good use.
"He has extreme spinal mobility," says Ryan Parker, a Texas-based freelance hitting instructor. "His follow through would put the average person in a very uncomfortable spot."
"He's in a good place right now," says Wooten, chuckling. "He's been able to hold some of the things we worked on, and for a guy that has a ton of bat speed, he controls the strike zone really well, and doesn't really chase." Which is true enough, even if there is more swing and miss in his game than most: his 68 percent contact rate is among the lowest in the National League.
But what does that matter when you're hitting as many home runs as he is? In many ways, Bellinger is a product of the current era: Big swings, high fly balls, and an unbelievable flurry of strikeouts. It's a sign of the times that his 29.8 percent strikeout rate, which would have been nearly unthinkable a decade ago, causes little concern.
"The Dodgers seem to be an organization that lets hitters be themselves," says Parker, "and not be forced into a particular mold." That's meant that, where other organizations might have tried to cut down on that big uppercut swing, the Dodgers ran the other way and helped Bellinger refine it. If the strikeouts, come, they come. Bring on the taters.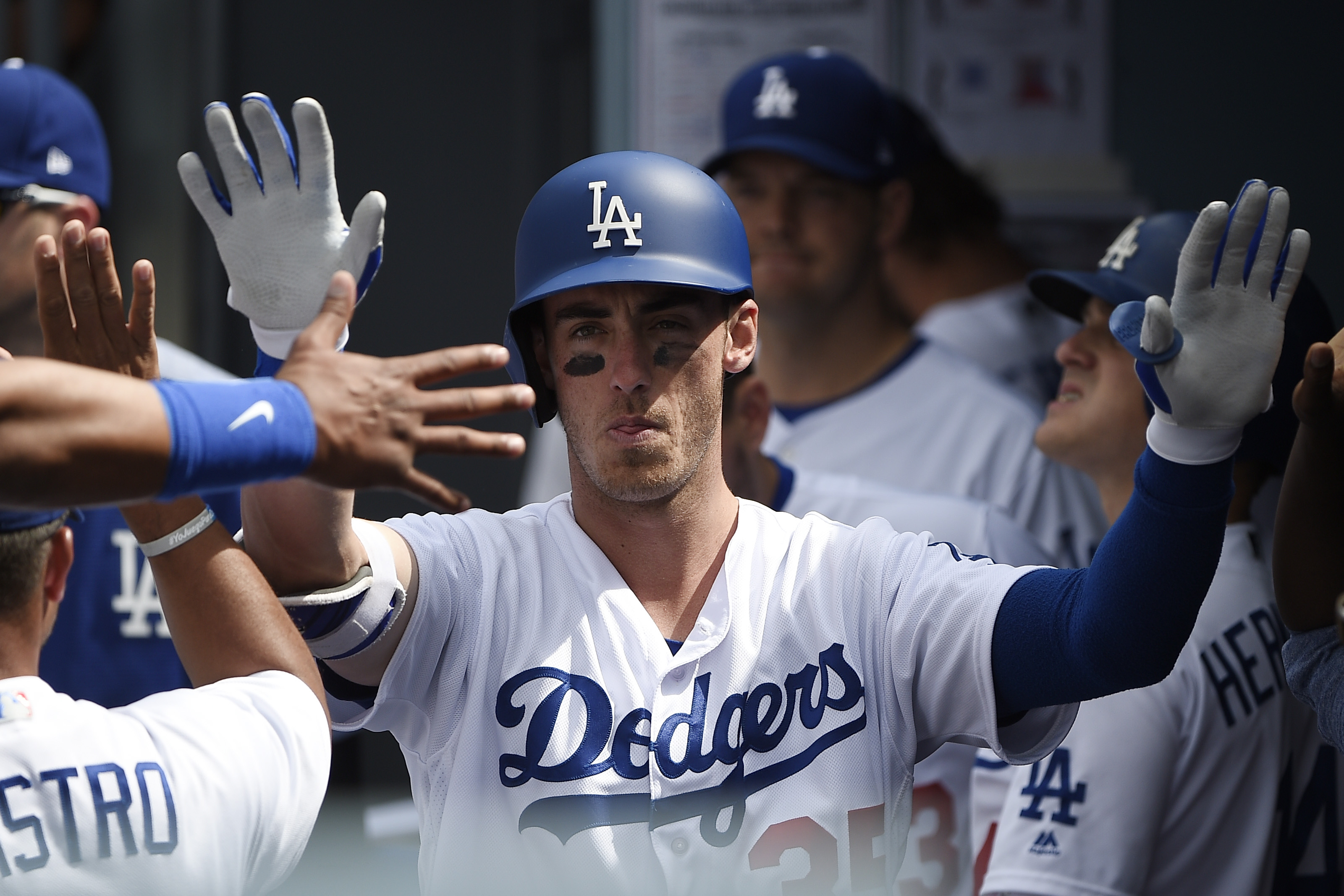 "Our scouts do such a good job of evaluating talent and bringing these guys in," says Wooten, "that all we really need to do is just make the small adjustments that'll let each kid succeed as they move up the levels. If a kid is good, let him go out and keep working."
Will it last for Bellinger? Depends what lasting means. Bellinger probably won't touch Mark McGwire's rookie record of 49 home runs, since that would require him maintaining his current ridiculous pace. Plus, there have already been a few times this year where his hands have gotten a little bit too high, which has forced him to come crashing forward into the ball too quickly when he should be gathering back and loading earlier in his swing. Two years ago, another Dodgers rookie went on a home run tear in the first half—but Joc Pederson faltered after the All Star Break.
Bellinger will not maintain this pace. But can he be a remarkably productive big-league hitter over the long haul? Of course he can. You don't post a 180 wRC+ over the course of a full big-league month, as Bellinger just did, and not have the kind of special talent that wins starting spots year after year. Bellinger has it. Now it's all about repetition.
"With guys like him," Wooten says, "if they can just get their setup right and repeat it, they're going to be able to get off some pretty good swings."
In other words, Bellinger doesn't need to do anything special every day to be special—just stay consistent about his routine and setup, and let his body do the rest. He's hitting out of his mind right now, but even on a normal day, if Cody Bellinger does his job right, the pitcher has lost before he throws a single pitch.