The law that Education Secretary Betsy DeVos is reportedly eyeing as a potential $1 billion honeypot for giving guns to schools could technically offer a small loophole to funnel the money.
The Department of Education would just have to gloss over all the evidence suggesting the move wouldn't really fall under the program's purview of funding a well-rounded education, supporting safe and healthy students, and improving technology in schools, experts told VICE News. Plus, districts might have a difficult time proving that guns can provide a safer and healthier learning environment — as required for the grant money.
Then again, the law, called the Student Support and Academic Enrichment Program, doesn't specifically prevent the Department of Education from using that money for guns either.

The law "is not as clear as it could be," said Paul Helmke, a professor at Indiana University's School of Public and Environmental Affairs and former president of the Brady Campaign, a gun control advocacy group. "There are other statutes where it's clear that it can't be used to do something like this. This statute doesn't have an expressed prohibition on this, but as I read it, it doesn't give them the authority to do this, either."

The Department of Education's consideration to use federal money to pay for firearms or training — as first reported by the New York Times Wednesday — would certainly deviate from the government's prevailing position. In March, Congress passed a bill that offered $50 million a year to local school districts for school safety purposes but explicitly prohibited that money from being used for guns. And grants distributed by the Department of Homeland Security for school preparedness also don't permit weapons or ammunition.
DeVos' apparent consideration came in response to the Texas Education Agency wanting clarification from the Department of Education on behalf of some of their school districts that asked whether they could use the funds to purchase guns, gun training, marshal training, and more due to the increased focus on school safety. Several states, including Texas, allow teachers to carry guns in at least one of their school districts, a VICE News review found.
A spokeswoman with the Texas Education Agency, however, said the federal government never responded to the state's inquiry and that the state never made a formal request to use Student Support and Academic Enrichment Program grants, or Title IV, for weapons.

"In April, an email was sent to our Title IV liaison in Washington seeking clarification for our school systems on a variety of Title IV funding questions," Ronnie Burchett, a spokeswoman with the Texas Education Agency, said in an emailed statement. "Among the nine questions shared with USDE via email at that time was: 'Many have asked due to the increased focus on school safety, will allowable purchases under safe and healthy students also include such things as guns, gun training/marshal training for school personnel, metal protectors, bullet proof entries, or other services associated with crisis management?'"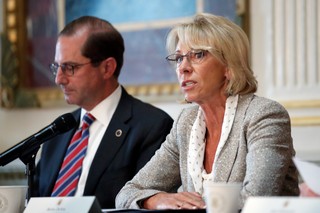 Advocates, teachers, and politicians piled onto social media to decry the potential move, and Democratic Sen. Chris Murphy rushed to introduce an amendment to a funding bill that would block the Education Department's plan before DeVos had a chance to formally introduce one — if she even planned to.
"The Department is constantly considering and evaluating policy issues, particularly issues related to school safety," Department of Education Press Secretary Liz Hill said in an emailed statement. "The Secretary nor the Department issues opinions on hypothetical scenarios."
Rep. Bobby Scott, a Virginia Democrat and one of the primary authors of the Every Student Succeeds Act, which created the Student Support and Academic Enrichment Program grants, said the law never intended to buy guns for school teachers in a statement on Thursday.
"Even if there is confusion about Title IV's flexibility regarding school safety, Congress made our position clear when we provided funds for school safety and violence prevention in the aftermath of the school shooting in Parkland, Florida, and specifically prohibited school safety funds from being used to arm teachers," Scott said in the statement.
But the Student Support and Academic Enrichment Program doesn't really mention buying guns either way, mostly because the act has to do entirely with academic and enrichment opportunities at some of the country's poorest schools.
"These provisions do allow a fair amount of flexibility for state and district plans that further that goal," said Miranda Johnson, director of the Education Law and Policy Institute at Loyola University in Chicago. "The question I would have is whether arming educators or providing them with training on firearms would foster a safe, healthy, supportive and drug-free environment to support student academic achievement."
For school districts to access the funding, they have to show that their needs and goals are generally consistent with those outlined under the federal program. If a district wants just $30,000 or more, they "must conduct a comprehensive needs assessment." Even so, the districts also have substantial flexibility in how they utilize the money, according to the program's guidelines.
All in all, DeVos could technically access the money for guns, but the restrictions make that a hard task.
Cover image: Area educators teachers fire off rounds during a concealed carry class for teachers Sunday, June 10, 2018, at Adventure Tactical Training in Farmer City, Illinois. (David Proeber/The Pantagraph via AP)