In early 2019, the L train in New York City will shut down for 15 months to repair damage caused during Hurricane Sandy. Leading up to the closure, VICE will be providing relevant updates and policy proposals, as well as profiles of community members and businesses along the affected route in a series we're calling Tunnel Vision. Read more about the project here.
Almost every month now, a new club or bar arises on Brooklyn's north side. As mentioned before on this site, one month in 2013 saw 106 liquor licenses filed in Williamsburg alone—which is almost 4 spots a day. Once-abandoned warehouses have seamlessly flipped into sprawling venues, and bigger spaces means bigger crowds. On an average weekend night here, throngs of partygoers pour out of subway stations onto the streets.
But what will that world look like when that train goes offline between Manhattan and Brooklyn for 15 months straight? This is a scene that has sprung to life from the train's existence, and perhaps no other businesses rely more on late-night transit functioning smoothly than these spots—both for their customers and employees. So will nightlife soldier on unfettered as Brooklyn shifts inward, or will these nocturnal institutions take a serious hit?
To (hopefully) answer these lingering questions, VICE spoke with four local nightclub and bar owners—to hear their hopes, fears, or concerns about the impending transit crisis.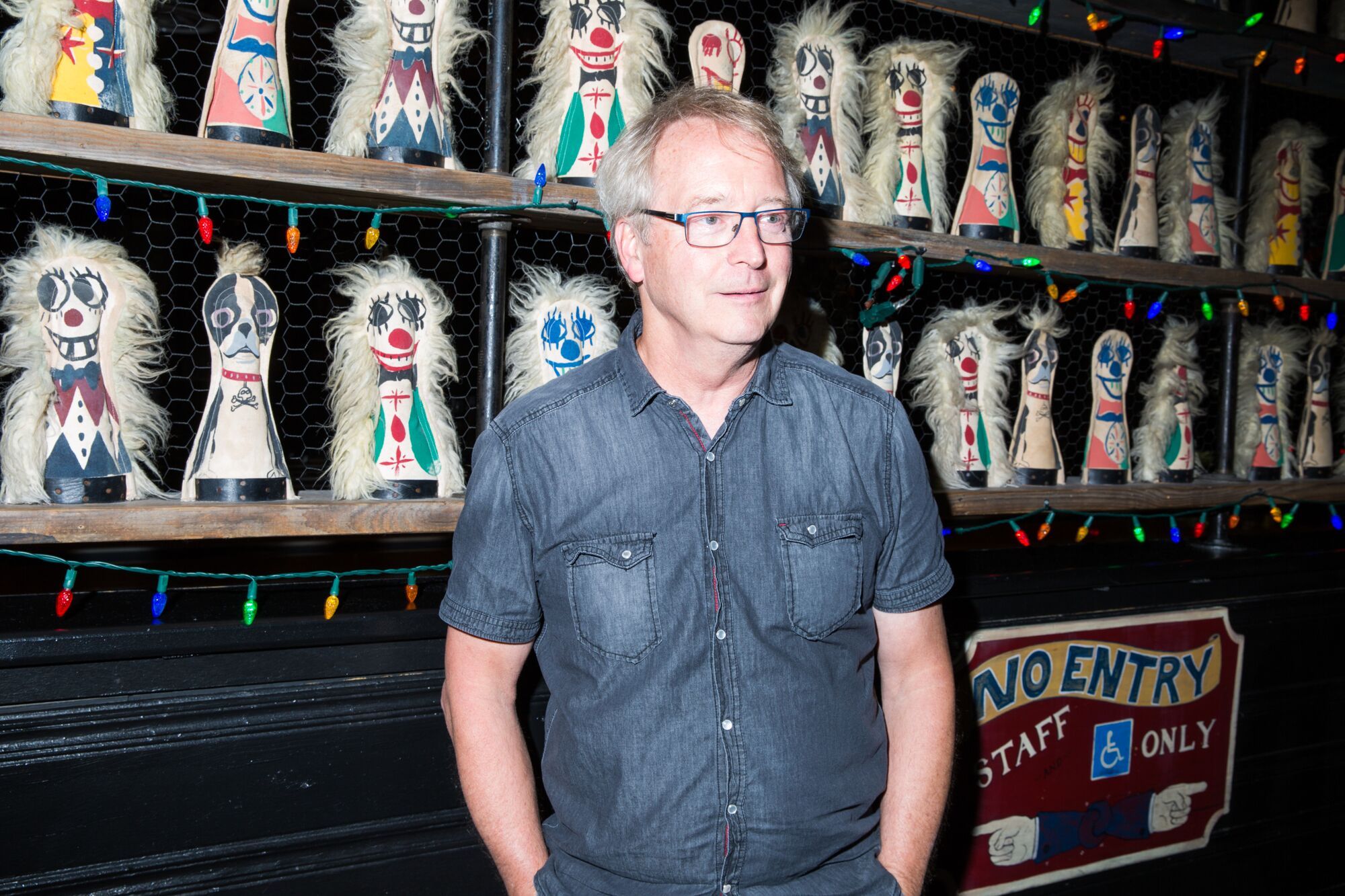 Charley Ryan, Brooklyn Bowl (Bedford Avenue Station - Williamsburg)
"What we'll be seeing, if anything, is that we may have to constrict. But newer businesses—mom and pops that came in almost anytime after 2010—their whole model is placated on things staying the same, or getting better. And the L train shut down for over a year is not something getting better. It's something getting a lot worse, but they really couldn't have foreseen that. That said, there are still a lot of businesses opening up, because Brooklyn is becoming more and more self-sufficient in and of itself.
"A lot of our business is from Brooklyn, and a lot of it is from the suburbs—people who are going to drive here. So it's really about the people who live in Manhattan, businesspeople, and tourists... We're not too close to the edge. We won't love it, but in 15 months it'll be over and we'll still be here. In terms of what it means for entertainment businesses, it's definitely not going to help us. But I think people are going to figure out a way with the ferries and the buses and the Ubers.
"We had the first organizing meeting here about the shutdown, and we discussed the idea of 'How are people going to get from Manhattan to Brooklyn?' And even Broadway Junction, too. What we'll probably do is band together and come up with special events; the Northside Festival might be one example, but maybe do more things like that as just a reason for people to plan to come here… As soon as it got out this was happening, a lot of people put the brakes on things. Someone with a successful restaurant in Manhattan who was thinking of coming over here was like, 'Now we're in limbo, let me see what happens.' So you want everything to happen as quick as it can, for public safety and businesses. There's no benefit in stretching it out."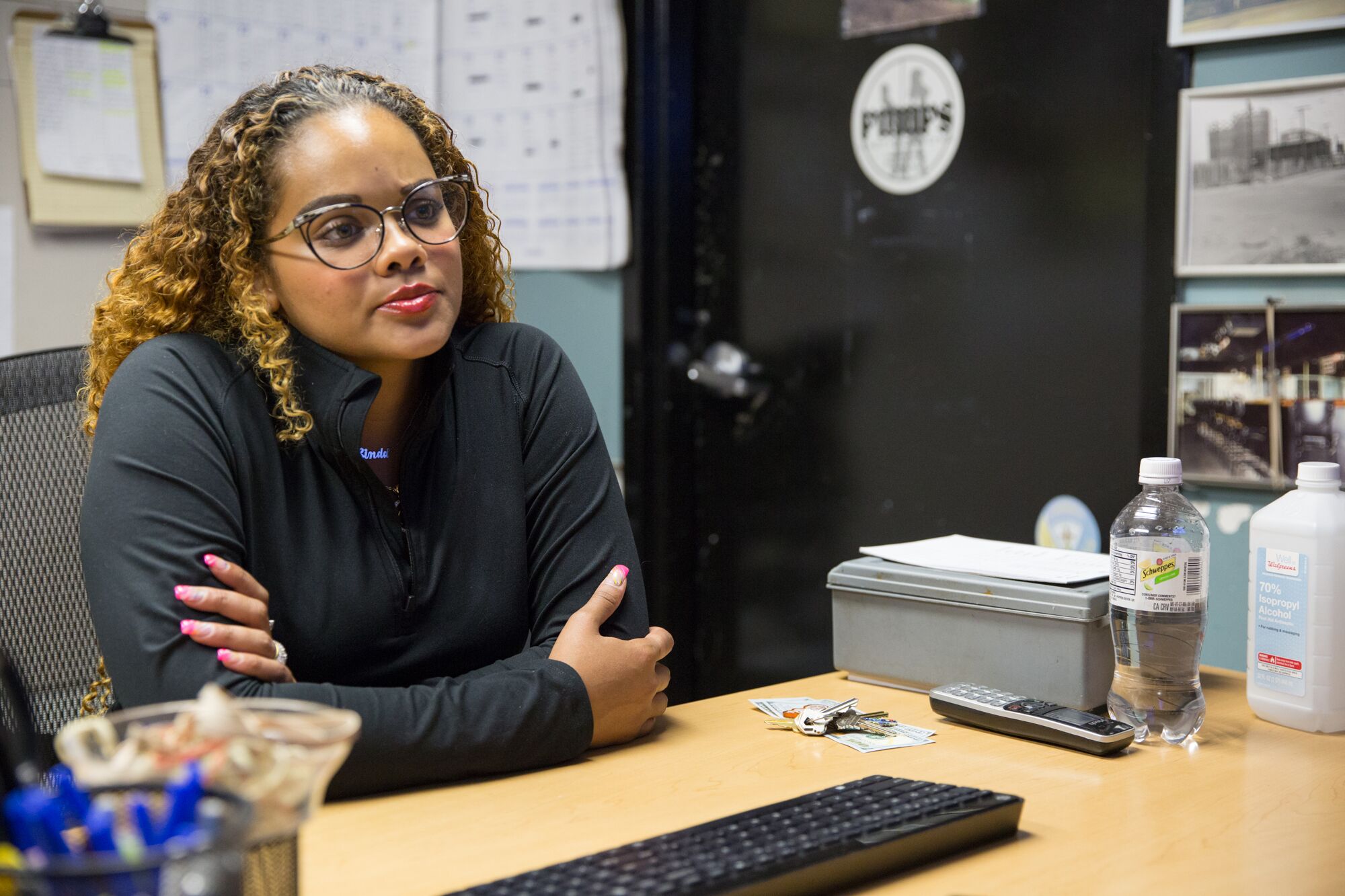 Vanessa Jarvis, Pumps (Grand Street Station - East Williamsburg)

"We've been here for 19 years, so we are one of—if not the—oldest strip clubs in Brooklyn. A lot of our customers live within the Bushwick/Williamsburg area, and all of our other customers take the train. So it'll affect about half, roughly. With regards to the dancers and employees that work here, they rely solely on the train. The girls, 100 percent rely on the L train... It will have a devastating impact. The girls are already panicking with the talks, they see it on the news, and I'm even in a panic. How are we gonna get to work? Not everyone can afford to take a cab.
"I don't know how the girls are going to get here. I don't know how the customers are going to get here. Customers ride the train late at night to come here... Even when they were doing work [and the trains were shut down for two weekends], and had the shuttle buses going, it was chaos. Each and every single employee here on that weekend was late. The traffic was high, the signs weren't posted properly. It was a hard commute. We noticed a drop in the number of customers. There's only the L here. And even if you take the bus, you'll have to transfer. But also, a lot of people aren't comfortable taking buses. People would rather just take the train; they know what stop they're going to, and they walk straight there. It's very easy—nobody wants to really wait outside for a bus, and depending on the weather, what happens in the colder months? Cabs only have so many drivers, so between the customers and our girls—and we can have 20 girls working a night—with the customers, that could be a lot for one cab stand.
The majority of our staff lives in Brooklyn, but we also have staff who lives in Long Island and Queens. So how are they gonna get here? It's a question we're all asking. Hopefully we'll have some type of answer soon."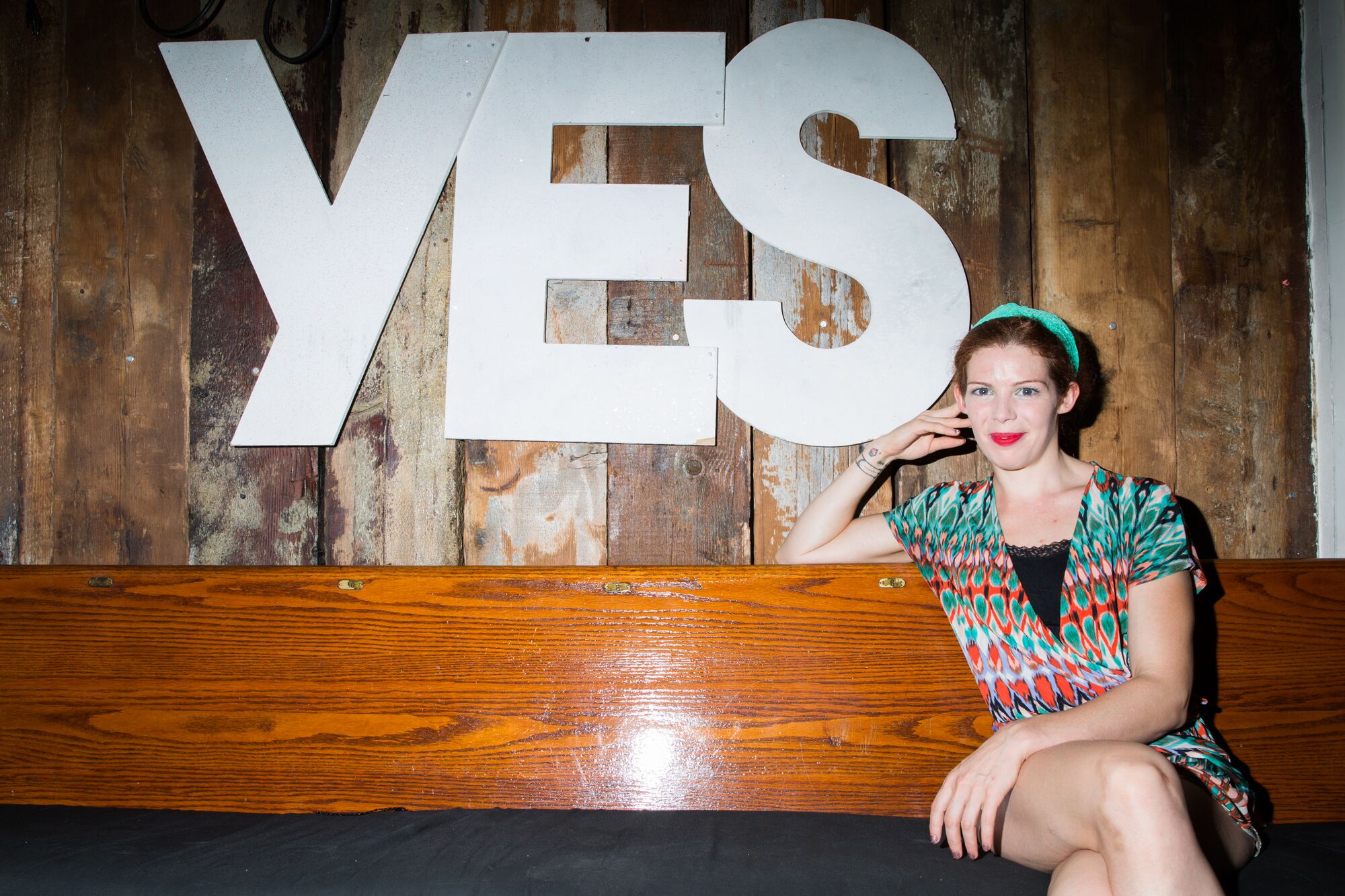 Kae Burke, House of Yes (Jefferson Street Station - Bushwick)
"When the news first came out about the shutdown, we were super new. So we had that immediate, like, 'Fuck..' sort of reaction. Then I was talking to people who have been around for a while in nightlife, and they were very like, 'Oh my gosh, are you kidding me? This is going to be great for you guys!' And we were like, 'What?' And they said, 'Yeah, all of a sudden you have your fishbowl.' You actually cut off the option of going to Manhattan. I feel like the people who do party in Manhattan are now going to choose something local, so to speak. Your Brooklyn residents are now going to party in Brooklyn, which they probably are already doing anyway. It's like, party local.
"Our audience is Brooklyn-based, and even the people coming in from overseas, our guests who are tourists, are getting Airbnbs in Brooklyn. We're a Brooklyn establishment. Although we do have an audience who comes from Manhattan, they usually cab anyway. Even late at night, the trains can be slow, delayed. There's also an added danger. So a lot of our people walk home, bike home, or cab home. It's a total convenience for some people.
"But we do work with so many performers. Our bartenders are mostly Brooklynites, but our performers come from all over the place, and they do have gigs in the city. If there's any real loss, it's when we won't be able to get somebody to double book—like, do a gig in Manhattan, and then come here—without having to pay their cab fare. Because really, the L is the only option after midnight. And I can't expect them to bike. So that's something we'll have to negotiate in the budget. But there's a solution."
"It'll be really interesting to see how it affects, and how many people adjust. That is part of not only what humans do, but what New Yorkers do, when you just adapt. You'll bitch about it to no end, but you'll be bitching about it when you're on your bike. And it'll become normal to get dressed up with your crew and hop on your bikes. Even if it's a little colder out, you're kind of OK to carpool or whatever… What I do want to say on record is with the Department of Transportation: I want bike racks outside of House of Yes. I want our patrons to be biking here anyway. I want every venue to be biking more. Bike racks for every venue that has more than a 200 person capacity would be a really nice thing."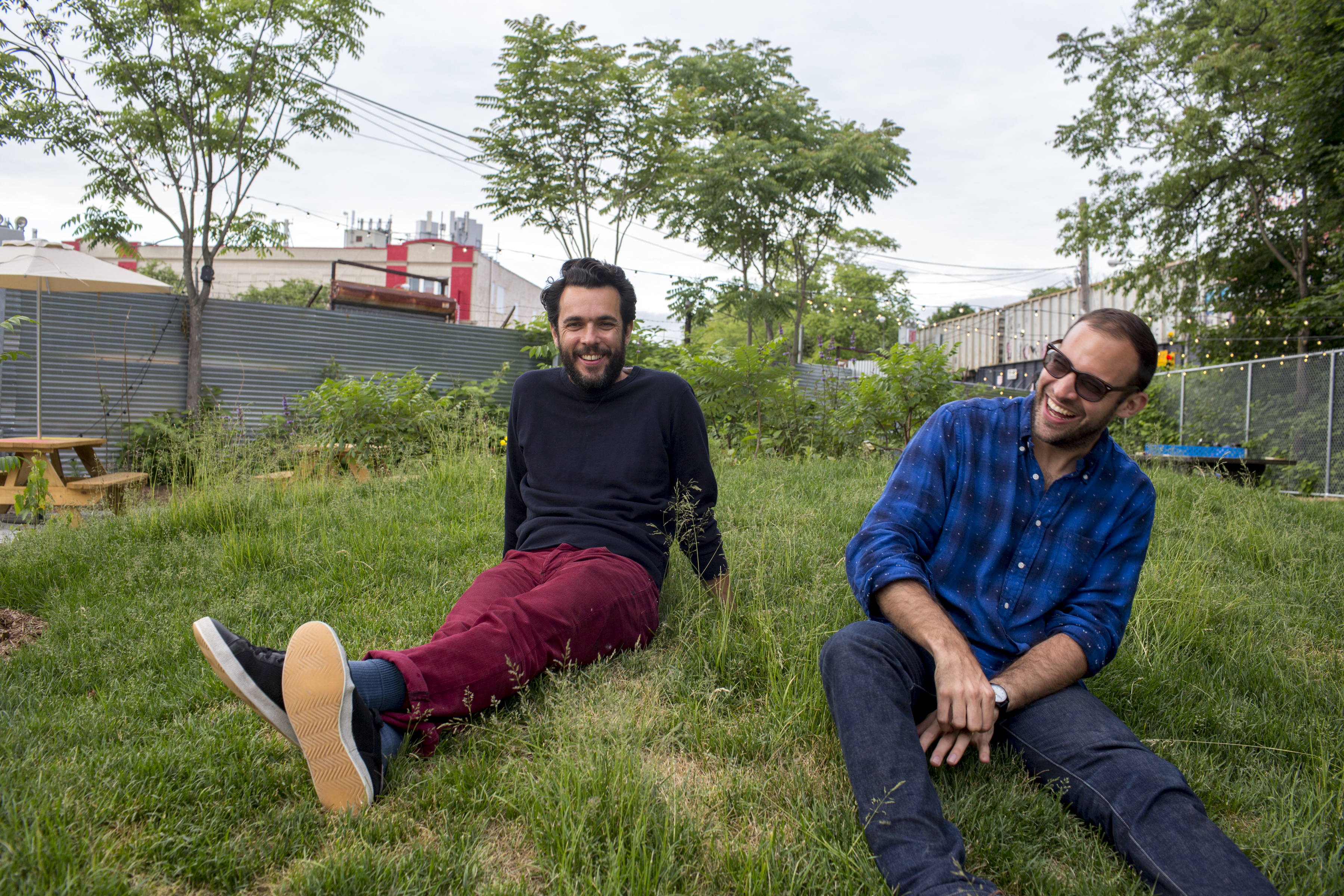 Justin Carter (above, right), Nowadays (Halsey Street Station - Ridgewood)
"We might lose folks from Manhattan, which is a bummer, but we also might gain people who might look to Manhattan as a place to go out, but can't anymore. But it's also not just people who live in Manhattan. We have a following, specifically from Mister Sunday in South Brooklyn, and I know a lot of them will go into Manhattan and take the Q, and then transfer to the L. So for them, it'll be a thing... However, we've been doing plenty of parties without the L train working, even out here this summer, and had plenty of weekends of business. Memorial Day Weekend was one of the biggest weekends we've ever had here, and there was no L train out here. So that says to me that people have other ways of getting to the party other than mass transit. We have bike racks, and they're full any time we do a party. There are some people who drive, and other people who take Uber as well. There are many options for people who want to come out here.
"If people can't even get the L from Lorimer or Grand to here, and we're still having good, solid business, and we're still young, and this neighborhood is still undergoing a change, I don't feel like we need to come up with a solution. Maybe I'll get caught on the back foot, I don't know. So I'm not stressing it. There are things people have to worry about. If you live in Williamsburg or somewhere off the L, and you work in Manhattan, that's got to be wildly concerning to you. It's already a crazy thing to get into the city during rush hour on the L.
"I think what we have here is a place that's a destination kind of place, but it's also been very clear that when you're here on a Friday night, it's a neighborhood spot, largely. Yeah, someone might come and do their birthday party from outside these few close train stops, but largely, it's a neighborhood place. When Mister Sunday was happening in Sunset Park, and Gowanus, you'd go there for that thing specifically. But now, it's 4pm on a Tuesday afternoon, and there's already people here. I think that's telling of what this place is. It's not just the place for a party."
These interviews were edited and slightly condensed.
Follow John Surico on Twitter.