Welcome to "Reel Women," a column highlighting important women in the world of cinema, from on-screen characters to real-life filmmakers.
I had long heard about the magic of True/False Film Festival—usually talked about with a hushed enthusiasm, almost as if it's a cult, but more so out of protection, lest it get too big, too "industry" and ruin its small-town charm. I finally experienced this "cult" first-hand—one of those "you have to be there" type things that's a far (and refreshing) cry from festivals like SXSW, which follows just a week later. The annual True/False, which just wrapped its 15th year, takes over several theaters and church screening rooms in Columbia, Missouri, for four days as it showcases the most interesting voices in non-fiction and docu-fiction hybrid filmmaking. The films come from all over the world and cover all sorts of stories, but their common ground is the innovation in how the stories are told—these docs usually ditch the typical talking heads format for a more unconventional structure and often boast incredible visual flourishes. The documentaries shown at True/False are the crème de la crème of the genre.
As corny as it sounds, the festival also creates an organic sense of community in movie-watching—without a competition aspect, there's no forced industry schmoozing but rather encouragement for genuine conversation, with no barrier between filmmaker and viewer. The festival's programmers, organizers, and 950 volunteers successfully made the massive operation feel intimate. One ingenious twist on a typical fest was the reinterpretation of some Q&As as a "Quench & Answer" sessions, with booze flowing freely to make the post-screening discussion feel more like a social function. Musicians would play before each movie, passing around donation buckets, and in one case I witnessed, donation buckets were passed around after the movie, so viewers could give directly to the highlighted causes. I went to True/False with high expectations, but I didn't think I'd leave with an all hits-no miss ratio. I saw 18 films (including shorts) during my stay last week and didn't encounter a single bad movie; a first in my five years of attending festivals.
Of those 18 films, I noted that only one was directed by a white man—a rare occurrence and a treat to separate myself from the homogenous breed that usually dominates the industry. The works by women filmmakers especially stood out as this generation's leading voices in non-narrative cinema. It's incredibly thrilling to reflect back—on International Women's Day, of all days—on the works of, and about, women from different parts of the world.
In this world there are movers, shakers, and shirkers, it turns out ("shirker" basically means "slacker"). Sandi Tan's buzzed-about Sundance hit Shirkers was a clear standout from the True/False Festival. It shares the same name as the film Tan had worked on in 1992, when she was just 16 years old, and this current iteration of Shirkers features beautiful footage from the original, shot on 16mm. What initially starts out as an autobiographical story of Tan's adolescence, about discovering indie film and alternative rock with her equally rebellious best friend Jasmine Ng, takes a sinister, stranger-than-fiction turn when we find out that the girls' film teacher and mentor Georges Cardona stole all 70 reels of film they were working on and disappeared. It mines that helpless feeling of losing your files from a hard drive or all your photos from your iPhone, except amplified ten fold. For years, Sandi, Jasmine, and their friend Sophia Siddique (who was producing the film), had coasted by without any closure, not knowing why Cardona did what he did or where he went. It wasn't until 20 years later that the film was returned to them, after Cardona had died and his widowed wife found them in his home.
Tan, who, in the late '90s started writing film criticism and had penned the original Shirkers script, has an obvious knack for words. It's narrated with such animated, colorful prose, and with the mystery aspect to the film, Shirkers is a nail-biter thriller presented with the aesthetic of a DIY zine. Since this is real life and not a fictional detective story, Shirkers is a mystery film that lacks the cathartic moment of finding all the answers, and yet the digging proves therapeutic, especially as the filmmakers find solidarity among others who have been deceived by Cardona. It's one of the best films from the year so far and good news for those who weren't at the fest: Shirkers will hit Netflix soon.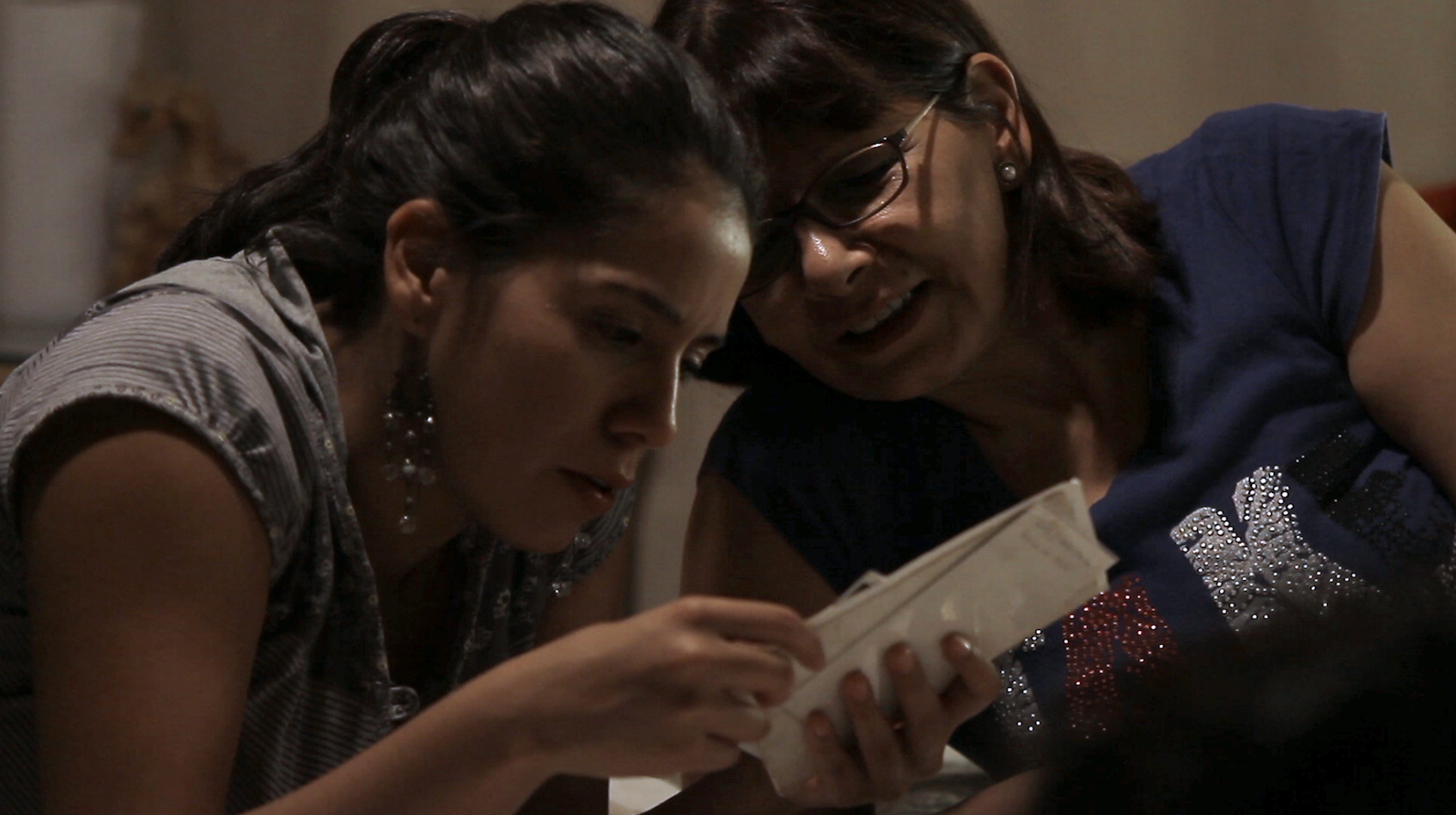 Also taking a deep-dive into unanswered questions, Chilean director Lissette Orozco made an autobiographical doc thriller Adriana's Pact, another one of True/False's highlights. Orozco had always been close with her aunt, Adriana Rivas, whom she idolized, but her perception of her hero was shaken when Rivas was arrested for her involvement in Augusto Pinochet's secret police during his dictatorship and accused of abducting, torturing, and murdering detainees. Orozco interrogates her aunt through Skype sessions, interviews other members of the police group, and searches for any evidence that her beloved aunt might have been wrongfully accused. Rivas insists over and over again that she never participated in the heinous activities she's charged for, but the piling evidence continues to suggest otherwise. Then, it becomes a question of whether or not the director is being emotionally manipulated by her own relative. What results is a chilling reconsideration of family that's deeply scarring but also necessary.
Some films at the festival existed as a means of healing scars, such as the poetic and traumatic Primas, also a personal work of film. Canada-based Argentine director Laura Bari chronicled the remedial coming-of-age of her two teenage nieces. Rocio, 18, was abducted by a stranger at age 10, then raped, left for dead, and set on fire. She miraculously survived, but her body was left 60% burned. Her cousin, Aldana, on the other hand, was sexually abused by her father since she was a child. Bari's film portrays the trust between these two cousins, the power of merely telling their stories, and the way they use art (dance, gymnastics, performance) to cast their wounds. Bari takes visual liberations, with dream-like montages of Rocio crawling out of sand, and takes on a unique narrative structure that leaves us piecing together parts of the story before we're told the whole thing. But what's most impressive about Primas is that for the heaviness of the subject matter, it's a hopeful film, driven by the optimism of Rocio and Aldana.
As I've said before, there was not a single bad movie at True/False Festival from what I saw. Even when the movies were at their most conventional, they were enlightening, as with Lorna Tucker's Vivienne Westwood documentary Westwood, about the punk fashion designer and activist, and Grace Jones: Bloodlight and Bami, Sophie Fiennes' vérité film that follows the iconic pop star and fashion muse as she navigates her home in Jamaica and tours around the world.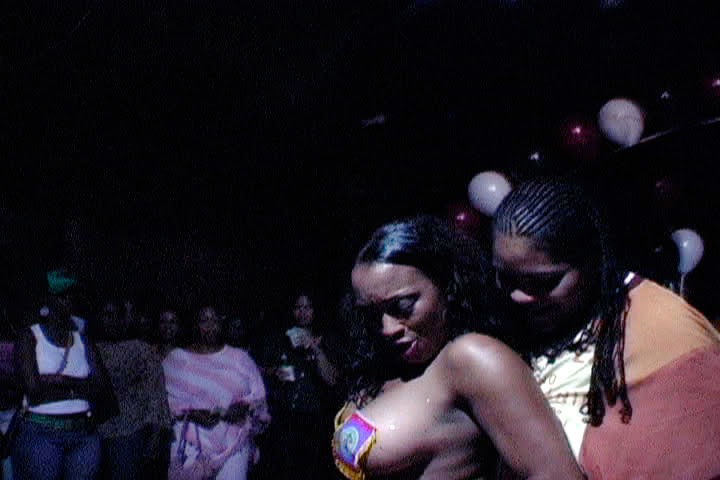 Other highlights included Anna Frances Ewert's Lovers of the Night, a quietly profound portrait of Irish monks at a Cistercian monastery, and Kim Hopkins' Voices of the Sea, about Cuban immigrants' often disheartening pursuit of the American dream. The short films at True/False were noteworthy too, like Rachel Daisy Ellis' Brazilian child pageant film Mini Miss; two paired shorts—Cristina Hanes' António e Catarina and Sophy Romvari's Pumpkin Movie—addressing women's navigation of the patriarchy and the sexual forwardness of men. Then there's Shakedown, directed by the CEO of streetwear brand Hood by Air, which takes us into the underground world of Black lesbian stripclubs in Los Angeles. Recorded around 2003–2004 in lo-fi camcorder quality, Shakedown follows the strippers—called "angels"—as they balance their real life personas with their lives on the dancefloor. Pieced together 15 years later, it's an exhilarating slice-of-life of a marginalized subculture before the cops shut down the fun. (Shakedown plays MoMA on March 18.)
True/False has clearly proven itself a true display of great programming, but it also gives a platform to voices that often go ignored. Thank goddess for that leap of faith—these women had a lot to say and they said it so poignantly. If you're wondering if the future of film really is female, look no further than this stellar roster.