MTV Harassed and Fired Farrah Abraham for Doing Porn, Lawsuit Says
The "Teen Mom" star has filed a $5 million lawsuit alleging she was humiliated, shamed, and retaliated against for doing some work in the adult entertainment industry.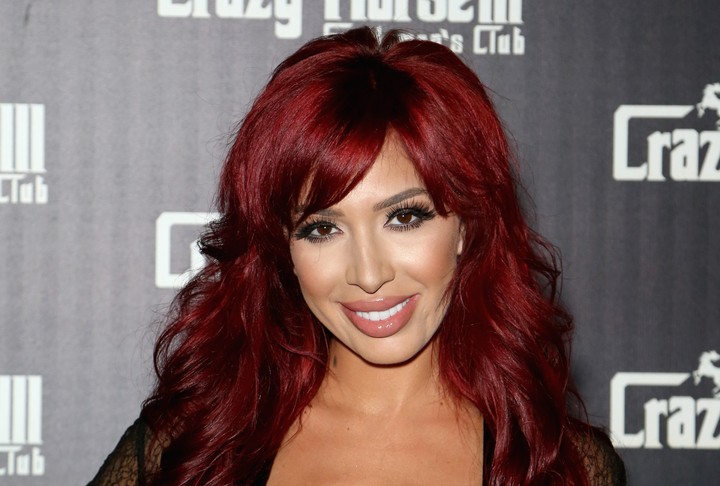 Photo by Gabe Ginsberg via Getty Images
This week, reality TV star Farrah Abraham filed a $5 million lawsuit against Viacom (the parent company of MTV) alleging an executive producer "degraded and sex shamed" her for her decision to do some work in the adult entertainment industry. According to the lawsuit, which was filed in a Texas court on Tuesday, she was cut from the current season of Teen Mom OG the day after a heated exchange with the producer.

Abraham—who rose to reality stardom when she first appeared on 16 and Pregnant in 2009, and later, its spinoff Teen Mom—claims that Morgan J. Freeman, a defendant in the suit, "confronted" her at her Texas home during filming for Teen Mom OG last October. "Freeman, alongside his production crew, harassed, humiliated, discriminated against, disrespected, ridiculed, degraded, and sex shamed Ms. Abraham for her recent decision to pursue opportunities in the adult entertainment industry," the lawsuit states. Last fall, Abraham appeared on a live web cam sex show.
"Also during this confrontation," the lawsuit continues, "threats were made against Ms. Abraham by Freeman about ending her career with MTV and sabotaging future deals Ms. Abraham had in place with MTV, and defaming her. Given Freeman's hostile tone, mannerisms and body language, Ms. Abraham feared for her life."
Abraham is seeking at least $5 million on the basis of gender discrimination, wrongful termination/retaliation, intentional infliction of emotional distress, defamation, and assault. She contends that she was harassed on the job because she "did not meet Defendants' gender stereotypes on how women should act and appear." She also claims that when she reported Freeman's "severe and pervasive harassment" to company executives, she was retaliated against by being "terminated."
Viacom denied Abraham's allegations in a statement sent to NY Daily News on Wednesday: "We respect Farrah's decision to pursue other endeavors and we wish her the best," it read. "Regarding her suit, the claims are without merit."
Although the alleged incident happened in October—at the time, Abraham reported that she'd been told she had not been fired nor had she breached her contract—the reality star announced on Instagram last month that she was "moving on" from MTV, calling the company's behavior "horrible." She also claimed the cast and crew she worked with had "spew[ed] their false, jealousy, hateful, discrimination & harass[ed] someone for their sexual freedoms."
While some reports have taken a skeptical eye to Abraham's lawsuit—she's previously been painted as someone "everyone loves to hate"—it's actually horrifyingly common for adult entertainers to endure stigma and discrimination. Tasha Reign, the chairperson of the Adult Performer Advocacy Committee, tells Broadly: "Every single person in the adult film industry is shamed every day on a regular basis for the work that they do," she says. "It sounds like something that may or may not have a huge effect, but we've had five suicides in two months, and a lot of it has to do with the fact that the only minority group in America that's allowed to be absolutely degraded and abused is the adult performer."
For More Stories Like This, Sign Up for Our Newsletter
Whether or not there's any merit to Abraham's lawsuit, Reign says the fact that she spoke up about her alleged experiences has the capacity to encourage others to fight back against any abuses they face in the workplace. "It shows that people have the ability and the right to fight back, even if they are a sexualized woman and they have been in adult movies or if they are just a woman … who feels they've been degraded in any way. Speaking out is the first step. It's important on that level—use your voice no matter what industry you're in."
In a statement sent to E! yesterday, Abraham said her goal was to "make a change for the LGBT and female community at large."
She continued: "I am a business women and female Celebrity leader who will not be shamed or discriminated against by Viacom, MTV, my peers as it's illegal for me to do the same to them."
Stories