Easy Baba Ganoush Recipe
This simple eggplant appetizer is slightly smoky, creamy, and perfect paired alongside hummus and pita bread.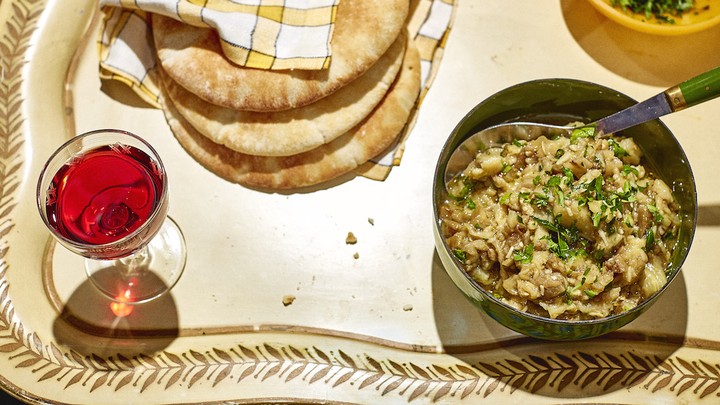 Photo by Heami Lee
Servings: 4
Prep: 5 minutes
Total: 50 minutes
Ingredients
3 large eggplant
1/4 cup parsley, roughly chopped, plus more for garnish
3 tablespoons olive oil, plus more for serving
2 garlic cloves, minced
zest and juice of 1/2 lemon
kosher salt, to taste
Directions
1. Heat the oven to broil. Place the eggplant on a baking sheet and cook, turning as needed, until charred and blackened, about 15 minutes. Transfer to a bowl and cover tightly with plastic wrap. Set aside to cool, about 30 minutes.
2. Remove eggplants from the bowl, reserving any residual liquid left. Peel away the burned skin. Finely chop the flesh of the eggplant and place in a medium-sized bowl. Stir in 2 tablespoons of the reserved liquid, the parsley, garlic, olive oil, lemon juice and zest, and salt. Garnish with a drizzle of olive oil and more fresh parsley.