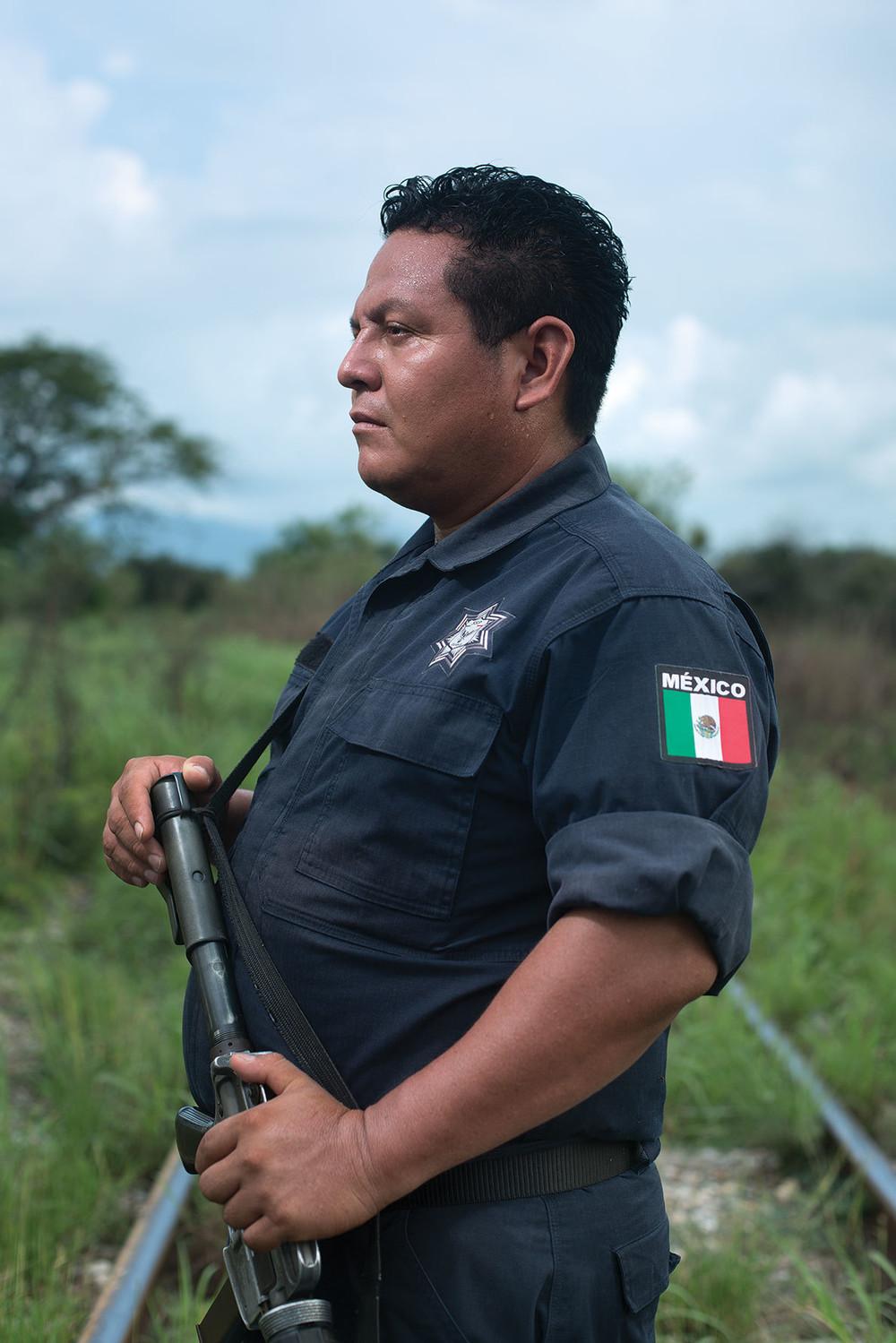 This article appeared in the March issue of VICE magazine. Click HERE to subscribe.
When a local gang in his neighborhood in El Progreso, Honduras, threatened to kill him, Ivan Castillo knew the men were serious. They'd already killed two of his brothers. Worse, Castillo owed the gang money. "I was desperate," Castillo, a baby-faced 22-year-old, told me. He couldn't pay them back, and after a gang member visited his workplace, Castillo decided to flee to the United States. He and his only living brother left Honduras last fall, bound for Tapachula, a city in the southern Mexican state of Chiapas. His mother and stepfather awaited them there.
Weeks later, Castillo and his family walked along train tracks, heading northwest toward Chahuites, the next town on their trip through Mexico; more than a thousand miles stood between them and the US border. They abandoned the relative safety of a small hired van to avoid being detained at, and possibly deported from, one of the many immigration checkpoints that now dot Mexico's southern roads. On their way, they were ambushed by two men holding guns and machetes. "Shut up, don't try to run," one said. They instructed the family to sit down and remove their clothes.
The robbers stole all the family's money, 270 pesos—about $16 at the time—and a cell phone. Before leaving the men to get dressed (Castillo had convinced them to allow his mother to remain clothed), the robbers warned the family to stay off the train tracks: Another band of robbers waited farther ahead, who wouldn't respect Castillo's mother. "That's why we decided to hike," Castillo told me.
The family walked more than three miles from the site of the assault, into the rolling hills north of the railroad, to hide among trees. They climbed one every few hundred feet to observe their surroundings. When a tree's vantage point finally proved they were clear of immigration officials and robbers, the Castillos hiked to the highway, flagged a truck, and hitchhiked to Chahuites.
***
Two years ago, Central American migrants rarely faced such robbergangs on their route north, at least not in southern Mexico. Migrants traveled to Chiapas and Oaxaca atop La Bestia (the Beast), an infamous series of cargo trains. The tracks ran through Chahuites, a sleepy coastal city of nearly 11,000 residents, and migrants often passed through without stopping. While the Beast was never safe, riding it allowed migrants to bypass potential danger in places like Chahuites and the sparsely populated areas between towns. But that was before Programa Frontera Sur, the Mexican government's Southern Border Program. Supported by the US, it was designed to prevent Central American migrants from ever crossing into Mexico, let alone farther north. New mobile checkpoints blanket southern Mexico, and hardly any migrants ride the train anymore. To avoid immigration agents, they walk for days over hills, through jungles, and into small towns like Chahuites.
They follow the tracks like sailors once followed the North Star, the railroad their only point of reference in unfamiliar country. This makes them easy prey for thieves and rapists who hide in the thick foliage of southeastern Oaxaca.
This article appeared in the March issue of VICE magazine. Click HERE to subscribe.
Mexican President Enrique Peña Nieto announced Frontera Sur as a program that would guarantee the safety of migrants. During the program's rollout in the summer of 2014, Peña Nieto said, "We can ensure dignified and humane treatment of the migrants." But the program's detractors point to the timing of its inception as proof that its intention isn't so pure. In June 2014, the child migrant crisis was peaking, as an unprecedented number of unaccompanied Central American minors arrived in the United States without papers. Critics also cite the program's lack of transparency. Peña Nieto's government has offered no specifics on the implementation of Frontera Sur or how it protects migrants. From the period between its rollout in July 2014 and June 2015, Mexico's stepped-up migration enforcement resulted in a 71 percent increase in apprehensions of Central American migrants and potential refugees.
Since 2011, the United States has poured money into upgrading Mexico's immigration checkpoints and detention centers, in addition to training Mexican immigration agents patrolling the Guatemalan border. This funding increased in 2014. Unsurprisingly, the number of Central American migrants reaching the US border since Frontera Sur's inception has decreased precipitously, though it has fluctuated. President Barack Obama, who faced criticism throughout the child migrant crisis, praised Frontera Sur. "I very much appreciate Mexico's efforts in addressing the unaccompanied children who we saw spiking during the summer," the president said after a bilateral meeting with Peña Nieto last year. "In part because of strong efforts by Mexico, including at its southern border, we've seen those numbers reduced back to much more manageable levels."
Yet an undeniable result of the Frontera Sur program is an increase in assaults on migrants, like the one experienced by the Castillos. Kidnappings and rapes are on the rise, robberies have gone up by more than 80 percent, and migrants are turning to shelters along the way to keep them safe.
***
On a hot, sunny morning last October, a joint detachment of nine local and state police officers crowded into two heavy pickup trucks. Those on the flatbeds stood with large machine guns, and the detachment drove southeast, out of Chahuites for a recorrido (a patrol), to where the bandits operate.
Antonio Fuentes sat in the cab of the lead truck. He serves as a volunteer at Centro de Ayuda Humanitaria de Migrantes (Center for Migrant Humanitarian Assistance), a migrant shelter in Chahuites. A slight, 24-year-old Honduran, he has eyes that darted nervously as he described the first destination, El Basurero (the Dump), where he had once been assaulted.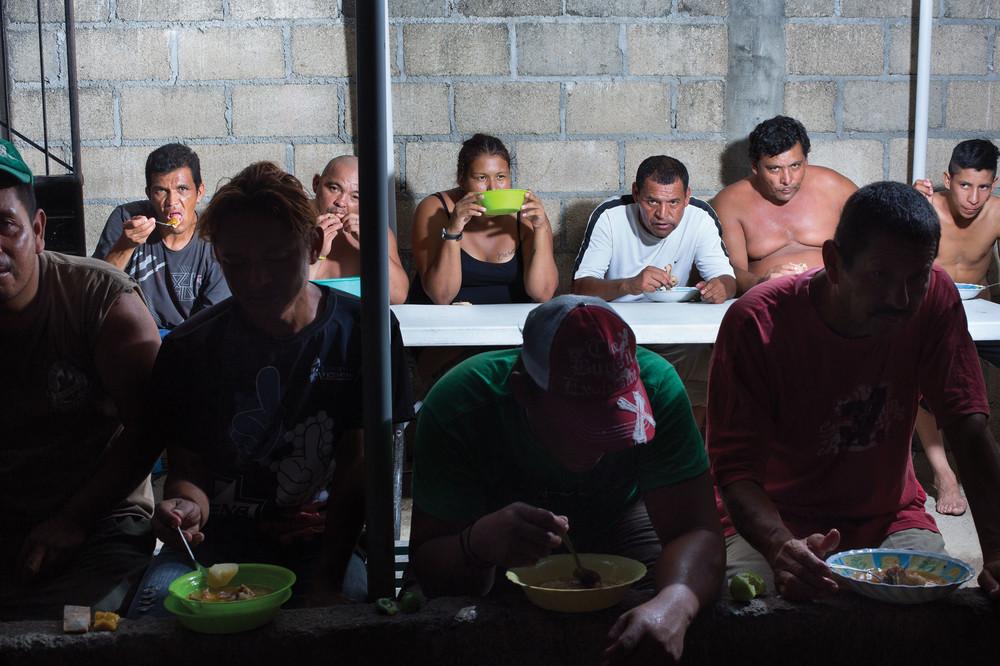 We drove to the train tracks that run through Chahuites. Although any bandit certainly would have seen our trucks approaching, and would have had ample time to hide, we stopped anyway, and the police made a perfunctory search of the area. A farm truck slowly approached. The officers stopped it, but their search revealed nothing. Isais Luis Betanzos, the leader of the state police on the patrol, apologized to me for the lack of action. "Whenever we arrive at one of these places, we don't find anything because the criminals are people who work nearby," he said. When the police come, the bandits escape by blending into the nearby farmland.
Betanzos stood on the train tracks and looked southeast for coming migrants—for people he could protect, even for just this small stretch of their journey. He shook his head when describing the Frontera Sur program. "Because of the additional immigration checkpoints, the migrants look for alternative routes," he said. "Before they could ride the train and bypass this all."
The last stop on the patrol is a place known as El Escopetazo (the Shotgun), for the weapon-of-choice used by the local bandits. Fuentes pointed to a shallow space beneath a bridge over which the railroad passes. He explained that bandits hide beneath the overpass, wait for migrants to pass above, and then run up the two small hills that hold up the bridge, boxing in the migrants.
Driving back to Chahuites, I asked the head officer of the municipal police, Jose Hilario Cruz Castillejos, why it's so difficult to catch those who prey on migrants. He twisted in his seat and scowled. "We have suspects, but we don't have enough evidence," he said. "And even if you catch a criminal, here comes another one to take his place. Plus, this shouldn't be our problem," he said after a pause. "The migrant assaults are the problem of the fiscal—the local federal prosecutor."
***
The federal prosecutor for Chahuites, Marcelino Daniel Matias Benitez, is in charge of investigating assaults against migrants. He admitted that since the program's implementation, crime has gone up. "We do the best we can with the resources the government gives us," Matias Benitez said. He proudly added that it had been a month since his office received a complaint of assault from a migrant. "That's proof that there haven't been any assaults, right?" he asked. "Our actions are bearing fruit."
Across from the prosecutor's office, near the center of Chahuites and on the other side of the train tracks that bisect the town, sits Center for Migrant Humanitarian Assistance, where Antonio Fuentes volunteers. The day after our patrol with the police detachment, he told me a group of migrants had been assaulted at one of the places we'd visited.
"There were three of them, all with guns," Alex Ramos, one of the assaulted migrants, said of the men who attacked him.* "I thought they were going to kill me."
"How is a migrant going to fight for his rights?" he asked. "He can't."

Mexican immigration officials make allowances for migrants assaulted by bandits to stay in the country on a humanitarian visa if they can prove to law enforcement what happened. Center for Migrant Humanitarian Assistance will shelter them if they do, but Ramos demurred. He said he's scared to stay in Chahuites while the prosecutor investigates his case, as the process can take months. The town is foreign to him, and he worries robbers might have ears in the prosecutor's office. "One doesn't know who's listening," he said. Earlier on his trip, an immigration agent in Chiapas demanded a bribe of 500 pesos (about $26), threatening to deport him if he didn't pay. "How is a migrant going to fight for his rights?" he asked. "He can't."
Sixty percent of the migrants who pass through the gates at Chahuites's shelter have been assaulted. Between 30 and 50 new migrants arrive daily, yet in the month prior to my visit, the prosecutor's office had only received a single complaint. It came from Ivan Castillo and his family—they have stayed at the shelter since they filed their report.
Center for Migrant Humanitarian Assistance was founded in 2014 with the help of a Catholic priest who runs a larger and more established shelter in Ixtepec, in the north. Like Fuentes, many of the volunteers who run the shelter are migrants themselves, who have attained, or are in the process of attaining, legal status in Mexico. The constant flow of migrants tests the shelter's capacity to serve a population that regularly tops 50 people. Fuentes told me that they'd run out of food the week before I visited, and he'd gone to bed hungry. The migrants sleep on dirty foam pads on a bare concrete floor in a communal room topped with a tin roof. Unless they're seeking refuge in Mexico, migrants can only stay at the shelter long enough to heal their blistered feet and eat a few meals before continuing north.
In spite of growing criticism from human rights advocates, the Frontera Sur program doesn't seem like it will disappear anytime soon. Thankfully, neither does the shelter in Chahuites—even if there isn't enough food. When I asked Fuentes how he feels when he goes to sleep hungry, I expected him to express sorrow or anger. Instead, he smiled broadly. "It makes me happy because the little I could have eaten, I give to someone else."
This article appeared in the March issue of VICE magazine. Click HERE to subscribe.