When Mac Miller put out his debut album, Blue Slide Park, the critical praise that had seemed deservedly forthcoming after years of churning out impressively accessible mixtapes, fell short. Seemingly undeterred, Miller pressed on, releasing the creatively astute Macadelic, which, despite alienating his insipid frat-boy audience, represented a rapper with a newfound direction, inseminated with both vision and dexterity.
It's a trajectory that he's continued toward with Watching Movies With The Sound Off, his sophomore release, which is due out June 18. The other night, despite being young and having access to the internet, I sat down and listened to the record in its entirety. WMWTSO is an album that rewards with further listens, modestly complimented by its big name features, rather than propped up by them.
Afterwards, I sat down with Mac Miller to talk about the record. A meeting that was interesting, not just because a rapper my age is much easier to level with than a balding krautrock aficionado who spends his evening cranking into copies of Guitar Weekly. But because Miller is genuinely a very affable guy, a personality trait which hasn't accelerated his career, but has surely felicitated it.
The Enigmatic Collaboration
When Jay Eletronica put out his Eternal Sunshine tape he was lauded as the saviour of hip-hop. Since then, though, he's become something of an enigma, tweeting and deleting tracklists for his ever forthcoming debut album, shying away from the media and practically marrying into the Rothschild family. A couple of weeks back, before the tracklist for Watching Movies With The Sound Off was released, hawk-eyed Twitter users will have spotted Mac and Jay having a conversation about a "holy grail". Jay has since deleted his tweets (obviously), but it turns out that the holy grail was a guest spot on Mac's album. Something which even the highest freemason's of hip-hop have been unable to attain.
"He's the homie, man. Jay Electronica is a good friend. We just chop it up a lot. With the whole record, I didn't want anyone on there who didn't fit the energy of the album. That's what happens when you make an album with your friends. The plan is to link up with him in London, I want to hear his album."
The Young Contemporary
The rap internet have been salivating over Earl Sweatshirt's Doris for an aeon, with new music from the Odd Future cohort capable of morphing a snap-backed hip-hop fan into a lust-ridden teen girl with an infatuation that renders them unable to sleep at night. So, when the news broke that Earl, no longer one of the youngest, but certainly one of the best in the game, would be appearing on Watching Movies With The Sound Off, people were chomping at the bit. It's not the only record that the two have recorded together, though. Earl frequently hangs out in Mac's LA mansion, using his home studio to record. In fact, the intro to Watching Movies With The Sound Off was produced by Earl, with Mac reworking the finished product.
"Earl is another one of my best friends. His album is incredible. I've got a song on there with him called "Guild". But I'm excited for everyone. We've got a couple of joints that are chilling there, I don't know what's happening with them. We've got this one record called "Nebraska" which is me him and Vince. That song was the birth of everything. We made that song and everyone was like "This shit is tight"."
The Production
Late 2012, Mac, under his Larry Fisherman moniker, put out an EP that involved him crooning over jazz instrumentals. He's a self taught musician, capable of lending hands to the core four: guitar, piano, drums and bass. On Watching Movies With The Sound Off Larry Fisherman handled the brunt of production duties. But, how does Mac feel about capably sliding his work inbetween the luscious soundscapes of Flying Lotus, Pharrell and Clams Casino, who have also produced records on the album?
"Being able to put emotion into sound is dope. I'm so used to using words and I've always wanted to… I play everything… and I've always wanted to apply that to what I do. Me and Syd (of The Internet) made a record that didn't make the album, but that's an incredible song. I think we might perform it when we start doing the tour. I've got a record on the next Internet album which is crazy. It's exciting to have a lot of people your age that are doing stuff. The first time Matt came over to the house we had a three hour long conversation before we started making any music."
The Vision
"It's a lot more personal. I've always wanted to have a record that was more of something to just sit and listen to. I always used to be scared to do that. I'd make a mixtape that had all these songs that were chill, but then it'd come down to the album process and I'd think that I needed to have bangers. It had to be something that people would play in the background of a party, because I thought that was what my fans wanted. But this time I went with my gut and followed through with my vision and did what I set out to do.
All these people are saying this is so different. But if you listen to the old shit, it makes sense. It's more along the lines of the shit that I really used to do, when I'd make a project without thinking about the fans, but what I wanted to do.
A lot of it comes from inside myself, you know. It was a lot of shutting out the rest of the world and finding the inspiration inside of myself. It was healthy and cleansing. Macadelic dealt a lot with my old girlfriend and a lot of it was driven by my relationship at that time. But with this record, I removed everything in my life. I had to sit there and do some soul searching."
The Aesthetics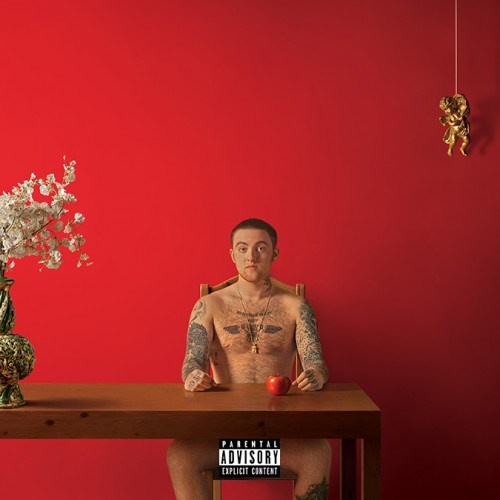 The cover art for Watching Movies With The Sound Off is a Media Studies educational dream, with iconography and symbolism drizzled everywhere. Personally, when looking at it, the image of Mac made me think of a rap game Beatles, with his naked body symbolising that this record would be a lot more personal.
"There's a bunch of different things in there, but that's one of them for sure. There's a lot of layers. The whole record has a lot of layers. On the first listen you might think that it's really personal. But if you listen a few more times you might find a few more ideas in there that you might not have found the first time. It's all about layers, but layers within ones self. I love the cover. It turned out perfectly. There's definitely a lot of symbolism in there. But for now, I'm going to let the fans go in there and talk about what it means."
Tyler, The Creator
Listening through to the record, I felt a similarity with Tyler, The Creator's Wolf. Not necessarily in terms of content, but in terms of hazy, summer time soundscapes with feature artists that blended seamlessly into the mix. When I asked Mac about this, the answer was pretty surprising:
"When me and Tyler first started kicking it a lot, it was funny, because a certain movie both inspired our albums. We were just talking and this movie came up, I don't want to say what it was, but it inspired the creation of the albums in some way. It's funny that it was the same movie." Which is a golden nugget of information for all the OFWGKTA/MostDope stans out there.
The Food
"I don't like to eat when I'm in the studio. If anything, I'll have some homemade cookies. But in the studio it's more of getting stuff out rather than putting stuff in."
Follow Ryan on Twitter: @RyanBassil
Read more on Mac Miller: