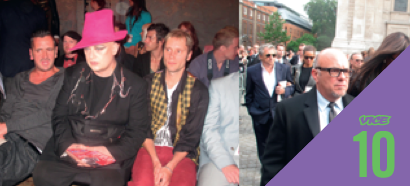 Danny Dyer and Thom Yorke hate us, but Katie Price loves us more than her own children.

Above photos: Jamie Lee Curtis Taete
Ever since VICE started, we've been known for our special relationship with the celebrity community. That's why we reached out to some of our favourite famous people to see what they wanted to say to us on our tenth birthday.

HELENA BONHAM CARTER


[AFTER 3 CALLS AND 7 EMAILS]
Publicist: I already told you I would forward the request. She's probably really
busy.
VICE: I know, but she hasn't got back to me yet.
Well, that's a shame but as I said she's very busy.
Can you ask her to call me ASAP please?!

SHARON OSBOURNE


Publicist: Who are you again?
VICE: I told you, VICE magazine.
I haven't heard of you. I'm not sure if Sharon has either.

KATIE PRICE AKA JORDAN


Publicist: She actually hasn't heard of the magazine. Do you still want a quote?
VICE: Sure.
She doesn't have time to write one, will you write one for her and we'll run it by her?
How about, "I love you more than I love my kids"?
Yep, Katie says that's fine.

GAZ FROM GEORDIE SHORE


I love reading VICE, the girls are mint, some of the articles are too funny. All that is needed is a shoot with the girls wearing my Million Apparel brand's Hmmme vest!

FATBOY SLIM


VICE: Can we have a quote?
Publicist: I'll be honest, probably not.

EAMONN HOLMES


Publicist: I've asked him and he doesn't know of the publication, but he does wish you a happy tenth birthday!

SETH GREEN


VICE has always been a good source of provocative and culturally relevant information for me. Happy birthday, you inanimate collection of thoughts and photos!

DICK AND DOM


Happy tenth, VICE! Ten years ago we were just starting the first series of Dick
and Dom in Da Bungalow – BOGIES!

HELENA BONHAM CARTER
[AFTER MORE EMAILS]
Publicist: I am afraid Helena is unavailable to give a quote on this occasion but thanks for thinking of her.

DANE BOWERS


Publicist: Would there be any fee involved for taking part? Even if it's just a nominal amount, we've done quite a few charity and non-fee engagements recently so it would help me if I could get even a small fee. Please let me know.
VICE: No.
OK, Dane says, "Congrats for your tenth anniversary, I think you guys are great!"

KATE MOSS


Publicist: She doesn't give quotes.

THOM YORKE


Publicist: No, he's really not too keen on your magazine.

LANA DEL REY


Publicist: Is this a prank call?

KELLY OSBOURNE


Publicist: As long as you don't take the piss out of her. I'll get back to you.

BEN OFOEDU (VANESSA FELTZ'S FELLA, PHATS & SMALL SINGER)


Happy tenth birthday, VICE magazine, seems like just yesterday you guys were in nappies! But I knew it then and can confirm it now: you're one of the most honest publications of our time and for that I salute you!! Happy birthday. X

TOM CRUISE


Publicist: This isn't possible.
VICE: Is it a "mission impossible"?
Very funny. But we cannot provide a quote.

DIZZEE RASCAL


Publicist: As you can imagine, after the Olympics opening ceremony, he is swamped so I'll have to get back to you, but it might be a while.

HELENA BONHAM CARTER


[AFTER ANOTHER EMAIL]
Publicist: Please stop emailing, she will not give you a quote on this occasion.

KEVIN SMITH


Publicist: We politely decline. Thanks.

DANNY DYER


Publicist: Categorically no.

HOLLY VALANCE


Publicist: I'm sorry but she is busy planning her wedding.

SHARON STONE


Publicist: I have never heard of your publication.

LINDSAY LOHAN


Publicist: Thanks, but we're going to pass on this.