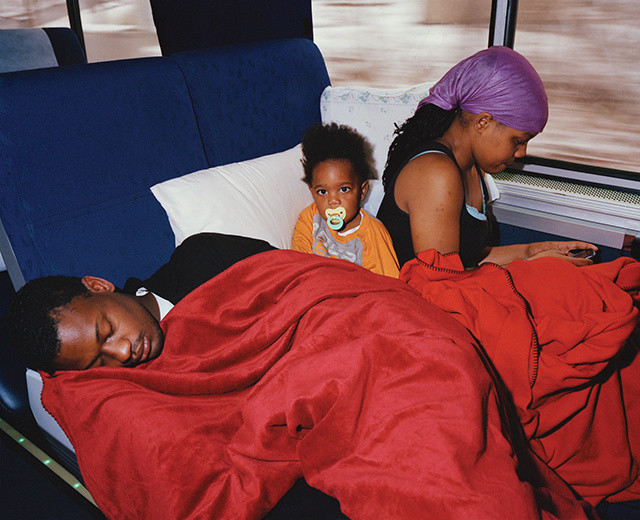 I crossed our country to photograph my fellow passengers.
When I met Flem Flam, our train was already 12 hours late. Headed west, we killed an engine in Nebraska, picked up a freight engine south of Denver that burned out east of Santa Fe, and then coasted into Albuquerque for a four-hour midnight replacement. By Bakersfield, they rerouted us onto buses. Flem Flam spent the last three hours in early-morning darkness exclaiming the poetry of his post-Vietnam shell shock while living on Chicago's South Side: "I was bound for business suits and conference rooms, but wound up barefoot in the snow looking for heroin." 
Using 15-day Amtrak USA Rail Passes, I crossed our country to photograph my fellow passengers, asking them where they came from and where they were heading: an 18-year-old facing felony mescaline charges, a woman returning to Madison for her ex-boyfriend's funeral, an exotic dancer moving to Atlanta to pursue a career as a beautician in the "black hair capital of the world." 
The Amish were onboard too, travelling in big groups to Tijuana in search of medical treatment at a fraction of the cost in the US. Learning my age and my lack of a wife, Mary Ellen noted, "Well, it's better to be single than to wish to be." I wondered whether they travelled by train because the engines are still measured in horsepower.
Once a means of conquering the world by sheer velocity, the train mostly connects us to the past. As a teenager, I worked on the Laurinburg and Southern Railroad, a North Carolina short-freight line that plowed its way through the farmland of my ancestors. Growing up, I had heard stories about a private rail car given to my grandfather. Considering it frivolous, he donated it to a camp for underprivileged kids near the Virginia border. Last February, I left Oakland with the hunch that I could find this car, photograph it, and better understand this man I never knew. Like America's sprawling rail system and the trains that traverse it, for me his legacy grew to symbolise all that was good and all that I should be. 
That first night, heading east on Amtrak's Zephyr, people en route to rehab had sex in the bathrooms, babies cried in their seats, and a young cowboy drew pregnant ladies in a piece he titled Early Signs of Depression. For the most part, I came to understand, long-distance train travel is for those of us who can't quite reach the American dream but are determined to chase it anyway. 
Click through to the following pages for more images.
For more pictures, check these out:
These Italian Dwarfs Love Getting Their Bones Broken