Last week a friend of mine asked if I wanted to go to the Grammys with him. Do I want to go the Grammys? With my friend? Uh. Yeah. It was a no brainer. I'd nearly lost nipples eating "cinnamon and lesbian flavored" ice cream in the polar vortex of early 2014. Ditching Brooklyn, 234 layers of flannel, wool, and fake fur to up my melanin and quaff champagne with Bey and Jay? Sure. I'm on kayak and pressing confirm before he had a chance to rescind his invite. I was going to a land where endless billboards flag up things about your body you should hate! I was also going to the land where cynicism goes to die. I was going to be happy.
On Thursday night I boarded the plane behind a boy and a girl who were seamlessly flipping between English and French. I then noticed the girl was wearing a sweet pair of Nike Blazers (my sneaker of choice). This was then followed by the realization that these two bilinguals were Madonna's kids, Rocco and Lourdes. To my surprise they sat one row away from me. In economy. Madonna's kids in economy. Cool! As it turns out this was not my first encounter with Lourdes that weekend… more on which later.
On Friday night I went to see Albert Hammond Jr. perform at the Wiltern. He was in the middle of touring with Jake Bugg. I got excited and danced around because I like Albert and despite being quintessentially New York, his early solo records are perfect for listening to while cruising around SoCal (do people in LA call it that?). Backstage I went gooey all over Cat Pierce of The Pierces (new album out later this year). We swapped numbers and she sent me a poo emoji. I think we're going to be lifelong friends. Also backstage was Adrian Grenier who manages opening band The Skins. So LA! Wait. Then I met John Mayer, who was shooting the tour for Rolling Stone (Hobby alert!). So LA! (Where was Katy?)
Albert Hammond Jr. shot by Frank Fu at the Wiltern.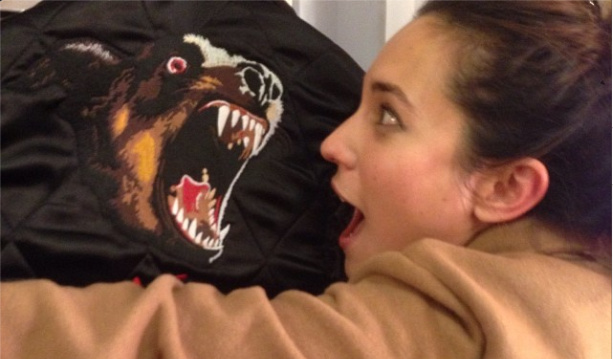 To top it off I was introduced Albert's Dad, Albert Hammond Snr. who is a bona fide music legend. He wrote "It Never Rains In Southern California" (true—Cali is in the middle of a drought). He also wrote most of "Creep" by Radiohead. But not intentionally. (For a less cryptic explanation please refer to this video I made with my robot sidekick CX481, and all will become clear.) Albert Hammond Snr. called me Kimberly and sported a diamond stud in his left ear.
After that I marveled at Albert's jacket, emblazoned with his logo, and made into a bomber by the same dude who made Ryan Gosling's silky number in Drive. Keep an eagle on Albert's online merch for your chance to nab one of your own. Noisey's Managing Editor, Eric Sundermann was very excited that I was seeing Albert. He tasked me with snapping a selfie with Albert and sent me this text.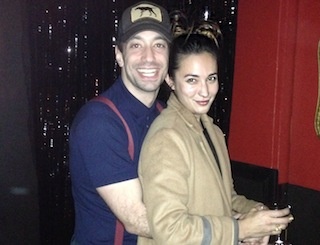 I told Albert and he was amused. We then posed like we were going to prom, except I was wearing a weird woold trench (so not LA!) that's best worn to flash innocent girls picnicing parks.
So here's something I didn't realize about LA: everything closes at 2AM. It's like living in the UK (which is where I moved from last year.) Total crap. After an after party at La Poubelle, I got in a car with some friends and a tuba and ended up in a white warehouse where Hot Sugar was spinning the slowest beats I've ever heard. It was like the speaker system was made of cotton wool and coated in molasses. I've never taken ketamine—because I'm not an idiot—but I imagine that when you're in a k-hole this is exactly what music sounds like. Like Bieber slowed down 800%. Can you show me how to dance to music like this? Because I was having a lot of difficulty. Neon Indian hopped up on the decks afterwards. It was my first Neon Indian sighting, but far from my last.
At about 4AM I abandoned one of my friends for bed (bad friend). He continued to dance, slowly, and made friends with a guy who entered his name in his phone as Santa. Yeah, you can guess what kind of treats he was doling out. He made some other friends too and noticed that even though everyone was fugged up they themselves by including a job description. "Hi I'm Sally, I'm head of publicity at Simon & Schuster!" "Great to meet you! I'm Johnny. My band just got signed to Capitol." "I'm Daria, I'm a hostess at Nobu, but I'm working on my writing." "I'm Buddy and I spend my days trimming overgrown rats at Barkingham Palace." I guarantee I'd have ended up spending the whole night with that dude. Standing in the street. Standing on the edge of the red carpet at the Grammys. Trying to "smize" like Tyra and ANTM taught me.
Let's fast-forward to the actual Grammys because this is getting kinda long. So The Grammys. I had a real princess moment thanks to Moda Operandi and Peter Pilotto—the London based design team made up of Peter and Christopher De Vos. If you haven't heard of Peter Pilotto, just wait. Come February 9th, their graphic mix of patterns, bold colors, expert paneling, and architectural shapes will be everywhere, thanks to a diffusion line with Target (check out the full lookbook here). Phenomenal. I want all of it. This dress made me feel like a superhero. I didn't want to take it off. In fact I'm still wearing it, five days later.
So my friend and I rocked up to the red carpet just as my favorite robots were emerging from their vintage limo (70s of course, c'mon. Daft Punk nothing if not meticulous in their attention to detail.) You can see me here, circled in red, behaving like a dork and trying to take a picture of Daft Punk on the red carpet. And here's what I managed to snap.
After being ushered down the side of the red carpet—#glamour—my friend and I found our seats. But we left pretty soon after kick off to find booze. Futile! When I lived in London I would sometimes report at music awards shows where the general vibe was: everyone gets tanked on free drinks, enjoys the performances, heckles the hosts and winners and then slips around on alcohol slick dancefloors at whatever record label or artist afterparty they've managed to wrangle a wristband for. In the early 00s people would lose their shit if Robbie Williams was in the house. It goes without saying that the Grammys boasts a higher caliber of stars, but as for the actual show, I really feel it's important that the audience is kept well lubricated. The Grammys were dry. You might have seen Bey swilling a glass of cognac in her seat, but she was the only one with a drop. The only thing audience members could get their hands on was bottled water and anything that McDonalds was serving. I was 100% not going to lap up a McD's soft serve in Peter Pilotto. My friend and I decided it would be better plan to watch the Grammys backstage. There would be booze there, we reasoned. FYI I'm wearing my bathrobe.
We were very wrong. No one had any booze back there either. I'm really not kidding. But while walking the backstage gauntlet I did run into Paul McCartney and Ringo Starr who gazed appreciatively at my dress (I'd like to think). I spotted Jared Leto and his ombre waves and tried tail him as closely as possible because to me he'll always be Jordan Catalano, a dreamboat who can't read. He got sidetracked by kissing Ariana Grande on the cheek. Ariana looked surprised and a bit worried, but that's actually what she looks like all the time, so it's not just the #JaredEffect. See evidence here, here, and here. In the end we watched the entire show backstage in the dressing room of CANNOT TALK ABOUT IT SWORN TO SECRECY CANNOT SPEAK OF IT EVER. SORRY I KNOW I'M A JOURNALIST (IN THE LOOSEST SENSE OF THE TERM) AND THIS IS KINDA DOUCHEY BUT THERE WE GO.
We all know what happened at the actual awards show and if you don't then I suggest you read "What Kind of Grammys Complainer Are You?" or Seinfeld 2000's liveblog of the event so you can relive every moment and you don't have to imagen a damn thing. But I would like to throw a special shout out to Daft Punk's performance which blew me, and everyone else, and every other performer away and out of the water, even if Stevie flubbed his lines in the beginning. Free pass for Stevie, cos he's Stevie.
Special nod to Warren Fu to sketched up that super fly set design. Wish everything in the world had such gorgeous curves. Please note the happiness beaming from the drummer's face. Now whenever I'm sad I'm just going to fast forward to the bit where his drum rolls and cymbal crashes close out the song, so his smile can light up my life. That's crab up in that poached egg situation, btw.
After the Grammys I had breakfast and a glass of Prosecco, which at this point tasted like liquid gold. Then we ran straight over to the Daft Punk party at the Park Plaza Hotel where the champagne didn't stop flowing. At last. Even if they hadn't won every single award they were nominated for, everyone wanted to be at Daft Punk's party. Sadly Stevie was exiting just as I was entering.
Thanks to DJ Premier for spinning from the highest DJ podium I've ever seen (see here at her very back), and dropping the perfect blend of cool tunes and wedding appropriate floor-fillers. Things I observed/took part in.
1. Paul McCartney doing a dad jig.
2. Lorde and her boyfriend, Rostum from Vampire Weekend and Ariel Rechtshaid (who was robbed of the producer of the year Grammy tbqh), and Beck and Sky Ferreira dancing together. Actually Sky and Beck weren't so much dancing as having a very intense conversation. She did not take off her pale fur coat or beanie all night. I don't know how this is even possible because I was sweating the second I stepped in there.
3. Aiziz Ansari looking for his friends.
4. Chris Pine, A.K.A. James Kirk from Star Trek, looking for his friends.
5. Maeybe from Arrested Development dancing with (or at least in the vicinity of) Solange who is the only woman who can sport hair that looks like it's been sculpted by Edward Scissorhands. Mind you she also appeared at one pre-Grammy party covered in cockroaches and still looked fine. She's basically winning whatever.
6. Kindness and his flannel fronted, silk back paneled shirt, accepting a compliment about his music from Mickey Madden from Maroon 5. (Kindness had no idea who he was.)
7. Robyn in stonewash denim being genuinely smiley and friendly.
8. Erik Hassle's bedroom eyes.
9. Me stumbling up to MNEK and telling him I loved him.
10. Lucy from ‪Tashaki Miyaki looking laid-back glamorous and 70s-chic.
11. Neon Indian being Neon Indian.
12. People who were at the party who I didn't see: Bey and J (goddamnit), Billie Joe Armstrong, Trent Reznor, Joaquin Phoenix, Zoe Kravitz. Skrillex. NVM.
One of the things I've learned after 13 years of interviewing bands and famous people is you should never expect them to remember you. Ever. Sometimes I feel like an iddy biddy speck of dust floating through life and for the duration of an interview—if you're lucky and you're good at your job—you're dazzled and illuminated, caught in their shaft of light until they turn their golden wattage elsewhere. Don't worry, my self-esteem is fine. I don't wilt away when I'm not in the presence of someone whose work I admire. I can think critically and I can write without fan-girling, but by the same token, any writer who says they're unfazed, unexcited, or undazzled by (at least some of) their interview subjects is a liar. You're not that cool, pure, or above it. Sorry. If you write about entertainment and the arts at least, this is a perk of the job.
Sidenote rant over. This is nothing but a long lead in to say that when I saw Foxes—who I've interviewed twice before—I ran up to her to congratulate her on the Grammy win (for her part on Zedd's "Clarity." "WHY ARE YOU MY CLARITY?"). Unfortunately by this point I was so hyped on fizzy goodness that I grabbed her arm and said: "Hi Louie! It's Kim! You know! We did that thing together."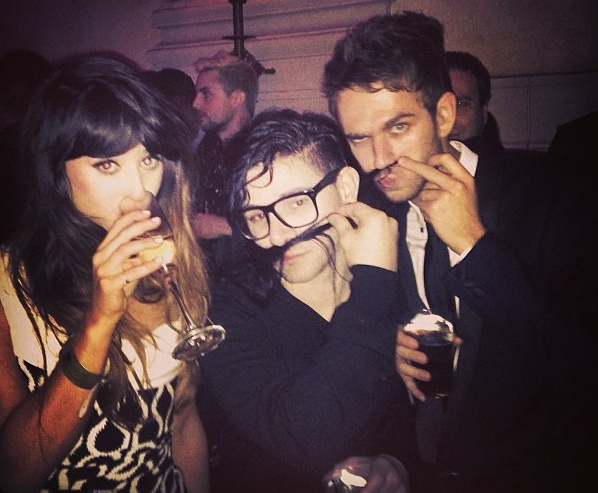 Foxes + Zedd + Skrillex at the DP party.
The look on her face said, "Stop holding my arm! You are clinically insane and I've never seen you before in my life!" Her expression was comically confused and terrified. The penny eventually dropped and we embraced. Foxes—I'm not mad at ya. Her alcohol level was on a par with mine, but we were both not nearly as buzzed as Madonna's daughter Lourdes, who I then met in the line for the ladies powder room. Even as a girl I will never understand what it is women do in a toilet cubicle that takes 12 hours longer than boys, but thanks to this inevitable wait, lifelong friendships can sometimes form. Lourdes came barreling up to me, wearing reflective peace sunglasses, a crop top, jeans, a choker and those Nike Blazers—super 90s vibe with a bit of Punky Brewster thrown in (NB: Lourdes was born in 1996). She wanted to know about my dress. We discussed fashion and how she knew nothing about it, we talked about her mom having gone home, we talked about cigarettes. All Lourdes wanted to do was dance and she was desperate for the bathroom. I told her she could go in front of me at which point she uttered the immortal line: "We should fucking follow each other on Instagram!" Was this happening? Was I going to be besties with Madonna's BB? Madonna. The first artist I ever saw in concert. (Evidence here). So she followed me, I requested to follow her. I said, "My name is Kim, what's yours?" She said: "I'm Madonna's kid." She then went to pee and back to dance.
The next morning I checked my phone and she'd unfollowed me and denied my request. Crushed by a 17-year-old. I was actually okay with this. She'd come to her senses.
I thought it was the perfect end to my time in LA. Somehow I'd snuck inside, but I was still outside really, palms pressed against the glass. Then, sitting in the car on my last night, as we drove to the airport, I watched Neon Indian cross the street.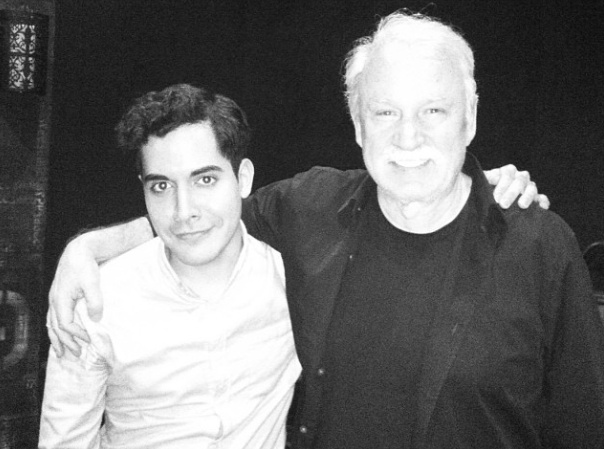 Neon Indian touching Giorgio Moroder.
Follow Kim on Twitter - @theKTB.