I couldn't get to sleep last night. You know those nights where you've got a bunch of stuff to do the next day, but your brain doesn't give a shit. He's too busy obsessing over a completely innocuous comment some person said to you the other day in Tesco. You're so tired that you'd kill puppies to fall asleep. But, instead of drifting off calmly into an iridescent landscape where you and Taylor Swift feed each other mutated treacle sponge, you're stuck in a tussle-and-turn continuum. You know what I'm talking about, right? Right!
Instead of shamelessly battling through semi-conscious sleep, I gave two fingers, picked up my phone and decided to browse the app store (I know, what the fuck, right?) I don't own a laptop and I'd already spent an offensive amount of time playing Temple Run 2 on the toilet. I needed new entertainment.
Somehow, I stumbled across the Insane Clown Posse iPhone app. It had recently been updated with a new Grindr-like chat and find function, perfect for local bird-dogging Juggalette action.
I'm not too keen on random fuck meets. It probably has something to do with modded Vauxhall Corsa's and STIs. But, I decided that the app might be worth a laugh or two and if I was lucky, well, then, duh, I'd get lucky.
I loaded up the app and I was greeted by these two motherfuckers and a voice over from some "homeboy" called Jay Webb who was coming at me "from Pyscopathic Records with everything you need to know to keep your week wicked." I haven't heard someone use the word "wicked" since about Year 5 and I was pretty pleased. Thanks Jay. Do you reckon you can bring back "nang" and "bad" too?
Anyway, he informed me and the other ninjas that we better get ready, because the long awaited re-release of the long out of print Tunnel Of Love XXX edition was about to be released. Apparently "this mad rare version of ICPs legendary Tunnel Of Love EP features a cover that must be seen to be believed." So, obviously, I had to look it up.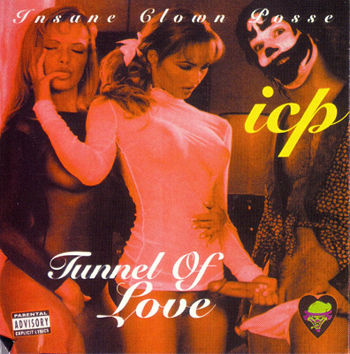 See, juggalos can totally bag hot babes too!
I browsed through the app a bit and came across a pictures section. Wow, J really has had a violent streak all his life, right? Kind of feel like taking this photo to my hairdressers next time I get a trim.
I don't know who this guy is but he reminds me of the Ecko tracksuit wearing kids at school who'd mutter about being a baddaman in their spare time.
At 3am, this picture wasn't very comforting to look at :(
The mirror in the corner of my room was my enemy. I ditched the picture section and decided to use the feature that I came here for in the first place - chat.
The Insane Clown Posse know where I am right now. I set myself up with a username and delved into the world of juggalo chat. I'd come into this venture feeling jubilant, all the signs had pointed in the right direction. My homeboy Jay Webb had pushed me toward a picture of a woman tossing a man off. I felt like this juggalo chat thing was going to go somewhere. Perhaps, we could sit at home and paint each others faces, reminiscing about how our genre of music had simultaneously fucked with the worst parts of goth, punk, rap and metal. Afterwards, we'd jiggle the juggle to "Bugz On My Nutz" and take some acid.
Unfortunately, it turns out hardly anyone in the UK is a juggalo (who knew?) or, at least, if they are, they aren't using the iPhone app. The nearest juggalo was 62 miles away - if you're reading this A-Dub, shout out! - but he/ she didn't reply to any of my messages. Feeling a little wounded, I sent out a couple messages into the streaming chat, asking if anybody knew where I could get some Faygo Soda (the next day, a wonderful lady known as Bamajuggalette informed me that she's got Faygo coming out the ass in 'Bama) but no one replied. Apparently hardly anyone uses this app.
So I closed it down, locked my phone then plumped my pillows and pulled my duvet up tight. I wished that someone was lying next to me. I'd squeeze them tight and tell them that I loved them. I wish that person was a juggalette. I wouldn't even mind if their make-up smudged my pillows. Will I ever find love?
Follow Ryan on Twitter @RyanBassil