A 74-year-old Japanese Porn Star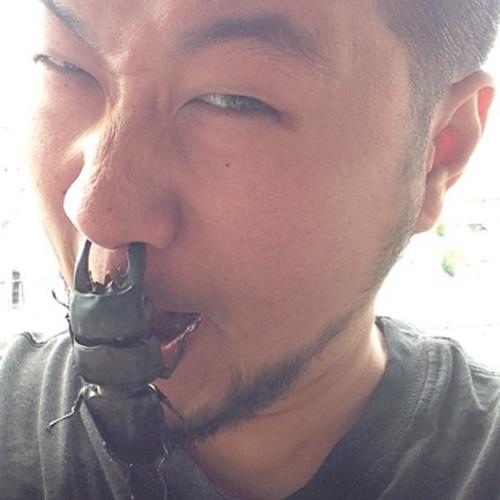 INTERVIEW AND PORTRAIT BY TOMO KOSUGA
TRANSLATED BY LENA OISHI
How long into his life can a man keep fucking? Here in Japan, there is one brave grandpa who is using his own body to answer that question. His name is Shigeo Tokuda and he is a 74-year-old porn performer. He often stars in movies staged in old-age homes—like, as in "gramps fucks his hot little nurse"—which frankly we have no clue who would want to watch, save for the morbid chuckles factor.
Regardless, we headed over to meet this geriatric pussy master and ask him questions about his ancient cock.


Vice: Please tell us how long you've been working as a porn star and how many films you've been in.

Shigeo Tokuda: I've been doing this for 14 and a half years, and I've been in around 250 films so far. That said, there's only been a handful, maybe 10 percent, where I've starred one-on-one with an actress. Usually I'm in a supporting role. But all of them are adult films. I've never acted in any other genre.

What sort of roles do you play?

I'm over 70 years old, so I don't necessarily have sex in all of my films. I often don't do anything sexual myself at all, like for example if I'm playing an authority figure like a father forcing his child to have sex with some other guy. Lately I'm also starring as the main actor in a porn series set in a senior-care home. The girl that I'm costarring with might play my son's wife, a daughter of a relative that I happen to be looking after, or a helper at one of the care homes. I shoot about one episode of this series per month. The other day I played a ceramic artist. He was very strange, totally obsessed with women. He's a professional craftsman, but all he thinks about is girls.

And how often do you shoot?

Some months I go without a single shoot, and other times I have as many as nine. It's pretty erratic, as the production companies usually come to me when they have a project, rather than vice versa.

What started you off in the industry?

About 20 years ago, I wanted to buy a porn film that specialized in kissing. It was full of kissing scenes. What drew me to it even more, though, was the fact that it was structured like a real TV series, with a story and everything. Back then, I couldn't face buying something like that in a huge video store, so I actually went directly to the production company that distributes the software and bought it there. As I began to frequent the place, I eventually became friends with a director there. One day he asked me to star in a film because the demand for "old-people porn" was increasing. I had never dreamed of actually being in one myself, though, so I initially refused. But as I got to know the director more, I gradually began to understand his ideas and intentions. After two or three years, I said yes. That's how my career started.

Are there many elderly actors in this industry?

When I began working as an actor, there was one other man who was around 12 years older than myself. We often starred alongside each other. I've never met any other performer apart from him who is in his senior years. In that sense, I believe that I am a rare breed in the industry, and I guess there is value in that.

Does your family know about your job?

I have told my family that I work as an extra in videos and on TV, and I occasionally get called in for adult movies. Neither my wife nor my daughter pursues the subject any further. So I guess my family thinks that the fact that I am healthy and am continuing to work is a good thing in itself.

Didn't you get into trouble with your family when you first brought up the subject?

No, not really. It's great that I can continue to work at my age, and I think that both my wife and I agree that our relationship will last longer if we keep a certain distance, seeing as we have different interests and hobbies and so on.

Have any of your family members seen your films?

No. They're all porn, so I highly doubt that they'll ever come across any. And there's no way I'm going to show them myself, that would just be digging my own grave.

Are the actresses that star alongside you usually younger or older?

I'm guessing that from the production companies' perspective, it looks better and is more commercially salable if they couple an elderly person with someone very young. So most of them are young actresses. But frankly, I don't have much in common with the girls in their teens and 20s, and I am more relaxed and can find more to talk about with people in their 30s and 40s. I prefer the sexual charm of mature, middle-aged women, so I'm especially enthusiastic when I shoot with those kinds of actresses. Such occasions are rare in reality, though, which I find quite sad.

Is there anything in particular that you do in order to get your penis ready to go on cue during shoots?

Personally, a big factor is whether or not the age, appearance, and physical attributes of the actress suit my taste. In other words, it basically comes down to what kind of girls turn me on, so my performance is often affected by my costar. Depending on who they are, I'll instinctually think, "Yes, this one's going to be good" or "I might have a little trouble today."

Do you penetrate for real on set?

In general, all penetration shots are real and unsheathed. Just before they cut to the next shot, we wear condoms. Of course, the genitals are blurred out in the entire sequence so theoretically you shouldn't be able to tell if we're already wearing one or not, but actually the rubberiness and texture of the condom shows through the blur, which is why we penetrate unprotected first. I guess in this sense they're trying to make it look as realistic as possible.

No rubber? Won't you catch STDs that way?

I'm not sure if I can say this for every single person, but most actors and actresses are regularly tested. On some shoots you even have to show proof that you're clean. It may only be a formality, but I get the impression that most sets are sensitive to these issues. Personally, I've never caught any diseases through sex.