The music industry's most influential players are often its least visible: the record executives we never see, the lawyers whose names we don't know, the recording engineers whose names we've heard but who we wouldn't recognize on the street. These are the people that see how music is made and know how the artists act offstage. We may not know their names, but they are the industry's gatekeepers, its preservationists and visionaries.
Take Dick Boak, director of the museum and archives at C.F. Martin and Company who entered the business 40 years ago while dumpster diving. During the counterculture movement of the late 1960s and 1970s, Boak was a poet, artist, and woodworker who specialized in building instruments. When he requested permission to pick through the guitar factory's leftover wood scraps while traveling through Nazareth, Pennsylvania in 1976, he was impressed by their selection. "I hit the jackpot with rosewood and mahogany and ebony and spruce: woods I had never seen before, let alone at the dimensions and sizes I needed to experiment with guitar making," Boak recalls. After he sorted through the piles, Boak was asked for samples of his work and shortly thereafter was offered a job. In the decades since, Boak has built hundreds of specialized guitars and helped develop Martin's artist relations and archive departments, becoming the company's in-house expert. "I'm a little overly close to Martin," Boak says now. "I would've done the job for free."
In his early years at Martin, Boak introduced the idea of signature guitars to the company. In 1994, the company produced their first, the Gene Autry model and, since then, the specialized, artist-driven guitar has become an industry staple.. These days, Boak busies himself with cultivating Martin's historical documents, a task most recently documented by The Martin Archives, a book co-authored by Boak and Jim Washburn that was released this month by Hal Leonard. "It's Dick's life's work, in a way," Washburn says of the book. "He has a huge appreciation for what the company was and has the vision to project that into the future."
Though it took Washburn less than two years to write The Martin Archives' content, Boak's work on the project began in the early 2000s when he, Washburn and author Richard Johnston collaborated on an earlier project documenting Martin's history titled Martin Guitars: An Illustrated Celebration of America's Premiere Guitarmaker. When they stumbled upon dozens of boxes of company documents in an old factory attic, Boak became determined to preserve the materials and search for others that might exist around the country. He collaborated with museums, music historians, libraries, and eBay traders to track down old photos, newspaper clippings, sales receipts and flyers. When he approached Washburn about The Martin Archives, he handed over a hard drive containing about 4,000 documents.
In the following months, Washburn sifted through the documents Boak provided and research of his own to define the book's narrative. What they discovered was not only proof of a company's success but of a country's march through time. Simple things like factory blueprints and the introduction of paperclips and carbon paper to the company's filing system told a different side of Martin's story. "We saw all these inventions come along. Martin moved with the times to take advantage of those things," Washburn says. "[The book] marks American history as it changed, as seen through the eyes of this one company."
Martin is the oldest guitar company in America. Established in 1833 by Christian Friedrich Martin, it has been handed down through several generations of Martins and is currently steered by C.F. Martin IV. It's witnessed the advent of technologies like the typewriter and the camera — not to mention the creation of its own instruments. "We'd have to do 500 books to cover the whole subject," Boak says. "It really could be a Ken Burns documentary." With 183 years to document and artifacts from each year of the company's existence, the co-authors chose to present the history of American music, business, and culture through the eyes of Martin.
To properly tell Martin's story, Boak and Washburn decided that they needed to provide more than text and pictures. In addition to reproduced images of posters, buttons, guitars, and photographs, The Martin Archives includes pockets with physical reproductions of important documents, including a chord wheel designed by Boak, letters from Maybelle Carter and Gene Autry and floor plans that show the workflow of the factory's original Pennsylvania location. Each item seeks to humanize the history through photos and anecdotes. "C.F. Martin III ran the company for decades," Washburn says in reference to the factory blueprints. "He attributed one of the reasons he lived so long to the fact that he was going up and down four flights of stairs all day."
Without stories like these providing context, a blueprint is just a blueprint; a paperclip is just a paperclip. Boak has made it his mission to preserve Martin's history and share its human side. In honor of the 100th anniversary of the Dreadnought guitar earlier this fall, Boak worked with the Museum of Making Music in Carlsbad, California to build an exhibit celebrating Martin's most famous creation. Carolyn Grant, the museum's executive director, worked with Boak on the exhibit's structure and storyline. "His work goes far beyond the description of a job," Grant says of Boak. "This is a genuine passion for him."
Boak's passion first came to fruition when he was a preteen working in his father's woodshop in the family basement. At age 12, Boak found inspiration in the Beatles' Revolver and crafted his first instrument, "the most abominable version of a sitar that you ever saw," he remembers. "I had a set of sitar strings and made the instrument out of a two-by-four with a matte board and some plywood and part of an old oak door. It looked like a caveman made it." Boak continued practicing woodworking and explored other areas of art, eventually self-publishing some of his poetry as a teenager and designing and building domes large enough to live in while in college. He was a teacher, an illustrator, an architect and a writer long before he heard of Martin.
What started as a hobby translated into useful experience once Boak joined the company. He worked closely with artists to build instruments that gave them greater musical possibilities and eventually helped launch the company's signature guitar series. This granted Boak the opportunity to design instruments with one famous artist or another singularly in mind. After finishing a signature guitar model for Marty Stuart, Stuart passed along a phone number for a secret new client. When Boak dialed the number and introduced himself, he was surprised to hear Johnny Cash answer the phone. "He said, 'I've been waiting my whole life for this phone call,'" Boak remembers. "That's just one little project. There's a story like that about every one."
During the years he built guitars for Martin, Boak's goal wasn't just to create instruments according to artists' specifications: he also wanted to add personal touches to make them special, like the dinosaur inlay on the inside of Mark Knopfler's signature guitar (a tribute to the skeleton paleontologists found in Madagascar and named Masiakasaurus knopfleri after Knopfler). His attention to detail and investment in each project fostered friendships with several of the artists he worked with, some of whom he later collaborated with for Martin's book projects. (Steve Miller of the Steve Miller Band contributed to 2003's Martin Guitar Masterpieces and Graham Nash wrote the The Martin Archives' foreword.) "He talks to [musicians] like fellow human beings," Washburn says of Boak. "They tend to appreciate that."
For years, Boak has observed music from a position few other people have access to. He's watched genres emerge and recede, knows the patterns of music culture well enough to predict that the acoustic guitar will never go out of fashion and is accepting of new styles as they come along. "I love the Beatles and the Rolling Stones and the Doors and Cream, but my job required that I break out of my favorite genres and pay tribute to other artists," Boak says. "I did a project with George Jones, and I was not exactly a big country music lover. But now I am. There's tremendous viability in every single genre of music."
When Boak stepped into the role of the Martin archivist, his perspective widened further. He began searching for old company files, letters and sales receipts, some of which dated back to Martin's beginnings in the 1830s. "It was our dig through all that stuff that made [the company] realize that they had this marvelous bit of history," Washburn says. "When you're living through it, you don't necessarily think anything's historic. It's a fluke that they saved all that stuff." As Boak continued reaching out to museums and historians to collect artifacts, Martin began taking steps of its own to preserve its history. In 2005, the Martin Guitar Museum and Visitors Center opened to the public in Nazareth, Pennsylvania as a museum filled with displays of notable instruments and countless historical articles that Boak curated.
"One of [Boak's] greatest contributions is his work with the Martin Guitar Museum," Grant says. "It's really a part of U.S. history. I admire him for leading the charge for preserving that history for all of us."
Boak's role with the museum and archives continues keeping him busy with research, exhibit designs, and music conferences — even as he keeps close business ties with clients like Eric Clapton and John Mayer. "While other people's jobs were strictly defined, Dick created his own positions," Washburn says. "He's very alive, very devoted and dedicated to everything he does."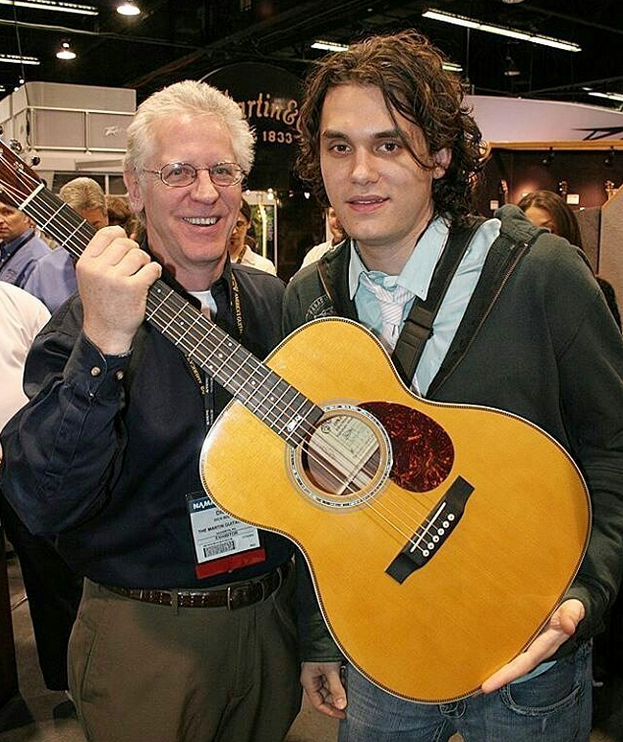 During his time at Martin, Boak has become as much a part of the company as its leaders — though he would never claim such a thing. He's humble and grateful toward the company and those he's worked with. "Chris Martin [IV]'s career has mirrored mine, time-wise. He's done a great job in advancing the company into so many different areas. He's given me latitude throughout my career to define what I thought was important. I really appreciate that."
Boak's humility extends to his ongoing work as an artist. "I consider myself to be an artist when I'm doing artwork, and I'm a woodworker when I'm doing woodwork," Boak says. "I've gone through spells where I've done woodworking and I've gone through spells where I didn't build instruments. I think it's okay to take a breather and store up new inspiration." For someone with as many artistic pursuits as Boak, Martin was - and continues to be - a great place to be creative. "Martin afforded me a place to combine all my interests. I was interested in instruments, I was interested in art, I was certainly interested in music," Boak says. "I'm not part of the Martin family, but I've been very close to three-and-a-half generations of them. I feel very connected to the whole thing. I'm proud to be part of the story."
From his continued work at Martin to spinoff projects like The Martin Archives, Boak remains as dedicated to Martin's past and inspired by its present as the day he combed through its dumpsters. "He's a visionary," Washburn says. "He really is the soul of Martin guitars."
Lead image via Martin Guitars on Twitter. All other images from The Martin Archives c/o Martin Guitars.
Meghan Roos is a music writer and founder BluRiff Media based in Southern California. Follow her on Twitter.