On Monday, for a glorious hour and a half, a few lucky souls were allowed a brief taste of pure, unadulterated excitement in the form of a local news livestream involving a cat, a pole, and a very slow news day.
It began like this: On Friday a cat named Gypsy climbed an electricity pole in suburban Phoenix, Arizona, WTVA reports. It's unclear why or how the cat scaled said pole, be it fear or confusion or just an overwhelming sense of adventure, but what became abundantly clear is that once it was up, it could not come down.
The cat stayed atop this pole for at least three days until worried neighbors decided that something had to be done. On Monday morning, the local ABC News affiliate got wind of the situation and, seemingly absent of anything more worthwhile to do, sent over a camera crew and set up a livestream.
"Again we are on the scene, but we are again trying to help get this cat down from the pole as much as we possibly can," the faceless ABC anchor calmly told viewers. "We will continue to bring you live pictures here."
And that's when people went fucking nuts. Who knows why, exactly, but thousands of people tuned into Gypsy's saga. They glued their eyes to the livestream, ostensibly abandoning meetings and pulling over cars and leaving children half-soaped in the bath to watch the fate of the cat unfold in real time.
There were moments of great terror:
And suspense:
And a man with a bucket tried and failed to coax the cat to jump:
All the while, captivated viewers across the country called 911 to try to get someone out there to help the stranded pet. Unfortunately, the Phoenix Fire Department wasn't particularly pleased with the sudden deluge of phone calls about a stranded cat, especially since its job is primarily to put out fires, so it called the news station to announce that it was "aware of the situation" and to please stop calling.
This immediately prompted cries for a fire department boycott from Facebook commenters.

The mayor was reportedly notified.

And Good Samaritans offered up their own solutions.

And then, all of a sudden, the ABC feed went black. When it came back on, the cat was gone.
Some of the 10,000 viewers erupted in vitriolic rage rarely heard since the last episode of The Sopranos. Then the conspiracy theories started up.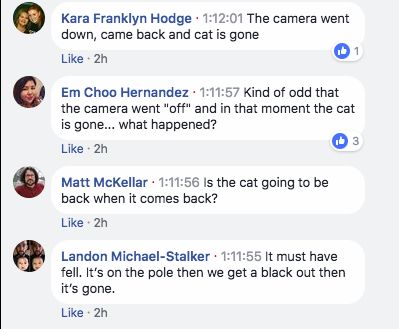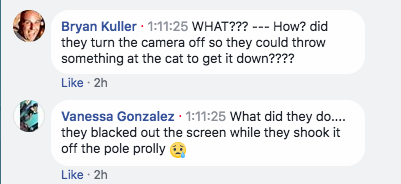 Luckily, FOX 10, another local news station, had a different vantage point, one that never mysteriously went dark at the precise moment of its thrilling conclusion. There, the fate of the cat was revealed.
No, no one shook it off. Some dude just took matters into his own hands and did what the fire department refused to do—he climbed up a very tall ladder and brought the damn cat back down. The man's grip was so secure, so precise, that the FOX hosts even speculated if he had "played football at one point."
In the end, the cat was saved by a mysterious vigilante and the world could go back to doing whatever it was doing on Monday afternoon before people got completely sidetracked by a livestream of a cat. But for those lucky few who managed to watch it, their lives will never quite be the same.
Maybe the modern world isn't all dark and depressing. Maybe there's still room for some happy endings, once in a while. Maybe sometimes, when the time is right, people will band together in harmony to do what's right, like yanking a cat down from a tall-ass pole.
Thank you, heroic Phoenix resident. We may not know your name, but your deed has restored our faith in humanity, if only a little. Gypsy the cat will forever be in your debt.
Sign up for our newsletter to get the best of VICE delivered to your inbox daily.
Follow VICE on Twitter.