Provincial politician Jagmeet Singh has swept to an impressive victory on the first ballot to become leader of the federal New Democratic Party and Canada's first non-white political leader of a major party on the national level.
While many pollsters had expected a prolonged fight, Singh scooped up more than 53 percent of the vote. The vote totals were nearly inaudible as Singh's supporters erupted in cheers.
"It's an incredibly profound honour," Singh told party members at the announcement in Toronto.
Singh proposed several ambitious campaign pledges during the campaign, including a promise to decriminalize all drugs, fight racial profiling by police, and eliminate tuition fees.
Singh used his first speech as leader to take shots as Prime Minister Justin Trudeau, recounting his own experience with financial hardship — telling the crowd that, for most Canadians, working is a necessity and not "a hobby."
Outgoing leader Thomas Mulcair was not present at the event, as he was travelling. It is expected that Mulcair, who was ousted by party members in at the party's last convention, is expected to step down from political life in the near future.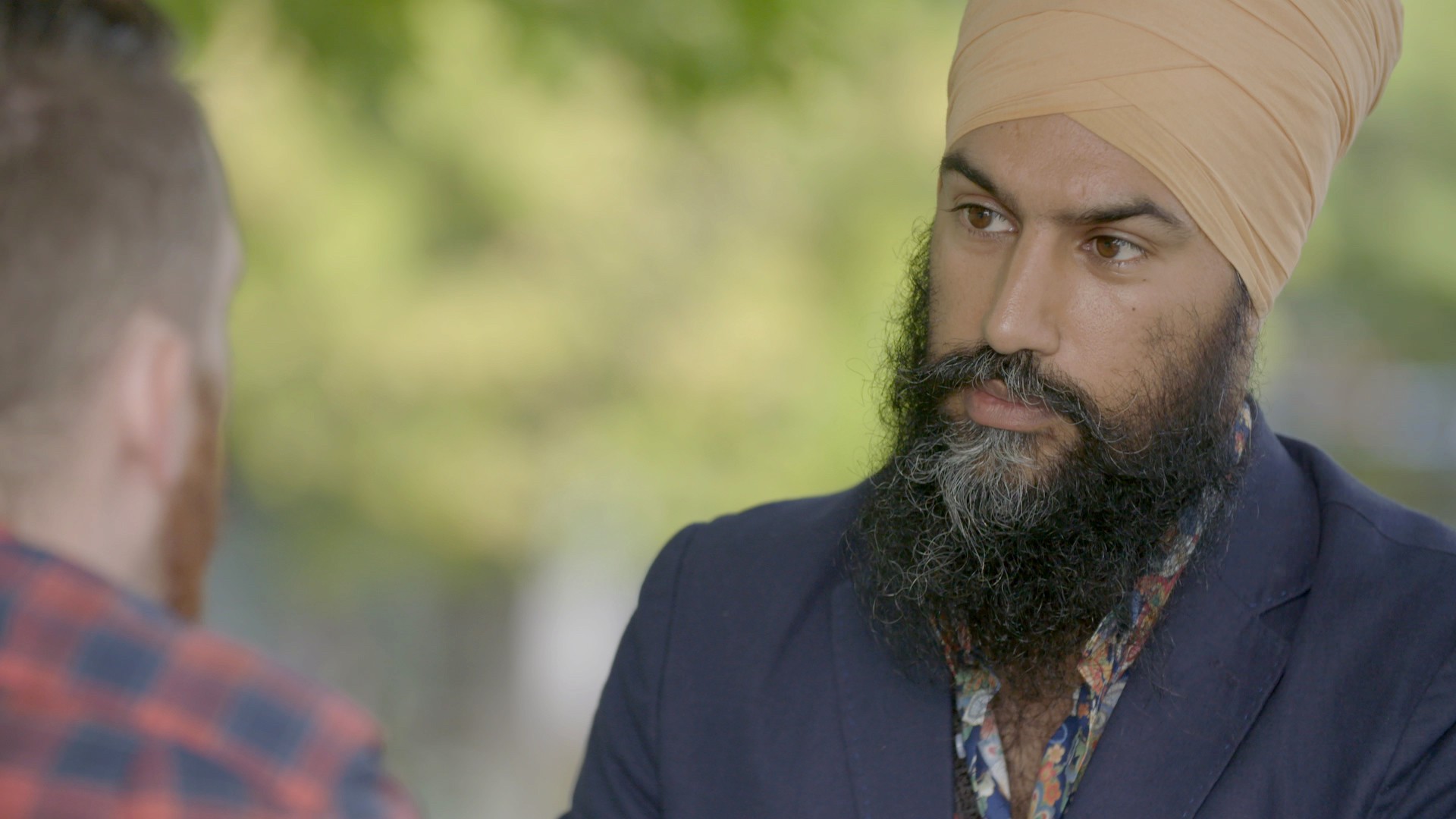 But the next two years are far from clear for Singh. He currently sits in the Ontario legislature and does not have a seat in the federal House of Commons. During the campaign, he remained cagey as to where he may run.
Currently, all four seats in Brampton — the suburban community which he represents provincially — are held by Liberals. There is a by-election set to be called for Scarborough, also in the Greater Toronto Area, as incumbent MP Arnold Chan died in September.
Singh, however, has made no indication that he plans on running before the next federal election, currently set for 2019.
He also faces challenges in Quebec, where his positions — and his religion — may come into play. He has spoken out against legislation that would ban federal workers from wearing certain religious symbols, especially the niqab. Pierre Nantel, a sitting NDP MP, raised the possibility he could switch parties should Singh become leader.
Martine Ouellet, leader of the sovereigntist Bloc Quebecois, also targeted Singh over his position and his religion.
"He says: 'I have progressive values,' but ultimately, what he displays, those are his religious values," Ouellet told reporters last month.
Read more: Jagmeet Singh wants to decriminalize drugs, stop racial profiling, and fight Justin Trudeau
A poll from June conducted by the Angus Reid Institute found that while nearly two-thirds of Canada say they would consider voting for a Sikh leader, just 46 percent in Quebec say the same. That online poll has a margin-of-error of roughly 2.5 percent, 19 times out of 20.
But Singh's bigger problem in Quebec is likely his French — he bilingual, but not entirely fluent.