Credit: NME
After 65 years, NME – Britain's longest-running music publication – has announced it will no longer appear in print.
To most, this is sad news; to some, reason to rejoice. For whatever reason, the magazine seemed to take more flak than just about any other publication, particularly in its final years, when it filled its pages with weird features about hair gel and confusing lists of new music that were so heavily sponsored by Microsoft's Cortana they made no sense. But there's a lot more to the NME's recent history than branded content, and it's often the case that the people who hated the title the most were those who never actually read it.
Starting life in the 1950s as the Accordion and Musical Express, with all the hot news on jazz and organ playing, it has since been through a hundred eras and rebrands, at different points a prog, punk, new wave and soul magazine. Over the past two decades it's been criticised for its seemingly endless stream of Oasis and Libertines covers, and for creating an era of "indie landfill", where any bunch of sad-acts with a guitar could get on the cover as long as they were male, pale and looked like Rik Mayall.
But throughout its history the magazine has employed writers that don't subscribe to its indie authoritarianism; who tried to sneak all kinds of weird and wonderful stuff into the magazine. Here, former NME staffers reflect on the history of the magazine beyond the Gallagher covers
Peter Robinson, writer and columnist
Don't believe the old men – men even older than me – who, over the coming days, will try to tell you NME stopped being worth reading, or writing for, in the 1970s, or the 1980s, or the 1990s, or whenever it was they just so happened to be working there. Don't believe them for two reasons: firstly, having worked there myself I've had full access to the back issues cupboard and, fuck me, in each of those "golden" eras NME published some right old rubbish. Secondly, I had the time of my life working there, and so did a lot of people now responsible for what you read in some of your favourite websites and newspapers.
Three random memories: people gathering around my computer to hear the just-leaked new single by Beyoncé (I declared that the song, "Crazy In Love", was "going on a bit"); getting the Cheeky Girls to dress as the White Stripes for an NME yearbook I was curiously not invited to edit the following year; and arguing in a Sid Vicious cover story that because he too had learned bass in order to get into a band he was basically the 70s equivalent of Matt from Busted. I also got to spend four days in New York for a half-page *NSYNC live review, found myself in Glasgow for Kylie's world-first performance of "Can't Get You Out of My Head" and had a shameful phone argument with Carlos Santana.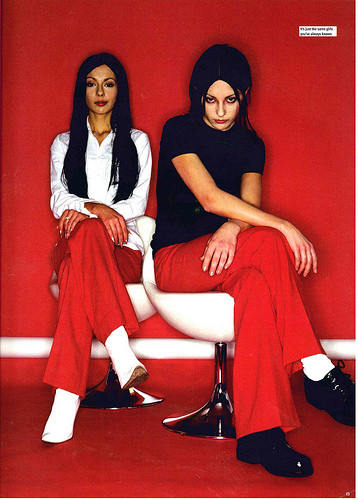 Plenty of people will regard all of the above as a smoking gun in their case for NME's decline, but of course while I was doing all that there were countless other writers getting just as excited about music in their own favourite fields. Sometimes that meant Jet ended up on the cover, but 51 covers a year can't have been easy to fill. And 51 covers a year – even if half were either The Libertines or a Gallagher – were surely preferable to none.
Alex Needham, former deputy editor
I joined NME at the beginning of 2001. At that point, indie rock truly seemed pretty much dead – both Select and Melody Maker had folded – though signs of life were detected in the first Strokes EP, released around the same time.
It was clear, however, that we couldn't base a magazine around one band who spent most of their time in New York. What we should do, I was convinced, was throw ourselves into covering the most exciting music of the time. To me, that meant R&B, which was going through an incredible renaissance, with geniuses like Timbaland, Pharrell Williams, Rodney Jerkins and She'kspere redefining pop on what seemed like a daily basis.
So much to the readers' surprise, the first year I was there we put Missy Elliott, Destiny's Child, Aaliyah and So Solid Crew on the cover. The readers hated it, and [owner] IPC weren't too thrilled when the Aaliyah cover tanked, but 17 years later I'm proud that we celebrated the artists making records as stratospherically great as "Get Ur Freak On" and "We Need a Resolution".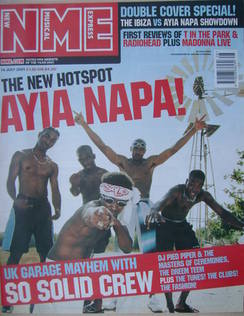 I remember interviewing Destiny's Child in the penthouse suite at the Metropolitan Hotel in London – Beyonce fell off her seat while stroking Kelly Rowland's hair. We went to Ayia Napa to investigate where UK garage went on holiday. We photographed and interviewed Aaliyah in a photo studio in Los Angeles – I remember her incredible poise and charisma, and her stylist and hair and makeup people, a funny and genial bunch. Two months later they were all killed in a plane crash after filming the video for "Rock the Boat" in the Bahamas. Aaliyah was only 22.
My hope was that the readers would be carried along by a magazine that had Mogwai on the cover one issue and Destiny's Child the next, but it didn't happen, and it was with a tangible sigh of relief that the magazine reverted to its core mission of covering indie once there were enough guitar bands around to fill it. I knew it was over after I'd been out to New York to cover Fischerspooner for a cover feature, but the deputy editor James Oldham put a scruffy new band called the Libertines on instead – a decision I was furious about at the time, but which seems highly sensible in retrospect.
Of course NME was a magazine about indie music, but it was also one big stars wanted to talk to, and which had a significance to the wider world. Sure, we put Arctic Monkeys on the cover, but we also did the same with Outkast – even if IPC did cover them with a cardboard slip. NME was the paper of Joy Division, but it also brought Public Enemy to the British public's attention. However clumsily, we did try to continue that tradition.
The late aughts was a curious time for the NME; the foundations that had sustained it – all that stuff about bands being your life and skinny-tied genre tribalism – had begun to disintegrate under the weight of the internet. It was a topic we couldn't stop banging on about at the time, but people's listening habits had been blown wide open.
The NME's response – and this is credit to amazing editorial staff, like Emily Mackay – was to get stuck in and make sense of it all. I was charged with covering a lot of electronic music, stuff that just a few years back would've never got past security. It wasn't quite the wild west, though: I once tried to give a 10/10 to Shackleton's Fabric mix, but that was vetoed in favour of a relatively sober 9. Darkstar, the post-dubstep group, were another band we'd be forever getting in there, sandwiched between S.C.U.M. and Lily Allen. It was a constant code-switch, and all the better for it.
The issue was, you didn't know quite how weird NME had got unless you actually bought it, so I ended up chatting to a few electronic producers who seemed utterly bemused that NME even cared, or would spend interviews covertly testing me. Sometimes it got ugly. I remember one dubstep producer – no names, 'cos what's the point – took an intense personal dislike to me after the subs used a line about mephedrone as a pull quote. See what I mean: curious times.
Emily Mackay, former reviews editor
Yesterday was a sad, strange day, but thankfully I still have quite a bit of the indifference I started building up around 2009 to sneery received wisdom, the thunderbolt insights of armchair publishers and the frankly weird animus many people have towards NME.
Of course mistakes were made (not least by me – I count 'em down in the small hours like a middle-aged Arya) in a weekly magazine that became an increasingly difficult editorial conundrum. But the usual cliches – not as good as it used to be, full of derivative landfill indie bands, dumbed down – just didn't hold up when you read beyond the cover to the great writing on, say, Wild Beasts, Fever Ray, St Vincent, Fucked Up, Odd Future, Katy B, Battles…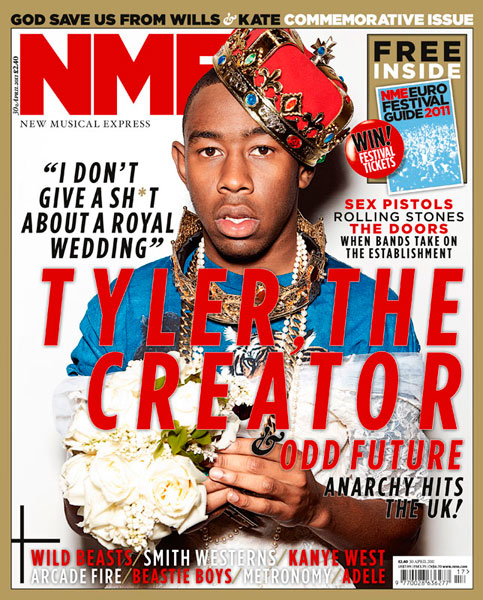 And some of the absolute mad shit we managed to get printed! I was given amazing latitude as both writer and reviews editor to put sacred cows to the knife, send teenagers out on tour, let people get weird over hundreds of words. I treasure memories like Gavin Haynes savaging Fleet Foxes, Lizzy Goodman on a rock cruise with Black Lips, that time Angus from Liars reviewed the singles ("I feel like maybe I would like this if I was… someone else?") and that other time Kev Kharas wrote an album review that was entirely an extended metaphor about his testicles.
But while the hatchet jobs were fun (I guess yesterday brought a lot of karma), NME for me was always at its best when most exhilaratingly enthusiastic: the dizzying 9s and 10s, the live reviews crackling with excitement, the swimming pools of simile. We had a fantastic column for a while called Unspun Heroes, in which writers enthused about underexposed records they loved: Laura Snapes on Lizzy-Mercier Descloux, John Doran on World Domination Enterprises, Hamish MacBain on Broadcast. They weren't looked after well enough by a stupid company that didn't realise the value of what it had, but I had a roster of such incredible writers – my inbox was a jewel chest come deadline day. I really miss that. And I'm sorry all the been-shit-for-decades crew missed it too.
Alex Miller, former Radar editor
It's easy to look back and judge a magazine like NME for the boring cover stars, but those choices were utterly driven by sales and, as such, by readers. If The Knife sold issues, they'd have been on the cover every week.
Think about it like this: everyone loves Buzzfeed's news coverage, but it won't be what gets them traffic. So imagine that all of the content they ever produced was hidden behind one story every week. In order to get the largest number of people possible to read their investigation into, say, the suspicious death of Boris Berezovsky and eight others, they'd have to put "Katie Perry Just Roasted Kim Kardashian In This Throwback Photo" on the cover. Which would make them look silly, no matter how much great stuff lurked inside. Basically, magazines are brilliant, but less good than the internet.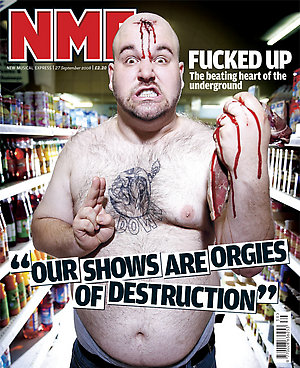 With all that in mind, the second Beth Ditto cover was good. And I got Dev Hynes on the cover. And Fucked Up for some reason. It's fun to get away with that stuff, because, frankly, NME would have sold a lot more if they just put Liam Gallagher on the cover every week for a million years; just ask The Guardian, Noisey, GQ , the Indy, or anyone else who enjoyed some Liam traffic recently. Come to think of it, we've all just chiefed NME's one last selling point. Shame on us.