Photo courtesy St John's Edge
As he paces up and down his corner of the two-lane road in Patrick's Cove, Newfoundland, Carl English is furious. At some point between the conclusion of his last shooting session the night before and his first on this morning, a tractor-trailer clipped English's basketball net, knocking the rim to the ground. There it lies, on the only road in to, out of, or through the town, and English can't believe it.
His Aunt Betty is far more concerned about the truck. English's homemade net, one he constructed himself with his Uncle Junior when he was 10, now hangs over the road a little bit. Initially, the net was constructed at the end of the road but out of the way of traffic that often comes fast and without much caution through the sleepy town of less than 100. English deemed the setup to have too much potential for a twisted ankle, later building a brace that extended the net over the road and further from the edge of the pavement. This, then, was Aunt Betty's concern—an unfamiliar truck driver had no reasonable expectation of clipping a basketball net on any road, let alone in Patrick's Cove of all places.
Eventually, the net would become far more familiar to the town, the surrounding areas and tourists on their way to St. John's or the Cape St. Mary's Ecological Reserve. As English and his brothers, three of whom lived in nearby Angel's Cove, excitedly identified out-of-province license plates, drivers kept an eye out for the teenager shooting at the side of the road. English's self-made net is now the stuff of Canadian basketball legend, an unlikely star who dribbled on ice and grass and gravel to improve his handle, deflated balls to strengthen his forearms, and cut and taped three pairs of shoes together to make homemade Jumpsoles.
It's as great a self-made athlete story as there is, English standing as one of one, a solitary Newfoundland export who became maybe the second-best Canadian basketball player of all time after Steve Nash. Some 27 years after he first constructed his makeshift hoop, English's story is being played out on far more prominent hoops at Mile One Centre, his St. John's Edge enjoying a successful inaugural season that's ignited a passion for basketball in Canada's eastern outpost.
The decision to put a pin in an illustrious international career was not one English came to easily. He'd been in discussions with Greek powerhouse Olympiacos, which would have stood as his 13th professional team across the D-League, Italy, Croatia, Spain, Greece, Puerto Rico, and Germany. English, 37, considered more than just his own basketball opportunity, weighing some heavy family factors and the opportunity the fledgling Edge presented to help continue building basketball in Newfoundland.
"It's been good. It's been an interesting journey, I would say, from the beginning," English told VICE Sports in Kitchener in late February. "My family really, I knew deep down that they really wanted to be home. So that was a big thing when deciding what to do. And then the chance to have a basketball team in my home city, where everything all started for me, was a very unique opportunity. I think it would be safe to say if there wasn't one there, I wouldn't have played in this league, but the fact that I had the chance to play at home in front of a lot of friends and family, it's been amazing. It's been real special."
The family aspect is easy enough to understand. English and his wife Mandy, who have been together since his career started, have three kids (two born in Spain, one in Newfoundland), and the family has traveled with English wherever he's played, eschewing roots. His oldest, a 9-year-old son, attends shootarounds and helps stretch his dad out before games. English also remains close with his brothers, one of whom has been on dialysis regularly and just underwent a kidney transplant (donated by another of the brothers). The opportunity to be close to home was as much about the opportunity to be close to family, and to grow that extended family as a unit, as anything else.
"We have a big family," he says, admitting with a laugh that there have been "just a few" kitchen parties since his return. "So we try to get together as much as we can. They're at all the games, they're having a hell of a time."
Putting roots back down at home was fairly seamless. English has opted to work out at home in Paradise, just outside of St. John's, every offseason and has always considered it his home base, even if those offseasons were too often abbreviated by 12 consecutive summers with the Canadian national team. It was important, though, and it came with a qualification from Mandy: have fun.
"That's been difficult in the sense of I'm the type of player that can't really turn it off. I've done things a certain way for so long and it's always helped me get, I feel, where I've gotten in my life," he says. "At times I felt like I had the whole province on my back. A lot of the times I need to be able to turn it off and enjoy the moment.
"So I just gotta learn to really enjoy this. And that was one of the things my wife said with taking this, she's like, 'If you're gonna do this, I want you to enjoy it. There's not much time left.' And I've always been the player that's doing whatever I could to get to the top and never turned it off, all summer, every summer, missing so many things. So for me, when this came up, that was one of the things, she said, 'If you're going to do it, I want you to really enjoy it, and enjoy the moment, because it'll be something you'll cherish for a long time.' So that's what I'm trying to do."
To that end, things couldn't be off to a much better start. While the Edge have dealt with some of the standard tumult of the NBL Canada—roster churn, a difficult travel schedule, challenges replicating a meticulous game-day routine in a unique environment—and English has fought through some injuries, the team is a robust 22-13 with a playoff spot clinched. English is leading the team with 24.5 points per game, shooting 37.3 percent on more than an enormous volume of threes (more than 10 per game).
---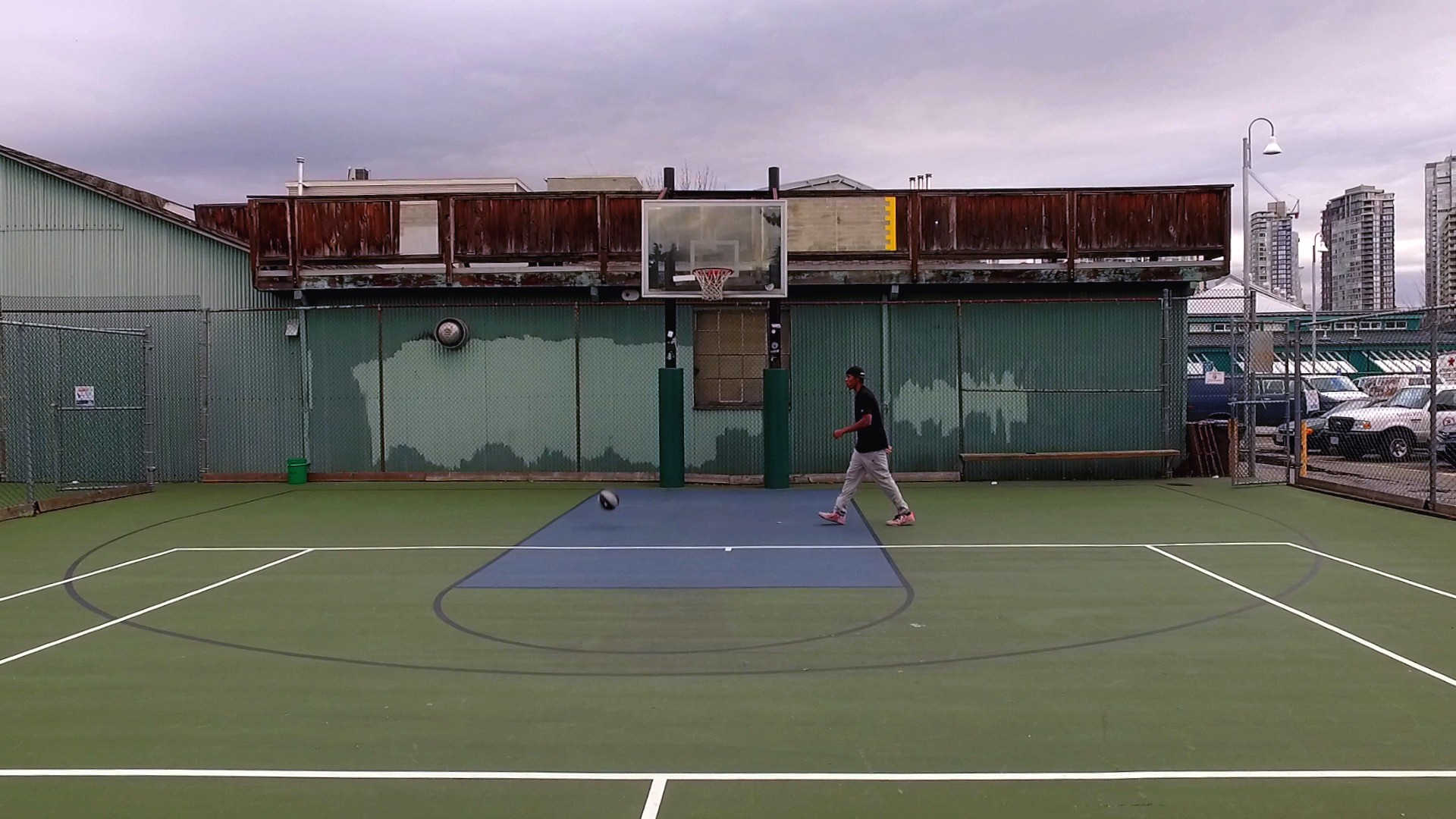 ---
The latter comes as no surprise to anyone who's followed English's career, which has often had him in the conversation for best shooter in the world outside of the NBA.
"He's there. He's in the top three, top five shooters that I've played with," says Raptors center Lucas Nogueira, a teammate of English with Estudiantes in Spain. "That guy that you can't leave open, he's gonna knock down the shots. He's not just a great player, he's a great person, a great human. He's very nice. Like Canadians, right? Really friendly."
Earlier this month, English set an NBL record with 58 points, hitting 11 threes in the process.
"He's a shooter. A scorer, really," says Raptors rookie Malcolm Miller, who played with English in Germany last year and wanted the details on the 58-point night. "It's just pure. If it doesn't go in, you're surprised. Like, any time he takes a shot, you're automatically thinking, 'That's good.' Great leader, great shooter, great basketball player, great mind. I've got nothing but good things to say for my guy Carl."
English has also made an impact as a leader both on the roster and in the community. The most seasoned player in the entire NBL, English's words and example carry weight, and he's leveraged his relationships around basketball to help fortify the roster. In the St. John's community, his impact is even greater: There's hardly a day at home that the Edge aren't showing up in a school or community center and giving back to the city.
This, as much as anything, is what English hoped to accomplish with a return home. That the Edge are averaging more than 3,500 fans per home game—a mark that would have ranked top five in the NBA G League last season and is right on par with Raptors 905, for reference—and regularly selling out weekend games is a strong signal to the team's ownership group that their investment in the franchise and the city (one they hope to expand with more sports and entertainment in the coming years, including a long overdue make-up Raptors preseason game) was well-founded.
"We thought it would be a great tribute to him and the community where he's from to bring him in," says Edge co-owner Rob Sabbagh. "In speaking to people and putting the team together and speaking to fans and people that were buying tickets, Carl's name kept coming up. And thankfully we were able to put a deal together and get Carl. Carl's been great. You can see how much Carl embraces this. You see after the games, that he embraces being the point man for his team in the community, he really does. If you look at him, signing autographs after every game, trying to get to schools, trying to get to hospitals. He's been great."
Success, though, won't be measured only by crowds, however raucous. The games feeling like one giant party—English admits he felt more nervous for his first home game in St. John's than some of his higher profile international games, since he knew half the people in attendance—is a major positive, but there are longer-term effects of bringing basketball to Newfoundland that English is hoping to see.
He wants to help solidify the Edge as a long-term fixture in St. John's and help the NBL grow to where it's a legitimate option for Canadians and Americans who would prefer not to go overseas to play pro. He'd also like to see more talent coming out of the province.
"It was my family, and it was what I could do for basketball in Newfoundland, east coast, and in Canada," English says. "I just feel that, you know, I've played 12 years with Team Canada but also I think this league could really grow to be a main league in Canada and in the world. I feel with my experience and the things that I've done, I feel I can be somewhat of an ambassador to help grow it. And also in my hometown, I wanted to do a lot more of getting the game back to where it was.
"I don't think anybody knew it was gonna be this successful. You never know what's the right thing or wrong thing. If this was all going to shit, I'd be sitting here saying you know, what the hell did I do, but luckily everything is going well and I feel I can touch and help a lot of guys and then help a lot of youth in Newfoundland as well. For me, it's been the right decision."
In other words, while English has a sort of legend about him for the amount of off-the-beaten-path hard work he had to put in to get where he is, it would be great if the next talented Newfoundlander didn't have to go to quite the same extremes. To that end, English intends to host camps this coming summer and use his own story to highlight that hard work can take a player a long way on its own. With access to a pro team to spur fandom and greater access to basketball programs—it will be interesting to see how registration numbers for youth basketball change for 2018-19—the hope is that basketball can really gather some momentum in Newfoundland.
"I built my own path, you know? I did things that were out of the ordinary, I did things that were just so strange, and I don't know why I did them. The crazy thing was, I was doing all these things and there was no internet. So I picture if I was 20 years later and there was internet, I'd just follow what all these great players were doing all the time," he says. "I just did some of the craziest things ever and people don't understand. I didn't have facilities. We trained once a week in the high school but then I spent most of my time playing outside the street on a basket that I built myself with my uncle.
"My upbringing was totally different than a lot of kids have these days, and my own kids have. I think there's no other solution than work hard and figure it out your own way. There's nothing else greater than dedication, perseverance, and hard work, in my opinion."
The legendary homemade net still exists, stored in a neighbour's garage. The family still has a cabin on the same property on which it stood. This summer, English plans to do some maintenance and put it back up. It will be tucked just off the main road so the next truck through can't knock it down, a reminder of English's story, a testament to hard work, and a symbol of the growth of basketball in Newfoundland when the next one comes along.