Illustration by Grace Wilson
HIV isn't selective in those it infects. In 2014, 6,151 people were diagnosed with HIV in the UK, all of varying genders, sexualities, and ethnicities. The disease doesn't target specific social groups, though there are those more susceptible to transmission—gay men, trans people, sex workers, and black women of African descent representing a few of those at a higher risk. PrEP is a way of preventing HIV transmission by taking a daily drug—usually Truvada—on an ongoing basis before sex; it represents the best opportunity yet to reduce new infections across all vulnerable groups. But to many, it is simply for gay men who want to have bareback sex.
In August, the UK's High Court ruled that NHS England is legally responsible for commissioning PrEP. The case was brought by the National Aids Trust after the public health body initially claimed it would not fund PrEP and was not obliged to do so.
In the debate that followed, the conversation transformed from one of efficacy and evidence to the "lifestyle choices" of gay men. The front page of the Daily Mail pitted the needs of people awaiting cataract surgery against those of gay men, while NHS England bemoaned the fact giving gay men PrEP would deprive children with cystic fibrosis of a drug that would help them breathe. PrEP was branded a gay lifestyle drug. Other groups vulnerable to HIV—trans people, sex workers, and black women from African communities—were barely considered.
"Without a shadow of a doubt, PrEP would have worked for me, and countless people like me," says Juno Roche, an equalities campaigner and patron of cliniQ, a sexual health service for the trans community. During her transition, Roche supported herself through sex work, a choice made on account of the lack of employment opportunities for trans people, as well the financial pressures of transitioning.
Read more: Stigma Is Keeping Black Women from Accessing HIV Resources on Social Media
"I was on the streets of Euston and the internet didn't exist then, so I know what it's like to be trans and to be at risk," she says. "Listen, I knew I was taking risks. I couldn't not take risks. If I didn't take risks I didn't earn money. I was certainly in abusive relationships because I was trans and people got to treat me a certain way and I accepted it, because it meant I was in a relationship and I had intimacy. When I knew people were being unfaithful to me I never said use a condom."
The Mail wasn't alone in labelling PrEP a gay issue. In its original decision, NHS England, the body responsible for commissioning the preventative regime, announced it would only be making PrEP available to 500 men at the risk of infection, excluding trans women entirely. In its recent response to the High Court ruling, it stated that PrEP was predominantly for "high risk condomless sex with multiple male partners.
Even the PROUD study—the UK's most significant study into PrEP's efficacy—was restricted in its scope, focusing exclusively on men who have sex with men, 81 percent of whom were white.
"The case for PrEP has been made from a really narrow client base," says Roche. "And that's actually realistically weakened the case for PrEP as people go, 'It's just gay men, tell them to use condoms.'"
Trans women are 49 times more likely than the general population to be living with HIV. According to Avert, HIV prevalenceamong the trans community ranges from 8 percent to 68 percent depending on the region, with an estimated 19 percent of all transgender women living with HIV. Despite this, their participation in studies and policy making has so far been minimal.
"We are the most affected group by HIV globally, and yet we are the most ignored," says Michelle Ross, the co-founder of cliniQ. "For lots of trans people it's almost something that most of them have not heard of or know very little about. The people that have heard about it are often concerned about any interactions with their medication and PrEP… Their concerns are, 'What impact will it have on my hormones?'"
For the sake of taking one pill a day, it's extra peace of mind and reduced anxiety.
The lack of engagement has left the trans community with a dearth of information, one Ross feels has almost certainly contributed to the disproportionately high prevalence rates in trans women. Trans men, too, have faced omission from prominent studies and the trials.
"Trans guys are the only demographic group who have been excluded from every clinical efficacy trial of PrEP to date," says Brandyn Gallagher, the executive director of Outshine NW, a small LGBTQ health and equity non-profit organization based in Seattle. "That's still the case: It's been approved in the US for the past four years and there have still been no studies that include trans guys around PrEP."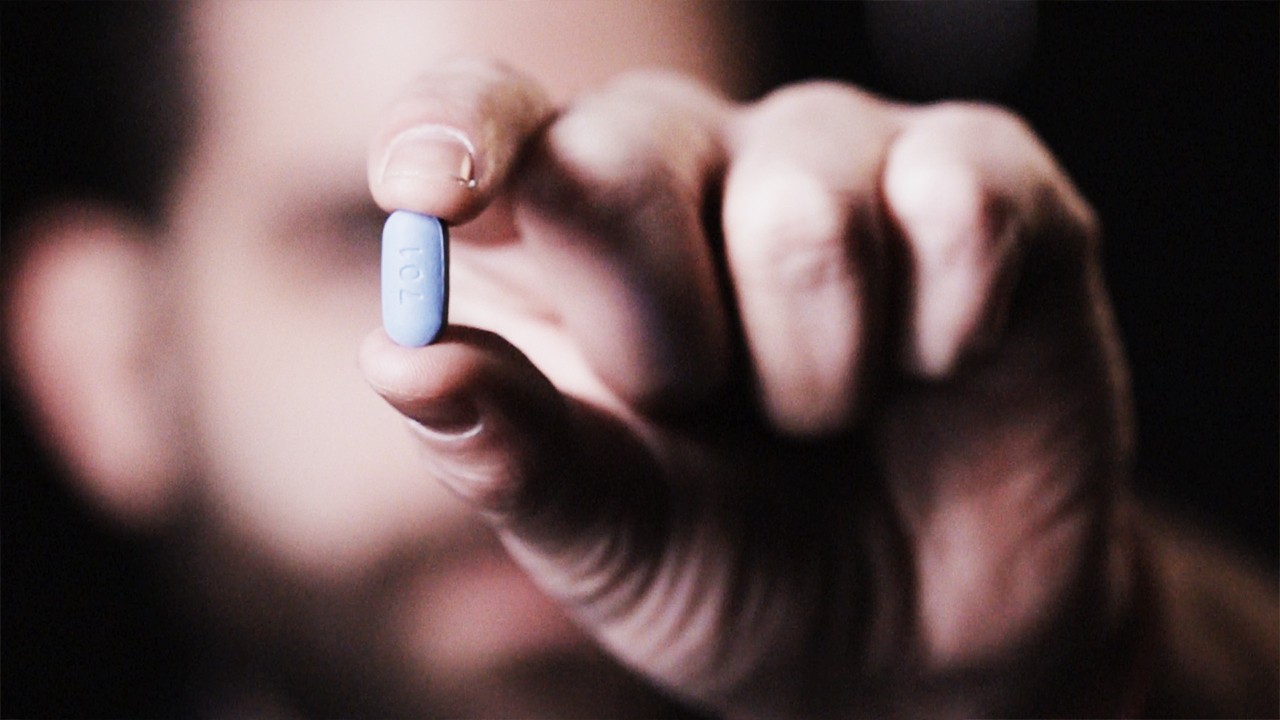 With no national campaigns or dedicated charities providing information on issues specific to PrEP and trans men—how it interacts with their hormones, for example—their omission from the conversation is something of a recurring theme.
"There's just this very clear prejudice to overlook trans men," says Gallagher. "Socially we're set up to be silenced. For [the] majority of us, being socialized as female growing up means that we're taught not to take up space; we're taught that our voices don't matter, we're taught that we don't deserve the same quality of healthcare that cisgender men get. This causes or reinforces for us that sex is something for us to fear because obviously, no-one wants to dive into it head first so there must be something scary there about our sexuality."
Read more: Why Aren't Gay Men Getting a Vaccine That Can Prevent Cancer?
Targeted information is failing to reach African communities in the UK, too. Making up just 1.8 percent of the UK's population, they represent 29 percent of everyone living with HIV. Sixty-six percent of this group are women. The epidemic continues to disproportionately affect black women of African descent in the UK; prominent HIV and Aids activist Winnie Ssanyu-Sseruma believes the lack of a national voice and targeted charities are to blame.
"We used to have a national organization called the African HIV Policy Network which would do some of this work and advocate for PrEP for African communities or vulnerable members of the African community," says Ssanyu-Sseruma. "Most of the organizations have shut down. People have been left out of the loop—so to speak—and they don't know. They are not well informed."
Ssanyu-Sseruma believes PrEP is the tool that the female African community has been waiting for—not just in the UK, but globally. In the absence of charities and unifying voices specifically targeted at African women, she feels the African community as a whole needs to mobilize and advocate for PrEP.
"African women are incredibly vulnerable because of some negative cultural issues that are imposed on them," says Ssanyu-Sseruma. "Sometimes, if they're being abused by their male partners, families will say, 'You can't leave a marriage, talk it out, work it out.' There's the whole issue around gender inequality in African communities. I think [it's] more pronounced than in a lot of different cultures. There are a lot of unspoken things, around issues of sex—sex itself is not spoken about.
[PrEP] is empowering in a way a condom isn't.
"And sometimes—not all the times—men will have multiple partners," she continues. "And that's why we know there are so many women being infected with HIV because they have no idea where their husband has been and they have no control over it.
"PrEP is really significant in that individuals can really make that choice to protect themselves from HIV without having to consult who they are sleeping with," she explains. "It is empowering in a way a condom isn't."
PrEP advocates want the debate to focus on just that: a sensible, empowering approach to sexual health. Sex workers, like gay men, are sometimes reluctant to access generic sexual health services. At a time when specialist health services are being shut down, PrEP offers a practical solution for ensuring marginalized groups are able to take control of their health.
"Sexual health services for sex workers throughout the UK are being massively cut, throughout the country," says Alex Feis-Bryce, CEO of National Ugly Mugs (NUM), a UK organization for sex workers. "People want specialist services that are tailored to their needs. If some of those services are disappearing, having something like PrEP would be really beneficial for sex workers."
**Read more: The 'Sex Roulette' Parties Where One Guest Is Secretly **HIV-Positive
Not everyone is prepared to wait for the NHS to rollout PrEP. Josh Brandon, one of the UK's highest paid escorts and a campaigner for the NUM, ships PrEP over from the USA. A three-month supply costs him around £450.
"Even having a cold it means taking time off. If I was to get really sick or have an STI, it would likely mean the end of my career," says Brandon. "The bulk of my income comes from escorting, so that's not a risk I can take. For the sake of taking one pill a day, it's extra peace of mind and reduced anxiety, so it's definitely worth it for that reason alone. It won't make me practice unsafe sex, but it will reduce my anxiety if I give oral sex without a condom or if I worry about the condom breaking during sex."
Brandon recognizes he is more vulnerable to HIV transmission than most; he's opted to take control of his sexual health and reduce the risk. He is also unusual in that he's in a position where he can not only access PrEP, but afford it. Others in vulnerable social groups may lack the financial capacity to do so, and sex workers in particular face barriers to accessing general sexual health services. PrEP promises these communities with a degree of autonomy over their health. With over 6,000 new HIV diagnoses in the UK each year, current prevention schemes are failing; until PrEP is made widely available to those who need it, the epidemic will likely continue.