Ten-year-old Rosa Maria Hernandez, the undocumented child who was detained by immigration officers immediately following an emergency surgery last week, has now been prevented from receiving two post-operative follow-up visits recommended by her surgeon while in detention at an Office of Refugee Resettlement facility in San Antonio, Texas, Rosa Maria's ACLU lawyer Michael Tan told Broadly. Rosa Maria suffers from cerebral palsy, a movement disorder which impairs both motor and developmental function. Because of her disorder and post-operative status, Rosa Maria's doctors, lawyers, and family have maintained that her health and safety are in danger at the facility where she's been detained since last week. The government has yet to comply with multiple requests for the child's release.
In the early morning hours of Tuesday October 24, 2017, Rosa Maria was in an ambulance on her way from her home in Laredo, Texas, to Driscoll Children's Hospital in Corpus Christi to receive emergency gallbladder surgery. In order to reach the hospital, Rosa Maria and her cousin Aurora Cantu, a US Citizen who accompanied the child, were forced to cross an interior checkpoint. (Rosa Maria's mother, who is also undocumented, could not bring her child to the hospital herself because she would have been detained at the checkpoint.) After passing the checkpoint, Rosa's ambulance was followed by Border Patrol officers who entered the hospital with the child and waited outside of her recovery room to detain her upon discharge.
Read More: After Abuse and Prison, a Woman Faces Deportation to a Country She's Never Been To
When Rosa was discharged, Border Patrol officers violated doctor's orders to return the child to her family and instead took her to a child housing facility in San Antonio operated by the Office of Refugee Resettlement. According to the Hernandez family attorney Leticia Gonzalez, Rosa's discharge papers read: "Rosa Hernandez is a post-operative patient with cerebral palsy and developmental delay. In the best interest of the patient, it is recommended that the patient be discharged to a family member that is familiar with her medical and psychological needs." Gonzalez said the discharge papers also directed Rosa Maria to "follow up with her primary care doctor within three days [of surgery] and then return to Dr. Haroon Patel [the child's surgeon] in Laredo on November 2, 2017."
On Monday October 30—Rosa's sixth day of being held in the facility despite being a post-operative patient with special needs—the ACLU sent a formal demand to the government addressed to leaders in the U.S. Department of Health and Human Services, Customs and Border Protection, and the Department of Homeland Security, asking for Rosa's immediate release into the custody of her family. The letter also warned that the government was "in violation of [Rosa's] statutory and constitutional rights" and that if Rosa continued to be detained, the ACLU would take legal action. "If you do not comply with this demand… we will take immediate legal action and pursue all available remedies under the law to secure Rosa Maria's release."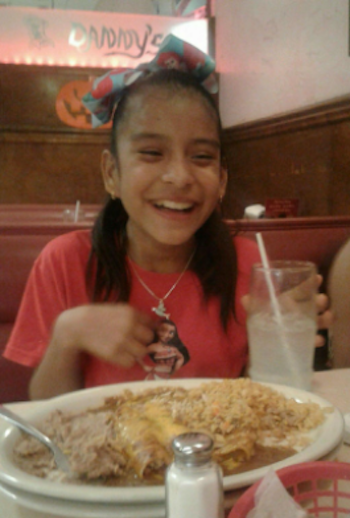 The following day, after the government refused to comply, the ACLU filed both a federal lawsuit against the government for denying Rosa Maria's release and a motion for a temporary restraining order (TRO) against the Office of Refugee Resettlement in hopes for immediate action. The document focuses on the irreparable mental and physical harm that Rosa Maria's detention continues to cause her and her family. "Every additional day that R.M.H. remains in custody is likely to exacerbate her medical condition and increase the risk of lasting and profound developmental harm," reads the TRO.
The ACLU consulted with Dr. Masha Griffin and Dr. Rachel Vandermeer, who both specialize in treating children with similar conditions as Rosa Maria, before drafting the document. "Given the limited health reserve of most children with CP [cerebral palsy], parental loss or separation can have grave impact on the child's overall prognosis and health trajectory with resultant acute decline which would have otherwise been potentially delayed," said Dr. Vandermeer, according to the TRO.
Broadly reached out to both Driscoll Children's Hospital and Rosa's surgeon, Dr. Haroon Patel for comment. The hospital told Broadly that they are not allowed to discuss individual cases and must "advocate for [their] patients within the confines of the law." We were unable to reach Dr. Patel directly, as the hospital told us that all media requests must go through them. Dr. Patel's personal Twitter account, however, suggests that he is frustrated with the government's treatment of Rosa Maria. On October 25, he retweeted the ACLU's tweet calling Border Patrol's treatment of the child, "outrageous and cruel, to both her and all who will now fear seeking medical attention."
There is currently no cure for cerebral palsy, and living with the disorder often requires varying types of therapy, surgery, function aids, communication aids, and drugs to control muscle spasms, seizures, and pain. Rosa Maria's mother has been her primary caretaker and often had to stay home with her child to ensure that she fulfill her various needs, according to Attorney Tan. The lawyer listed a number of concerns from both Rosa Maria's family and the medical professionals who have consulted on her case. All parties are worried that Rosa Maria could be in grave danger due to the fact that children with cerebral palsy often can't communicate their pain as well as other children.
"It's essential that children who are recovering from a medical procedure be with their parents," says Attorney Tan. "They're often the only people who are able to understand when their child is experiencing pain and when pain is left unattended, there's a cascading set of complications that can result from that." Dr. Marsha Griffin confirmed the reality of these concerns. "Children with cerebral palsy are on a spectrum of developmental delay and cognitive delay. Every child expresses pain in a different way and that is why it is critical that no child ever be separated from their parents after surgery or any traumatic event," she told Broadly. "It's devastating for any child."
When Broadly reached out to the U.S. Department of Health and Human Services to see why Rosa Maria has been denied follow-up doctor's visits and continues to be detained, we were sent this statement:
As a matter of policy, in order to protect the privacy and security of the unaccompanied alien children (UAC) referred to the U.S. Department of Health and Human Services (HHS), HHS does not identify individual UAC and will not comment on specific cases.
Rosa Maria still does not know the real reason why she's being held in the ORR child detention facility, nor that she faces deportation. Her mother says that the child is under the impression that she is in a medical facility to recover from surgery and that she'll be allowed to go home to her family.
According to Dr. Griffin, the absolute safest place for Rosa Maria to be right now is at home. "No facility would be the right facility except for being with her family in her home," she said. "None."
While they wait for the outcome of the ACLU lawsuit, Rosa Maria's family has applied to sponsor their child in yet another attempt to persuade the government to let them bring her home as soon as possible.
Update: On Friday November 3, Rosa Maria Hernandez's attorney at the ACLU Michael Tan informed Broadly that the ORR contacted Rosa Maria's immigration attorney Leticia Gonzalez on Friday morning to inform her that they did in fact take the child to her second follow-up appointment on the previous day, Thursday November 2. According to Attorney Tan, the ORR did not, however, inform Rosa Maria's family beforehand that they would be taking the child to the appointment. As a result, none of Rosa Maria's family members were present with the 10-year-old at the doctor's visit, despite multiple efforts by Attorney Gonzalez in the days prior to the appointment to find out whether or not the child would be taken to the doctor's visit. Further, until the ORR contacted Attorney Gonzalez, both Rosa Maria's family and lawyers were under the impression that the child had missed this appointment. Attorney Tan also confirmed that Rosa Maria did miss her first recommended follow-up visit which was supposed to take place last week, three days after the child received surgery.
We have reached out to the ORR to confirm this information, but have yet to hear back.
Correction: A previous version of this article incorrectly stated in the headline that ICE detained Rosa Maria Hernandez. It was the U.S. Customs and Border Protection (CBP) who initially detained the child. She was then passed to the Office of Refugee Resettlement (ORR), under which the child has been unable to receive her post-op doctor's visits. We regret the error.