SAN SALVADOR — In the city's historic downtown, around 7,000 people celebrated as '90s hip-hop hits like "Ice, Ice Baby" played over a hail of fireworks.
They were all out in full force for Nayib Bukele, the 37-year-old populist candidate who won a decisive victory to become El Salvador's new president Sunday night, landing a blow to the country's two dominant political parties that have held power since the end of the country's brutal civil war.
"Today we have turned the page on the postwar period," Bukele said, declaring victory shortly after 9 p.m. His first act as president-elect was to take a selfie.
His supporters expressed optimism that the president-elect would bring an end to the gang violence that has plagued the country, and create jobs so people wouldn't have to join caravans of migrants heading for the U.S.
"I feel like my heart could break open with happiness. He gives us a new hope for El Salvador," said Nancy Fajardo, 27, who works in a call center. "He has new ideas. And we need someone young who represents us and knows what we need."
Bukele's victory represents a major political transformation in this tiny Central American country — an end to the country's two-party system and a new hope that El Salvador can stem the tide of violence and poverty that has sent nearly 20 percent of its citizens fleeing toward to the U.S. But his victory also comes with serious concern that his promise of change is superficial at best and will usher in a new era of corruption under a different guise.
At the heart of Bukele's appeal is also what could leave him vulnerable to failure: that he alone can save the country.
Despite being on the political scene for several years, Bukele, the former mayor of San Salvador, is something of a political enigma. His started his career with the leftist Farabundo Marti National Liberation Front (FMLN), but was expelled in 2017 after repeatedly criticizing it. Last year, he switched allegiances, running or president under the far-right GANA party.
"His campaign had a lot of marketing but lacked substance. That makes it hard to imagine he will have a government with a solid perspective for the future."
Bukele adds to the uncertainty by professing to have no political ideology, which helped him win voters from both the left and the right. Critics say he has articulated no overarching vision for how he plans to tackle the country's major problems: violence, inequality and migration. The latter is almost certainly going to present him immediate challenges as another migrant caravan is planning to leave El Salvador on Thursday.
"Bukele's campaign was very prolonged, but he had few concrete ideas," said Pablo Benítez, a left-wing essayist and political analyst with the University of El Salvador. "His campaign had a lot of marketing but lacked substance. That makes it hard to imagine he will have a government with a solid perspective for the future."
Still, Bukele's victory does represent a new era for Salvadoran politics, namely the rejection of the political establishment.
Since the end of the country's 12-year civil war in 1992, two parties have held the presidency: The ruling FMLN, which was the party of the guerilla fighters during the war; and the conservative Nationalist Republican Alliance (ARENA), which fought them. Despite their ideological differences, both were beset by corruption scandals that tarnished voters' faith in them.
Former FMLN President Mauricio Funes, who ruled from 2009 to 2014, is accused of embezzling $351 million in public funds, and is taking refuge in Nicaragua. Former ARENA President Antonio Saca, who governed from 2004 to 2009, pleaded guilty to embezzling hundreds of millions of dollars. And Francisco Flores, president from 1999 to 2004 under ARENA, died while facing criminal prosecution for diverting more than $15 million in earthquake relief funds for his party and his personal use.
"The two groups that created the war still want to keep governing, and what's more, they're corrupt," Bukele told reporters Sunday after casting his vote in the capital.
Carlos Dada, founder of the highly respected publication El Faro, said Bukele capitalized on voters' disillusionment.
"Since the end of the war, the Salvadoran political system has been based on polarization — the extreme left and the extreme right co-opted the whole system and benefited from it. Both were unable to enhance the life conditions for most of the population. So people feel disappointed. Nayib represents for them the chance to break this bipartisan system that has brought no benefits to them," Dada said.
"I'm very excited that he won, but at the same time we are traumatized as Salvadoran people that all the political parties have lied to us for the past 25 years. "
Bukele hails from a prominent business family. He started his political career in 2012 as mayor of Nuevo-Cuscatlán, a small town outside San Salvador. Three years later, he became mayor of San Salvador. He is best known for reviving the capital's historic town square, which for decades was saturated by gangs and violence.
As president, Bukele has said he will do the same for town squares across El Salvador. He has also pledged to build a new airport in the impoverished eastern part of the country — where a majority of migrants hail from — and jumpstart a defunct train line that would crisscross El Salvador. He hasn't said how he will pay for either project, instead repeating his campaign slogan that without corruption, there is enough money.
For Mayte Borja, 30, who came to the historic center to celebrate Bukele's victory, that promise is enough.
"I feel like the older generations were always voting for one of the other parties, and all the young people like me wanted something new," said Borja. "I'm very excited that he won, but a the same time we are traumatized as Salvadoran people that all the political parties have lied to us for the past 25 years. I am hoping that Bukele is really going to be the change we have been hoping for."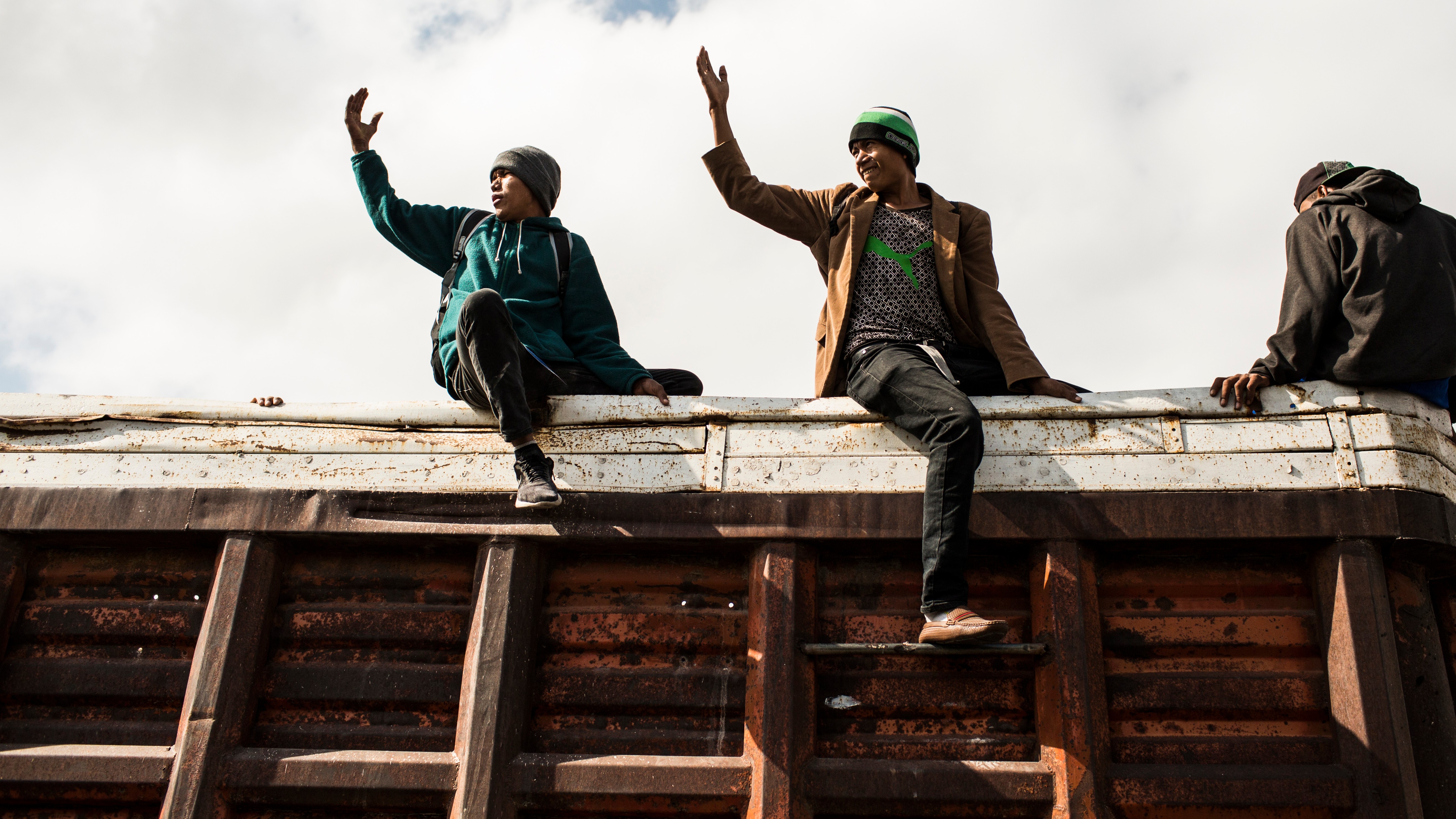 Cover: Presidential candidate Nayib Bukele, of the Grand Alliance for National Unity, center, his wife Gabriela, right, and the Vice-president candidate Felix Ulloa wave supporters in San Salvador, El Salvador, Sunday, Feb. 3, 2019. (AP Photo/Salvador Melendez)