Nick Hill (centre left in the photo) with convicted child sex offender James Shand at a Patriotic Alternative event in Kent in October. Photo: Red Flare
Giant "White Lives Matter" banners used by racists to hijack the UN's indigenous people's day in the UK can be traced to a house in South London that is used as a whites-only enclave by a former Liberal Democrat candidate.
The house is owned by Nicholas Hill, a small business owner who ran for local office in 2006. The 50-year-old is currently regional organiser for Patriotic Alternative (PA), a secretive far-right racist group. Anti-fascist researchers say that Hill's journey from a candidate in local elections for a mainstream political party to the organiser of a racist banner campaign "demonstrates how easily seemingly respectable people can be radicalised."  
On the 9th of August, pictures emerged of "White Lives Matter" banners at around 30 beauty spots and other locations across the country. This was coordinated by PA, a far-right racist group led by Mark Collett, former youth leader of the British National Party. The group timed the stunt to coincide with the International Day of the World's Indigenous Peoples.
PA tweeted a number of pictures of the banners, saying, "Today we celebrate #IndigenousPeoplesDay; a day created to raise awareness and protect the rights of the world's indigenous peoples. All people have the right to self-determination and a safe homeland for their people."
The stunt was intended to suggest that white people are an "indigenous people" who are under threat. The banners made local news and were retweeted hundreds of times.
PA is part of a recent shift on the far-right towards more outwardly racist, extreme politics. Its private social media channels are full of overt racism, Holocaust denial and veneration of fascism. It has attracted activists from more far-right groups that are less overtly racist, in order to mask their true intentions.
An investigation by anti-fascist research group Red Flare has revealed that a number of the banners were printed by Hill, a former Liberal Democrat candidate for Lewisham council.
Hill is known by the online pseudonym "Cornelius". He lives in Catford, south London, with two young white neo-Nazi lodgers. In a private PA Telegram chat, seen by Red Flare and VICE World News, he describes the residence as a self-sufficient "ethno village", intended as a trial run for a future whites-only white enclave. He grows food and makes wine under the label "Ethno Villages".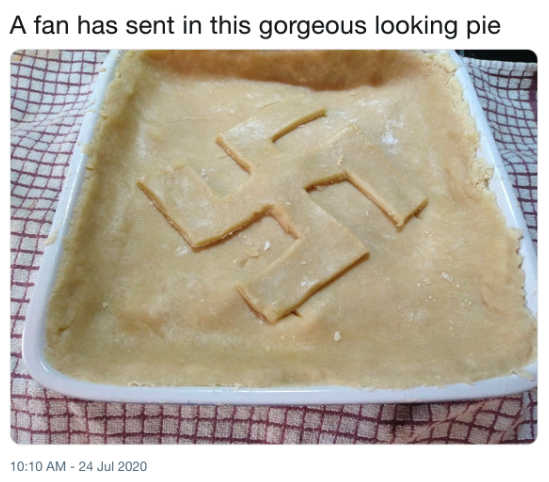 One of his lodgers goes by the online pseudonym "Nativist Concern", a co-host on "The Absolute State of Britain", which describes itself as "Britain's most racist podcast". Nativist Concern is a self-proclaimed neo-Nazi whose Bitchute channel includes archive footage of Nazi rallies and the Hitler Youth set to music, as well as a video titled "How the Jews destroyed the West".
On a PA Telegram chat on the 22nd of July, "Nativist Concern" tweeted a picture of several White Lives Matter banners, writing: "Banners going in the post. Real activism. These paper ones are £3 p&p."
This followed comments from Hill – or "Cornelius" – on the 15th of July, who said, "We have one banner printed already, probably one of many and will soon be asking for availability in the early hours of the 9th of August to perform a series of actions in London.
"Potentially 7 iconic drops."
A spokesperson for Red Flare said: "Hill is a key organiser within a new fascist organisation in which few figures working 'behind the scenes' have been identified. Many of PA's regional organisers have gone to considerable lengths to conceal their identities. Until now, Hill has escaped the attention from journalists and anti-fascists. This is a dedicated fascist organiser with experience in local politics and business, who will likely continue to organise on the far right for years to come.
"In addition to recruiting and inducting new members, Hill is directly responsible for printing many of the racist banners we have seen used in PA's stunts around the country this year, having produced and distributed them from his Catford home."
Hill's journey towards radicalism was a rapid one. In November 2018 he attended a meeting of the Greenwich and Lewisham branch of UKIP. Less than a year later in July 2019 he attended a conference of Generation Identity, a far-right ethnonationalist group. In October 2019 he attended the conference of Traditional Britain, a far-right think tank which has called for the mother of murdered black teenager Stephen Lawrence, Doreen Lawrence and "millions of others" to be "requested to return to their natural homelands".
PA launched in September 2019. Hill is now the regional organiser or the group's London branch. He set up an invite-only Telegram chat for PA supporters in London. In this group-chat he has described the so-called "14 words" – a neo-Nazi slogan originally coined by the terrorist David Lane – as "healthy and natural", and asked if group members have "listened to the very smooth, accessible audiobook by Dr David Duke" – former grand wizard of the Klu Klux Klan.
He is pictured at a PA event in Kent on 17th October next to James Shand, a convicted child sex offender. PA deputy leader Laura Melia has described PA as "family orientated. We have a lot of women and children who attend our events".
Hill describes himself as a "first generation immigrant murder survivor", following an attack in 2017, when a former housemate attacked him with a meat cleaver. Hill suffered multiple wounds including a skull fracture, and the housemate was jailed for attempted murder.
Hill has come a long way since 2006 when he campaigned against road humps, arguing that they were a waste of money and damaged cars. 
A Liberal Democrat spokesperson said: "The Liberal Democrats exist to fight for justice, liberty and equality. We are committed to combating hate, bigotry, racism, antisemitism and violence wherever we find it."
Despite his conversion to neo-Nazism, Hill is still listed as a trustee of the St John the Evangelist Church in Bromley.
The church said Hill, "used to be a Trustee of St John's as a member of our Parochial Church Council but no longer holds this position.
"At St John's we believe that all people are made in the image of God, regardless of race, sex, language or religion. Along with the whole Church of England we believe in the equality of all peoples and value the richness that comes with racial and ethnic diversity.
"We completely distance ourselves from all extremist views which seek to undermine such beliefs, whether on the Far Left or Far Right."
A spokesperson for Red Flare said: "Hill's political journey – from a Liberal Democrat local business-owner campaigning around mundane local issues to outright neo-Nazi – demonstrates how easily seemingly respectable people can be radicalised."
Hill did not respond to requests to comment on this article.